UCLA's Coaching Corp invites children onto campus to guide, inspire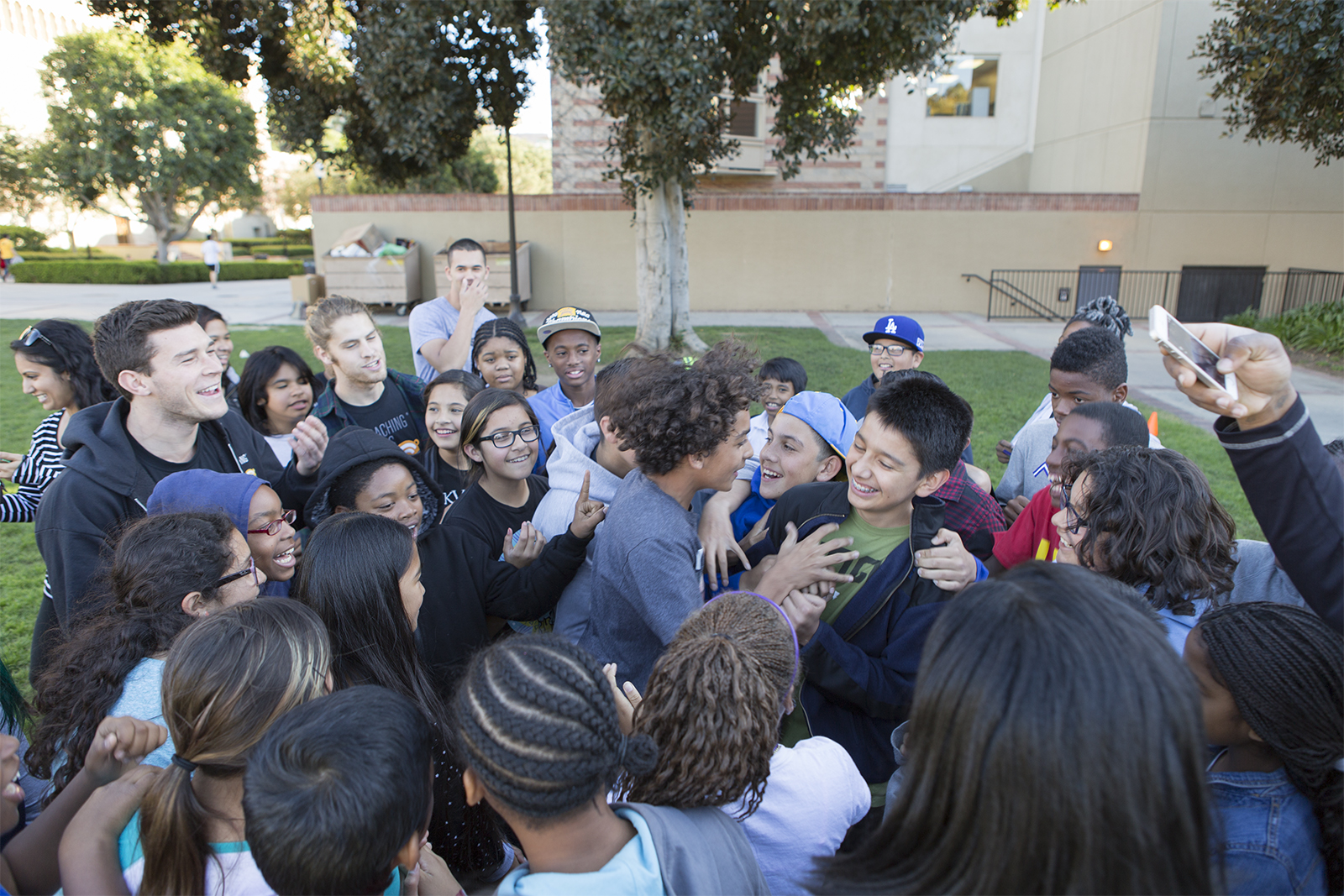 UCLA's chapter of Coaching Corps hosted fourth- and fifth-grade students from the Boys and Girls Club for a tour around the campus. (Jintak Han/Daily Bruin)
February 26, 2015 1:57 am
Buses full of fourth-and-fifth-grade students from the local Boys and Girls Club made their way onto the UCLA campus on Tuesday. When the buses unloaded, a group of about 50 wide-eyed students filed out. For many, it was the first time they had ever set foot on a college campus.
Coaching Corps, a student-run club that sends UCLA student volunteers to coach underfunded recreational programs around the Los Angeles area, sought to ensure it wouldn't be their last.
The club hosted the event "Take Your Team to College Day," where the students were given a chance to experience college life from UCLA volunteer mentors. The objective of the event is to show the kids that if they put in the effort both in the classroom and on the field, college is an entirely viable option for them.
"Growing up in some of the communities that these kids do, they don't see a school like UCLA as a realistic, achievable opportunity," said fourth-year psychobiology student Kevin Robinson. "We really try to expose them to the idea that if you work hard, you can make it happen."
The student mentors said the focus of the event was to give the kids a chance to see college as an accessible goal. The day began with a scavenger hunt throughout the J.D. Morgan Center's Athletics Hall of Fame. The kids ran from case to case searching the displays, trying to find the answer to everything from which team won the 100th national championship to where they could find a photo of Bart Simpson. The activity was meant to showcase UCLA's impressive athletic history as well as to show the success stories of those who participated in athletics while in college.
The students also listened to a panel of current UCLA students, including Veronica Rosen second-year psychobiology student and club volleyball player.
The panelists gave insight to the kids on what it took for them to become student athletes at UCLA and stressed the importance of being a student first and having the privilege to be an athlete second.
UCLA's chapter of Coaching Corps has had the goal to inspire inner-city students through athletics and academics since it first began four years ago. As the volunteers were each former athletes themselves before coming to UCLA, they make the trip to sites across Los Angeles to coach and mentor younger students from lower socio-economic areas in various kinds of sports.
"We believe that sports and being on a team at a young age really influences them to grow up with the ideas of teamwork, leadership and hard work," said third-year economics student Zach Scheinholtz.
Aside from coaching kids in both afternoon and seasonal programs, the club plans to hold events like "Take Your Team to College" on campus once every quarter to remind younger students where dedication to school and sports can lead them.
Fourth-year economics student and UCLA Coaching Corps chapter president Garrett Yacovone said that his time involved in the club has been nothing but a rewarding experience because of what it means to the students.
"The kids are young, but they get it," Yacovone said. "They get it when people care enough to come back each time and help them out."
Tuesday's event aimed at creating the same effect on the students. With eagerness written all over their faces, they jumped at the chance to take pictures with both the Bruin Bear and the John Wooden statue, and they were eager to have their voices heard when it when came time for them to ask questions to the student panel.
The school's chapter of Coaching Corps is one of 15 in the nationwide organization aimed at coaching underprivileged youth. Since its start in 2011, it has grown from a team of seven volunteers to a organization of approximately 60 coaches. Robinson said he is proud to have worked with this organization since its very beginning.
"It's growing quickly," Robinson said. "I'm super excited to be a part of the forefront of it. It's really been a fun process to see it go from where we were in the beginning to where we are now, which is a really good place."
As the club continues to expand, so do the community events it puts on. This year, along with coaching teams on a regular basis, UCLA's Coaching Corps will hold a total of three engagements similar to Tuesday's, which is the most they have held in one year since the club's beginning.