Student protesters call for divestment at regents investment meeting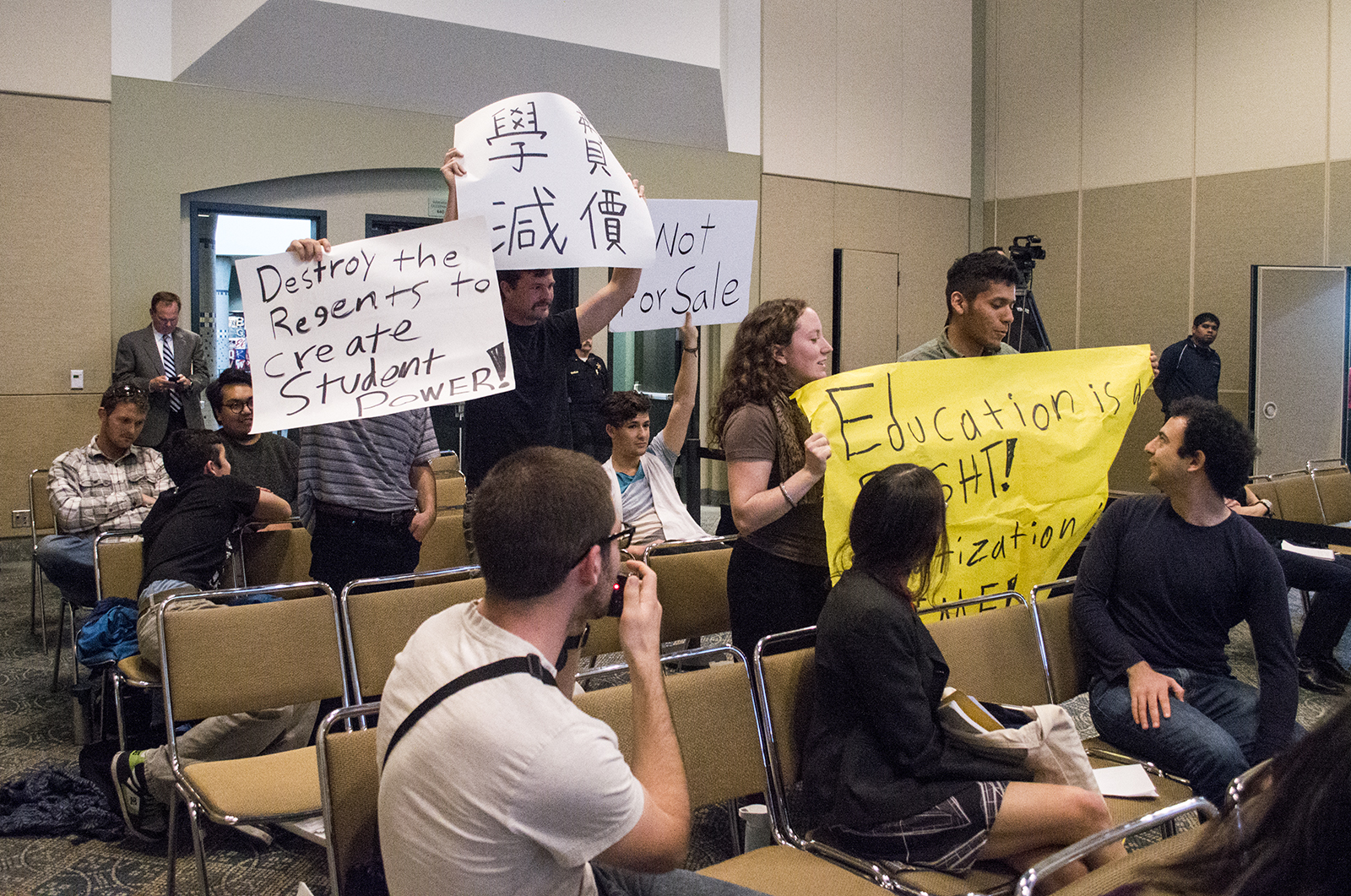 Students protested during a UC Board of Regents Committee on Investments meeting, advocating for more student involvement in the investment process of UC funds. (Manvel Kapukchyan/Daily Bruin)
Student protesters disrupted a University of California investments planning meeting Friday at UCLA, calling for divestment from fossil fuel companies and companies some say are involved in human rights violations in the West Bank and Gaza Strip. The students also protested against the UC's plan to increase tuition.
The UC Board of Regents Committee on Investments met to discuss the University's sustainable investment plan and to review the performance of its retirement plan, pension fund and working capital investments.
As part of the University's sustainability efforts announced in September, the regents analyzed a proposed environmental, social and governance investment framework that would integrate climate change and other risks into its investment decision-making process.
About 17 students from Fossil Free UC, Students for Justice in Palestine and the United Auto Workers Local 2865 union, which represents academic student workers, started the protest during public comment at the beginning of the session. The regents temporarily adjourned the meeting as protesters were cleared out of the room.
Students called for the regents to factor in student input in investment decisions and to accept some students' calls for the University to divest from fossil fuel companies and companies that profit from what some say are human rights violations in the West Bank and Gaza Strip.
"We are united today because of three issues we have with the University administration: the collective choice to gradually raise student tuition, the choice to stay invested in fossil fuel companies and the choice to stay invested in companies profiting from the dehumanization of Palestinian people," said Juan Torres, a third-year history student and member of the Free University Coalition, a student group that opposes the tuition increase plan.
Before the meeting, Torres was one of two students questioned by university police for writing slogans in chalk on the walls of Covel Commons, where the meeting was held.
Avi Oved, student regent-designate, said he thinks the protest shows that student input is lacking in current University decision-making processes.
"The reason that there's been so much discontent in public comments sessions is because of a lack of communication about how students can be involved in the process," Oved said. "We don't want anybody here to operate on the false pretense that a student regent position suffices in representing student perspectives."
However, University officials expressed skepticism toward divestment at the meeting.
"Singularly divesting from something and concluding the conversation there would only be short-sighted," said Jagdeep Bachher, chief investments officer and vice president of investments for the UC. "We must go beyond fossil fuels and address all issues in a broader framework under environmental, social and governance issues."
The UC Board of Regents has previously said it will not support divestment from companies that do business in Israel.
The University currently manages a $91 billion investment portfolio across its pension fund, endowment fund and other working capital funds.