Offensive posters accusing SJP of anti-Semitism found on campus, in Westwood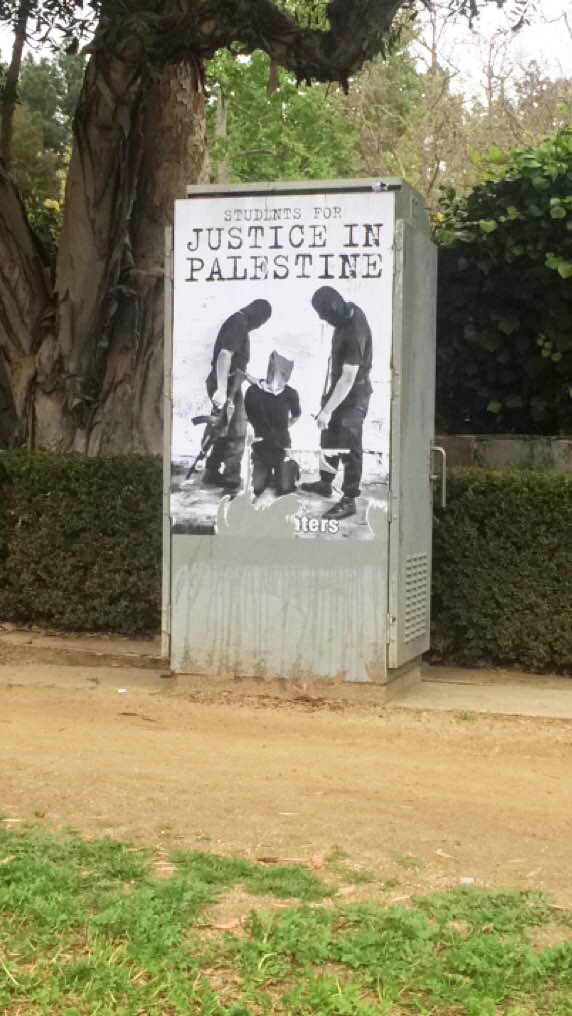 Students reported finding several posters around Westwood Sunday that named the group Students for Justice in Palestine with "#JewHaters" written below it. (Courtesy of Manjot Singh)
This article was updated at 8:26 p.m. on Feb. 22.
Students reported finding several posters around Westwood Sunday that depicted men with assault rifles standing over a masked man and named the group Students for Justice in Palestine with "#JewHaters" written below it.
The posters were reported outside Ackerman Union, near Powell Library, in the North Village and near the corner of Sunset Boulevard and Veteran Avenue.
Mikael Matossian, a fourth-year environmental science student and president of the Armenian Students' Association, said he saw one of the posters outside Ackerman Union while he walked on Bruin Walk on his way to work on a group project early Sunday.
He said the poster was covering a trash can, and though it was raining, the words and photo were still visible.
"When I saw it I was kind of shocked," he said. "It's like hate speech, directed toward this one specific group."
UCLA Facilities Management was notified of the signs and cleaned them up, UCPD Sgt. Karen Gentilucci said. Gentilucci declined to comment further.
Students for Justice in Palestine has sponsored two controversial resolutions over the past two years urging the Undergraduate Students Association Council to encourage the University of California to divest from companies that some say profit from human rights violations in the West Bank and Gaza Strip.
In a press release, Students for Justice in Palestine called for the university to release a statement condemning the posters.
"These posters are a clear example of hate speech directed against Students for Justice in Palestine, as well as supporters of Palestinian freedom and equality," the press release said. "They rely on Islamophobic and anti-Arab tropes to paint Palestinians as terrorists and to misrepresent Students for Justice in Palestine as anti-Semitic."
Manjot Singh, USAC general representative, said he saw one of the posters covering an electric transformer box on campus at the corner of Sunset Boulevard and Veteran Avenue. The writing at the bottom of the poster was removed by the time he saw it, he said.
Olufemi Taiwo, a graduate student in philosophy, wrote in a public Facebook post that he spoke to several students who took down the signs. The post received more than 200 comments in its first few hours online.
He added that the students taking down the posters identified themselves as pro-Israel and that they condemned the signs. Taiwo did not immediately respond to calls for comment.