FDA issues warning on medical scopes, possibly linked to superbug cases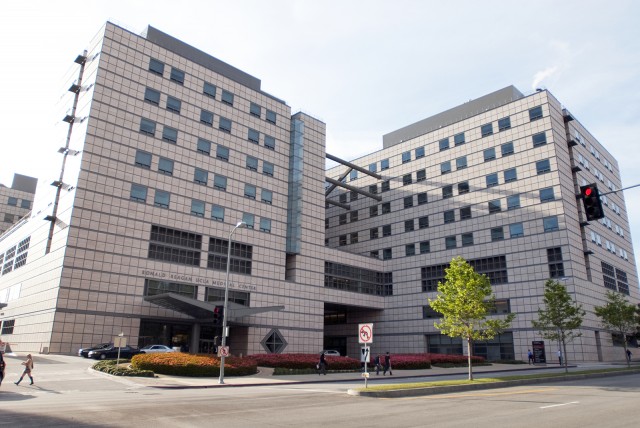 More than 100 patients at the Ronald Reagan UCLA Medical Center may have been exposed to a "superbug" between October and January. (Daily Bruin file photo)
The U.S. Food and Drug Administration issued a safety warning Thursday that the design of a widely used medical scope may prevent it from being effectively sterilized and lead to the transmission of bacteria between patients.
The warning comes after officials reported Wednesday that more than 100 patients at Ronald Reagan UCLA Medical Center were potentially exposed to a "superbug" bacteria because of the use of the reusable side-viewing duodenoscopes. The outbreak of the superbug, called carbapenem-resistant Enterobacteriaceae, or CRE, infected at least seven patients and may have contributed to two of their deaths.
More than 500,000 procedures using duodenoscopes are performed each year in the United States, according to the FDA warning. The procedure is the least invasive way to drain pancreatic and biliary duct fluids blocked by cancerous tumors or gallstones, among other conditions, according to the warning. However, the devices' design may make them difficult to effectively clean in all areas.
"Meticulously cleaning duodenoscopes prior to high-level disinfection should reduce the risk of transmitting infection, but may not entirely eliminate it," the warning said.
The duodenoscopes are flexible, lighted tubes with a movable, elevator-like mechanism at the tip, the warning said. One part of the manual cleaning process is to brush the elevator area, but the area has crevices that the brush might not be able to reach, and bodily fluids can be stuck in those nooks after disinfection, according to the warning.
"If these fluids contain microbial contamination, subsequent patients may be exposed to serious infections," the warning said.
The UCLA Health System said in a statement Wednesday that the duodenoscopes had been cleaned according to the instructions given by their manufacturer.
A superbug bacteria is a strain of bacteria that has become resistant to antibiotic drugs. According to the Centers for Disease Control and Infection, CRE can cause a variety of diseases, from pneumonia to urinary tract infections to serious bloodstream or wound infections. The symptoms vary depending on the disease.
The FDA received 75 medical device reports from January 2013 to December 2014 involving about 135 patients in the United States that were related to potential microbial transmission from reused duodenoscopes, according to the FDA statement.
UCLA Health System employees are currently in the process of notifying the patients who were exposed, according to a statement Wednesday. The hospital distributed free home testing kits to patients for the bacteria to be analyzed at UCLA, the statement said.
Compiled by Yael Levin, Bruin senior staff.