Former UCLA basketball player Zach LaVine dominates NBA Slam Dunk contest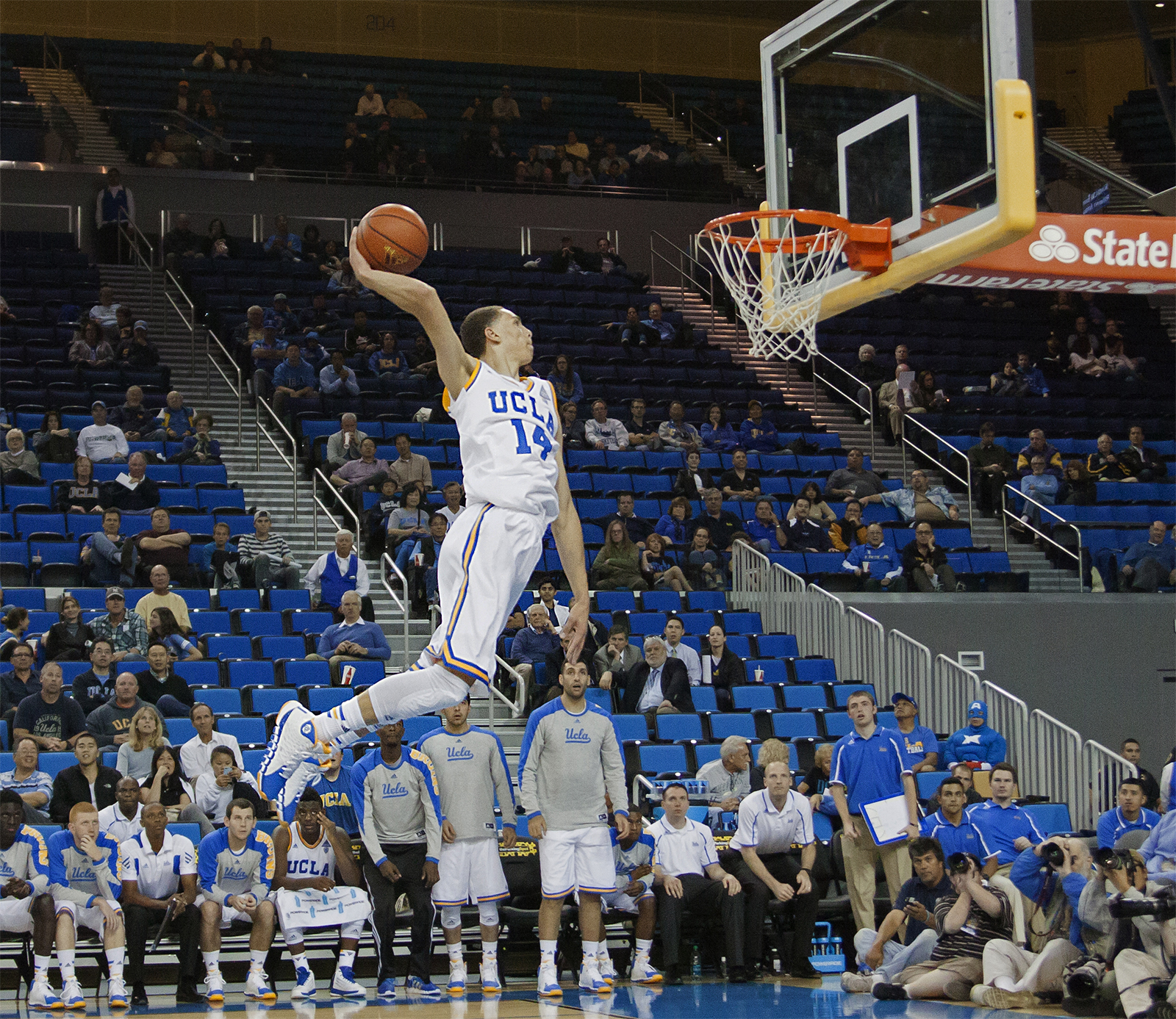 Zach LaVine made his presence felt at UCLA last year by throwing down highlight-reel dunks with regularity. This past weekend, LaVine displayed his prodigious dunking abilities on the world's biggest dunking stage, as he won the NBA's Slam Dunk contest in blowout fashion. (Daily Bruin file photo)
Bothell High School boy's basketball coach Ron Bollinger had already wrapped up nearly two hours of grueling practice, but he couldn't go home.
Instead, he had to supervise a private, impromptu slam dunk contest.
Then-senior guards Perrion Callandret – who now plays for Idaho – and Zach LaVine, as well as junior big man Josh Martin – a recent transfer to Cal Poly – would spend the next 20 to 25 minutes trying to outdo one another in front of an audience of one.
"You can't leave the gym till they're done, so I got to see quite a few of those dunks," Bollinger said. "(LaVine's) creative with it."
At Saturday night's NBA Slam Dunk contest, the field expanded to four professional basketball players and the audience ballooned to nearly 18,000 in the packed Barclays Center, but LaVine's vertical aptitude remained constant.
The Minnesota Timberwolves' rookie guard compiled a four-round score of 194 out of a possible 200 to run away with the 2015 Slam Dunk Contest and become the first former UCLA basketball player to be crowned champion in the event's 30-year history.
LaVine's set included three between-the-legs and one behind-the-back dunks. These are styles LaVine has attempted for years, but they are by no means originals.
"When I was younger, all I did was lower the hoop to seven feet and practice every Michael Jordan and Kobe Bryant dunk I could do," LaVine told The Bruin in November 2013. "I'd watch hours of Kobe Bryant, hours of Michael Jordan and try to emulate what they can do and it just translated to the basketball court."
LaVine wore that inspiration Saturday, taking the court to the theme music from "Space Jam" and shedding his Timberwolves practice top to reveal a No. 23 Michael Jordan Toon Squad jersey.
"You got Jordan on your back, this better be special," said NBA analyst Kenny Smith over the stadium's public address system as LaVine sized up his first dunk of the night.
It was.
In a split second, LaVine transferred the ball between hands underneath his legs and glided underneath the rim just long enough for him to reach back and finish with his right hand. By the time he landed, the arena was beside itself, fellow NBA players were on their feet and former NBA legend Julius Erving was motionless at the judges' table, mouth agape.
A perfect 50 set the tone for the rest of LaVine's night. His second dunk was the only other to receive a perfect score, but his hope for a title was never really in doubt.
Saturday night was his first dunk contest on a world stage, but dunking has been a hobby of LaVine's for a while.
LaVine said his first dunk came in an eighth grade scrimmage. The first one that sticks out to Bollinger is a breakaway dunk in LaVine's first varsity game as a sophomore for Bothell.
Bollinger said LaVine's athleticism forced him to give his star guard a little more creative freedom, as long as the results continued to be there on game day.
"With him, I kind of changed how I coached. It was 'Unless you do something stupid, I'm not going to hold you back on what you can do,'" Bollinger said. "'If you see it, go for it.'"
LaVine's mobility was limited as he recovered from a leg injury during his junior year, but by the following season, fans had started to take notice.
"His senior year, it was like a traveling road show," Bollinger said. "Everywhere we went, the gyms were packed."
When he first came to UCLA, the gyms weren't packed, but his reputation as a dunker became known early.
Before even suiting up for his first official game with the Bruins, the then-freshman had already competed in the Bruin Hoops Madness dunk contest against then-junior guard Norman Powell. Days earlier, he completed an alley-oop just seconds after checking into his first-ever exhibition against Cal State San Bernardino.
"We have a little competition going on to see who's the best dunker on the team," Powell said at the time.
A little over a year later, LaVine settled a dunking competition, but this one was with all of professional basketball.
Bollinger said LaVine might have left a few tricks in his bag Saturday night, particularly the windmill slam-dunk from the free throw line he debuted at the Seattle Pro-Am last summer.
Still, Bollinger said, he'll take LaVine's wire-to-wire victory.
"As soon as I saw the first dunk, I knew just how he did it that he was going to be on and those other guys didn't have a chance," Bollinger said. "I just looked at my wife and said, 'It's over. He's got it.'"