Muslim Student Association holds vigil for Chapel Hill shooting victims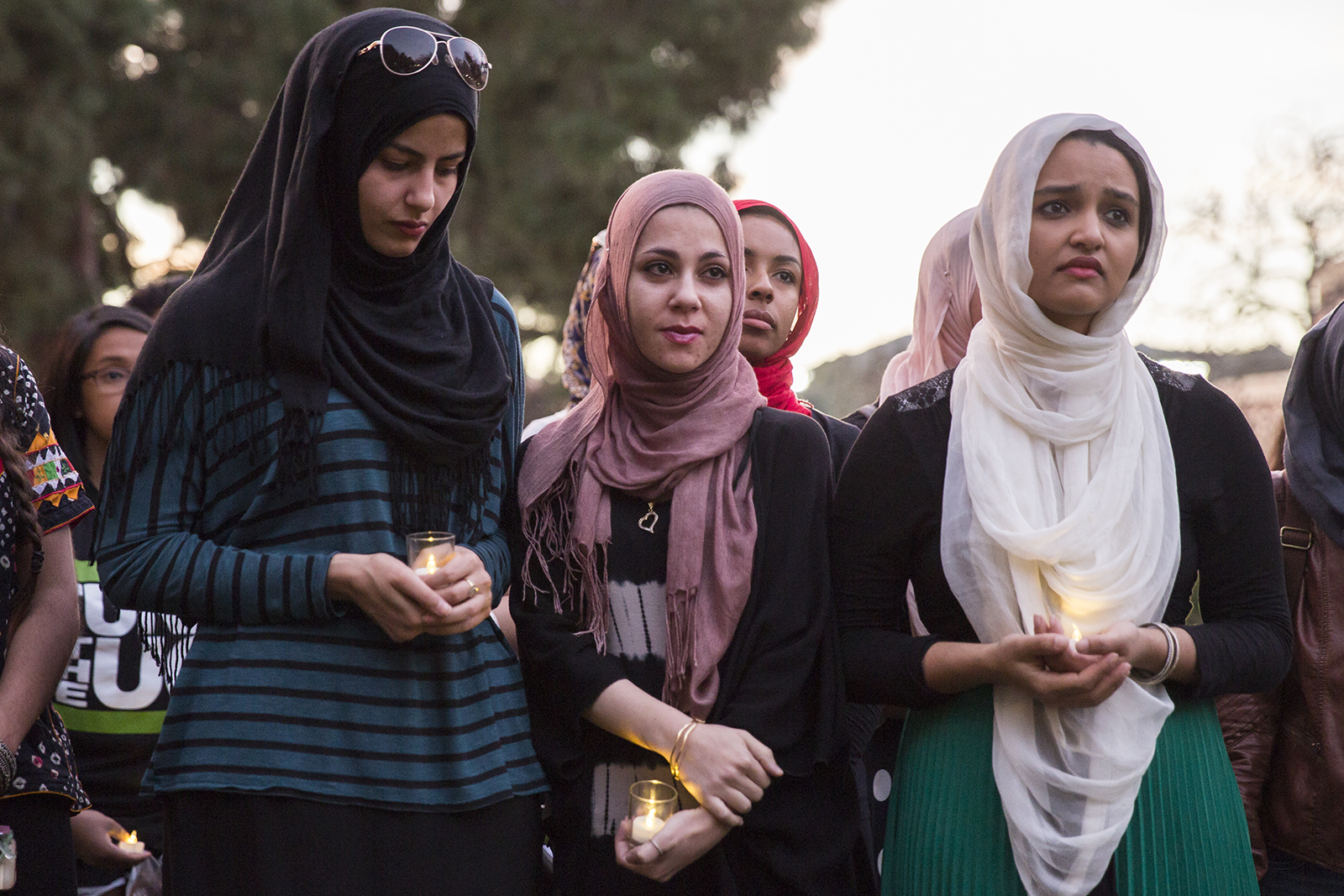 Nabilah Abdelaal, a fourth-year biology student, Raman Kaur, a fifth-year biophysics student and Sabrina Dahak, a fourth-year human biology and society and Spanish student hold candles during the closing ceremony of the Chapel Hill vigil Thursday. (Austin Yu/Daily Bruin senior staff)
By
Daily Bruin Staff
February 13, 2015 1:33 am
The Muslim Student Association at UCLA held a peace and prayer vigil Thursday to mourn the fatal shooting of three Muslim students at the University of North Carolina at Chapel Hill.
About 100 individuals bowed their heads and lit candles as speakers from the Muslim Student Association expressed their reactions to the killings. During the final prayer in Arabic, students hugged each other and some broke into tears.
"We want to accomplish a sense of community, a sense of peace, to show that we're here for each other," said Damali Stennette, sisters' activities director for the Muslim Student Association and a third-year anthropology student.
On Tuesday, newlywed Deah Barakat, his wife Yusor Abu-Salha and her sister Razan Mohammad Abu-Salha were shot and killed near their apartment in Chapel Hill, N.C., according to the New York Times.
Their 46-year-old neighbor, Craig Hicks, was arrested the same day and charged with three counts of first-degree murder. Chapel Hill Police issued a statement saying the crime was provoked over a long-standing parking dispute between Hicks and the students.
However, students at the event, along with the victims' families and many individuals across the world, said they think the killings were a hate crime against the Muslim students.
"It was definitely a hate crime," Stennette said.
Some of the students also criticized what they think is a bias against Muslims in the media, saying the recent killings did not receive enough coverage.
"Can you imagine living your life being the problem?" said Sarah Rahimi, external vice president of the Muslim Student Association and a fifth-year international development studies student.
Adeel Ashfaq, a medical student, said the killings made him fear for the safety of his family. He said he worries his family members will be targeted because they are Muslim.
Standing with Ashfaq, medical student Ayman Abdelkarim said he felt disheartened by the shootings. Abdelkarim said he attended the event because he wants to educate others about hatred and violence against Muslims.
"At the end of the day, there will always be political differences, but what is important is that we are all human and we should respect each other," said Haidar Anwar, former president of the Muslim Student Association West and a fifth-year political science student.
Chapel Hill Police Chief Chris Blue said the police will exhaust every lead to determine if the shooting was motivated by hate, according to the New York Times.