Hedrick dining hall to reopen as new 24-hour study space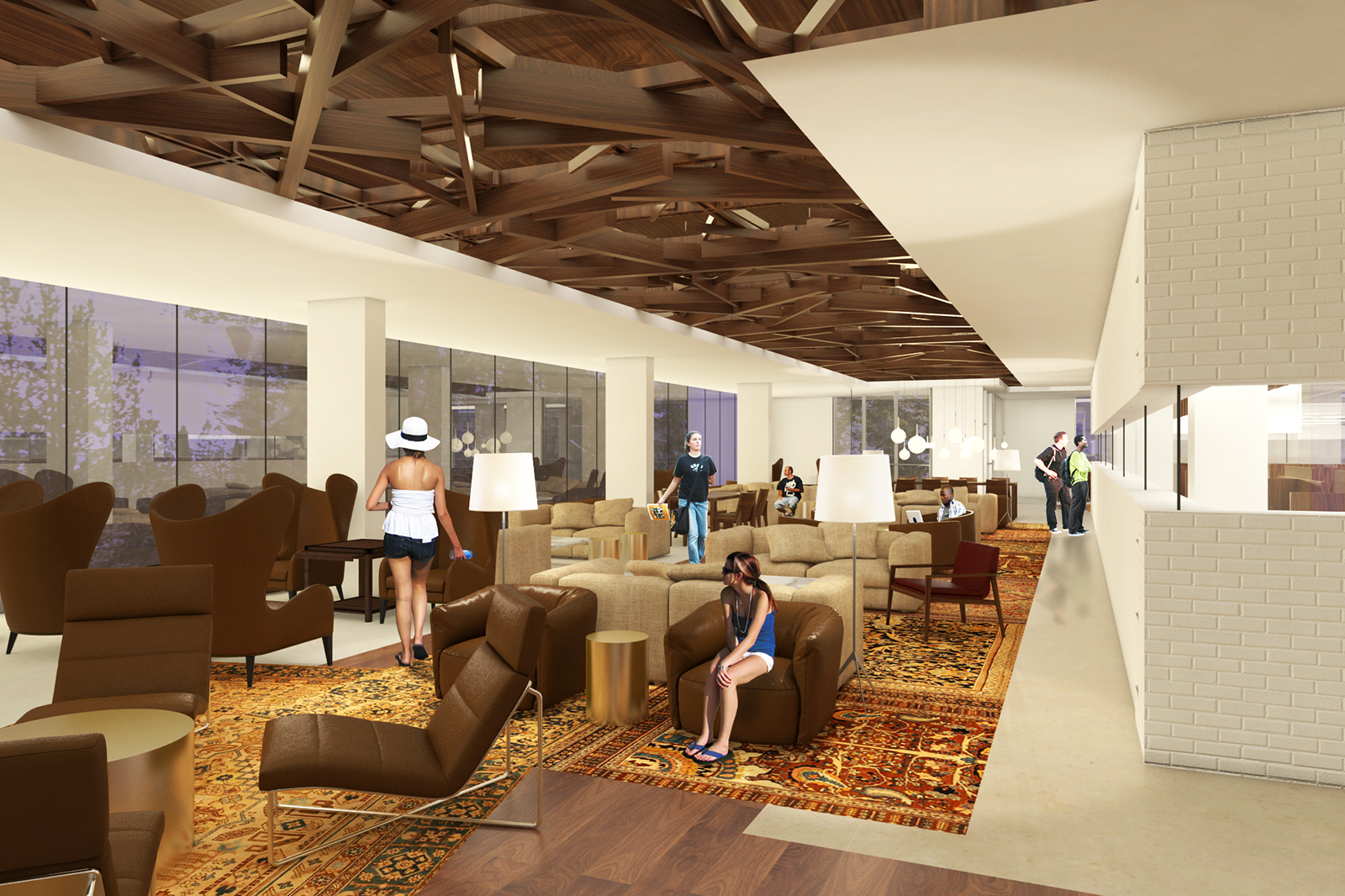 Hedrick Study will be the Hill's first 24-hour eatery and study space, and will look more like a coffee shop and study lounge than a traditional cafeteria, according to UCLA housing plans. (UCLA Housing and Hospitality Services)
By
Daily Bruin Staff
Feb. 4, 2015 1:29 a.m.
Hedrick dining hall is set to reopen as the Hill's first 24-hour eatery and study space in fall 2016, according to recently approved plans by UCLA Housing officials.
The project, which is expected to cost about $8.2 million in housing reserve funds includes a redesign of the Hedrick dining hall to look more like a coffee shop and lounge than a traditional cafeteria. The new area is expected to seat 300 to 400 students.
Peter Angelis, assistant vice chancellor of Housing and Hospitality Services, said officials decided to transform the dining hall to create more study space on the Hill.
Though the Hill has numerous study lounges, some students can be found studying in dorm hallways or staircases. Since Bruin Plate opened, Angelis said he thinks keeping Hedrick open as a dining hall is no longer efficient.
Hedrick Study, as officials are calling the new space, will have an entry area with chairs and couches for casual studying, as well as an enclosed inner area with carrels, or sectioned-off desks, for a more formal, serious study environment. There will also be four glass-enclosed rooms for group studying.
"This is a different feel from all our other dining venues," Angelis said. "(It will have) softer seating, warmer tones and warmer lighting, a feeling like a living room."
At the updated facility, students will be able to order from a bakery, deli or melts station, which will serve open-faced sandwiches, Angelis said. There will also be a to-go food option and a station for hand-crafted drinks.
Angela Yip, a resident assistant on the Hill, said she is excited about the new facility because she has seen other students struggle with a lack of study space in the dorms.
"It can definitely be challenging to find places where you can actually focus," said the second-year political science and Asian American studies student. "It's hard to focus in your room and the floor lounge is mostly for socializing. I've seen people sitting in the hallways, trying to study."
Other students said they were concerned that the space could become more of a hang-out area than a serious studying zone.
"Everyone needs coffee for midterms and finals," said Cristal Torres, a first-year undeclared life sciences student. "It depends on how they format it. It (could) be a cool study lounge or just a waste of space."
Robert Lee, a first-year economics student who lives in Hedrick Hall, said he thinks having an additional study lounge would not be helpful because students can already use the Hedrick Fireside Lounge. He said he thinks the main appeal of the plan, however, is the potential 24-hour coffee option.
UCLA has spent money to change Hedrick dining hall's appearance several times in recent years. In 2012 the restaurant reopened as Test Kitchen at Hedrick, the predecessor to Bruin Plate. It later turned into De Neve at Hedrick, serving dishes from the De Neve Residential Restaurant while De Neve underwent renovations.
In its current form the dining hall, dubbed Rendezvous at Hedrick, serves food from the Latin and Asian quick-serve restaurant Rendezvous.
Daryl Ansel, food and beverage director, said Hedrick Study is expected to remain open 24 hours a day, seven days a week, with food availability determined by student demand.
He also mentioned the possibility of UCLA creating a "snack swipe," which would be less valuable than an ordinary meal swipe. Other details of the project are still unclear, such as the possible inclusion of a fireplace feature.
Construction is set to begin in October, Angelis said.
Contributing reports by Roberto Luna, Jr., Bruin contributor.