Decrease in state funding leads to higher student debt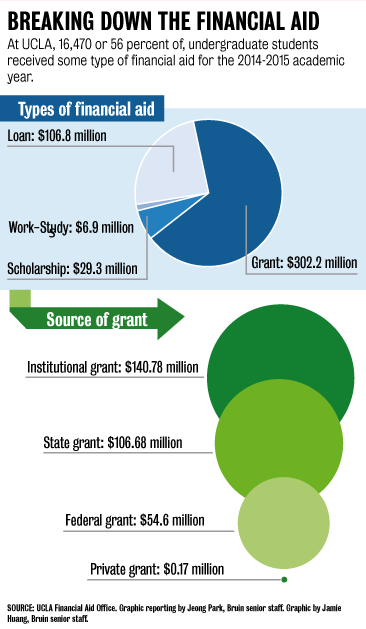 Ahrav Dutta's schedule for the most recent summer followed: graveyard shift at Jack-in-the-Box until 6 a.m. Classes. Work before and after classes. Gym. Work. Study.
In the school year, Dutta works seven days a week, splitting his 52-hour work week between his three jobs. He's also a full-time student with a slate of four classes.
"I don't sleep," Dutta said, rubbing his eyes.
Dutta, a third-year molecular, cell and developmental biology student from El Centro, Calif., pays for all of tuition and housing with his own paychecks.
The money from his biweekly paychecks has to also cover textbooks, groceries and apartment rent, which is almost $700 a month, he said.
Dutta is part of the 20 percent of college students nationwide who now pay for all their college costs themselves, according to a 2014 national Sallie Mae survey. He and other students are adjusting to higher college costs both at the UC and across the country.
About 30 percent of UCLA undergraduates worked more than 10 hours a week in 2012, according to a University of California survey.
The UC Board of Regents nearly doubled in-state tuition and fees from 2007-2008 to 2011-2012 in response to state funding cuts and in November passed a proposal to potentially increase tuition by up to 5 percent for next five years.
The University of California has said it relies more on student fees as a result of decreased state support. Although the state gave the UC 5 percent funding increases for each of the past two years, the University still receives about 91 percent of the funding it received in 2007-2008.
The trend has been seen nationwide. According to the Center on Budget and Policy Priorities' 2014 study, states have cut higher education funding by 23 percent since 2007-2008.
The College Board's Trend in Higher Education study, released in 2014, showed that tuition and fees at a public four-year university increased by 75 percent from 2004-2005 to 2014-2015.
The Center on Budget and Policy Priorities, in its study, said the recent recession has greatly affected state tax revenues, which remain 6 percent below 2008 levels after adjusting for inflation. States have also disproportionately relied on spending cuts instead of revenue increases to address the deficit, the study said.
"States could have lessened the need for deep cuts to higher education funding if they had been more willing to raise additional revenue," said researchers conducting the study.
California has also seen a 10 percent decrease in its general fund revenue from 2007-2008 fiscal year to 2014-2015 after adjusting for inflation. Furthermore, Gov. Jerry Brown, in his budget announcement early January, emphasized restraint as the state is dealing with billions in unfunded liability.
"We have a precariously balanced budget. … We can keep it that way, but it will require self-discipline and prudence," Brown said at a press conference Friday. "It's not a time for exuberant overkill."
As students saddle higher college costs, the amount of student debt has also increased. A 2014 study by the Institute for College Access and Success found that the average student borrower from a four-year public university will graduate with about $26,000 in student debt. In 2008, the average student borrower from a four-year public university graduated with about $20,000 in student debt.
Ronald Johnson, director of the UCLA Financial Aid Office, said UCLA has also seen a trend of more students receiving financial aid as tuition rises.
"It certainly hasn't gone down because more and more students are having trouble paying for their higher education costs," he said.
One third of tuition and student fees is returned to aid to fund grants for students, Johnson said.
The Blue and Gold Opportunity Plan, for example, ensures that students with family incomes below $80,000 receive gift aid sufficient to cover their tuition and fees.
The UC is developing additional fund sources for student financial aid, including Project You Can, a fundraising initiative that has raised almost $901.4 million as of October 2013, and aims to raise $1 billion in private support for student aid, said UC spokesperson Dianne Klein in an email statement.
However, some students said financial aid, even as it has increased, does not pay enough to cover their education.
Alexandra Hall, a fourth-year sociology student, said she went to community college at West Los Angeles College as a cost-saving measure but still had to take out loans close to $5,000.
Hall said she works part-time as a barista at Bruin Buzz while studying as a full-time student to pay off the loans she took out. She said she was awarded a financial aid package during her first year as a transfer student, which decreased when she chose to live off campus.
"I was given an estimate of what my financial aid would be per year, but I don't feel it was a realistic estimate of what I would be paying for my degree," Hall said.
In her part-time counseling job at the Center of Community College Partnerships, Hall said it is sometimes difficult to advise students on financial and university choices. Since she has her own loan debt, she said she knows the possible consequences of attending a four-year public university without enough financial assistance. She said she worries about her ability to repay her loans in a timely manner, especially with graduate school on the horizon.
"Graduate school is more expensive, so I will definitely consider the cost of the college before I decide to attend," Hall said. "The university that awards me most scholarships might just be the place I attend. So much depends on money."