UCLA's Black Campus Ministries helps build sense of community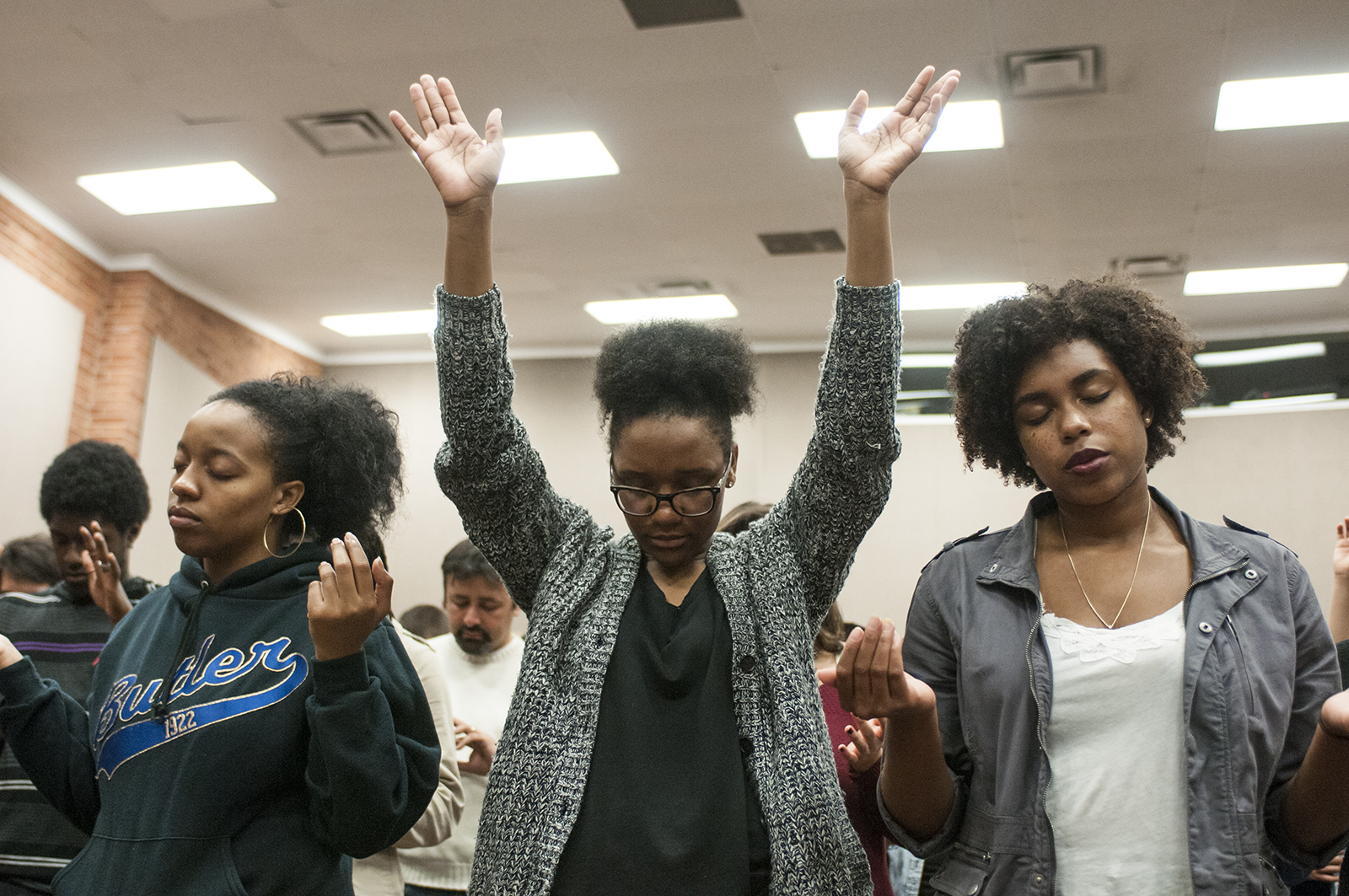 Nasia Turner, a third-year English student, Precious Elam, a third-year undeclared student and Francesca Essilfie, a third-year human biology and society student, raise their hands in prayer during Black Church Mondays, a quarterly event held by Black Campus Ministries. (Daniel Alcazar/Daily Bruin)
The original version of the photo caption accompanying this article contained an error and has been changed. See the bottom of the article for more information.
Anna-Nicole Genislow grew up with a blend of cultures, living with her stepmother from Mexico and her dad who was white and Jewish, until she was 12 years old. But she said she never fully identified with her black heritage on her mother's side, even after she moved in with her cousin who was black.
"I subconsciously knew about my race, but I didn't really understand it aside from my skin color,"said Genislow, a third-year Latin American studies student.
But at UCLA, Genislow said her feelings toward her race changed. She said she started to feel more connected to her black heritage and found some answers when a student went door-to-door in the dorms and invited her to check out UCLA's Black Campus Ministries group. In one bible study session she attended, students talked about how they had been hurt by their own community and misunderstandings they had about their own culture. For Genislow, the hurt and misunderstandings had led her to build up a wall against her black heritage.
"Joining BCM helped me build trust and admire the black community, especially in the church," Genislow said. "Seeing more of that in the black community helped me break down that wall I had built when I was younger."
BCM is a non-denominational group on campus that aims to serve black students by holding weekly bible studies and hosting events such as discussion panels. There are about 50 students in the fellowship.
The group focuses on reaching out to black students and building a sense of community, said Latetia Bobo, a fourth-year sociology student and group leader in the ministry.
"Sometimes you will go to a classroom and be the only black student in your class," Bobo said. "BCM creates a safe space and makes them feel safe on campus."
Megan Arden, a fourth-year microbiology, immunology and molecular genetics student and one of the group's leaders, said BCM also reaches out to UCLA's campus as a whole through events such as Black Church Monday.
Black Church Monday is a quarterly event inviting the public to worship alongside them. H.O.P.E.'s House Christian Ministries is a ministry in Granada Hills about 16 miles from UCLA. The church offers transportation between UCLA and H.O.P.E.'s House on Sundays for students who attend church there, Bobo said.
Music poured out of Rolfe Hall into the quiet night at the most recent Black Church Monday. People sang, danced and clapped along with the band while others streamed in.
After the music ended, attendees held hands and prayed before listening to a sermon by Andrea "Dre" Humphrey about the importance of people dedicating themselves to God.
At the event, Bobo said BCM aims to promote reconciliation through God.
"We believe that God wants to provide that feeling of healing," Bobo said."He has the answers. Realizing our identity in God is the first step in the process."
Bobo said she thinks the political side of issues are not discussed in church as much as she would like, but pastors at H.O.P.E.'s House have offered her advice on speaking out on racism and police brutality.
"They tell me to focus on your purpose and to walk in that purpose. You need to speak out about these issues and I feel a lot of encouragement to respond to these issues," Bobo said.
Leaders in the Afrikan Student Union asked the group to come to a vigil held last quarter for individuals who died because of police brutality in the past few months, Arden said.
"That really stuck out to me to know that our group has a presence in the community where the leaders of the Afrikan Student Union would ask us to come pray," Arden said. "It helped us to bring God into that space."
For Genislow, she sees BCM bringing God into the lives of many students on UCLA's campus.
"BCM helps people who are trying to learn more about their faith and identity as a black person," Genislow said. "They really helped me come to God."

Correction: Black Church Mondays is a quarterly, not weekly event.