Regents to deliberate over proposed out-of-state enrollment cap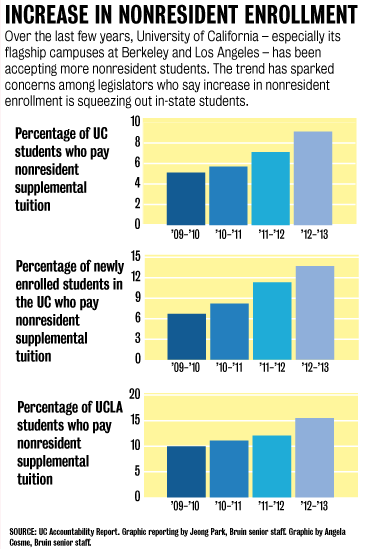 The University of California has increased enrollment of international and out-of-state students in recent years to boost revenue, but state officials are advocating for the University to cap nonresident enrollment and prioritize in-state students in its admissions processes.
The Board of Regents, as it discusses Gov. Jerry Brown's budget and a commission report calling for the University to cap its nonresident enrollment, will evaluate whether the University should adhere to state officials' recommendations, even as the number of nonresident applications is on the rise. Several years ago, the UC began using nonresident tuition as an alternative source of revenue amid lower levels of state funding.
Brown said at a press conference on Jan. 9 that he would like to cap nonresident enrollment at its current level, and Sen. Kevin de León's (D-Los Angeles) office drafted a bill proposal last month, called Senate Bill 15, to increase nonresident tuition by 17 percent while freezing in-state tuition for California residents.
California Assembly Speaker Toni Atkins also wants to cap nonresident enrollment because she thinks those spots ought to be designated for California residents, said Jessica Duong, Atkins' press aide, in an email statement.
These legislators' proposals are not the first of their kind. In 2012, state Sen. Michael Rubio proposed capping nonresident enrollment at 10 percent at all UC campuses. During that year, the University had experienced what Rubio called an "alarming" surge in enrolling out-of-state and international students.
But Rubio's proposal never passed the senate committee, and the UC does not have any current plans to cap nonresident enrollment.
The percentage of newly enrolled students paying nonresident tuition has more than doubled from about 6 percent in 2009 to almost 14 percent in 2013. Nonresident tuition funds education for about 7,000 in-state students, said UC spokesperson Shelly Meron. Currently, nonresident students pay about $35,000 in tuition, while resident students pay about $12,200 per year.
The number of accepted nonresident students increased by about 20 percent this fall, and campuses admitted about 26,000 nonresident students overall – about 3,000 more than they accepted in fall 2013.
In contrast, the UC accepted about 61,000 in-state freshmen students in fall 2014 – about 1,000 more than fall 2013.
Youlanda Copeland-Morgan, associate vice chancellor for enrollment management at UCLA, said the university still enrolls significantly more in-state students than nonresident students.
"We have maintained our commitment to making sure we enroll California students at our historical numbers despite the fact that we have not received enough funding to do so from the state of California," Copeland-Morgan said.
She added that she thinks international and out-of-state students are invaluable in the classroom, bringing many different talents and perspectives to UCLA.
Some experts, however, said they think the state should do more to grow the number of in-state students the UC accepts.
Hans Johnson, a higher education researcher at the Public Policy Institute of California, said he thinks California needs to prioritize in-state students at the UC because it is a public institution.
"It doesn't necessarily mean capping out-of-state students, but we should increase the number of (slots for) California residents who can go to those universities," Johnson said.
He added that he supports de León's office's bill proposal to increase nonresident tuition by 17 percent. The increase would make the UC's nonresident tuition comparable to that of other public universities in the U.S., such as the University of Virginia and the University of Michigan, an official from de León's office said.
In-state student Jason Gosschalk said he thinks it is logical for the UC to give preference to California resident applicants because of the University's history.
"I think the schools were started for in-state students so it makes sense for (in-state students) to have an advantage because we pay taxes," said the third-year biochemistry student.
Kevin Suh, a fourth-year psychobiology student from California, said he agrees with legislators who say UC tuition for nonresident students should be higher.
"Capping in-state tuition and increasing out-of-state (tuition) is completely according to what a UC school stands for," he said.
Yet, other students said they think the University admissions process should not differentiate between in-state and nonresident students.
California resident Nicole Nordstrom said she thinks the UC should grant admission based solely on merit, rather than considering residence.
"I think we should all have an equal shot at getting in," said the first-year undeclared student. "I'm grateful California tuition is low for in-state students, but I wouldn't wish the tuition hike upon any out-of-state students."
SB 15 will go to the Senate Policy Committee in late March or early April, and Brown will finalize the California state budget in early summer.
Contributing reports by Andrea Henthorn, Bruin contributor.