UCLA Division of Social Sciences holds panel on racial inequality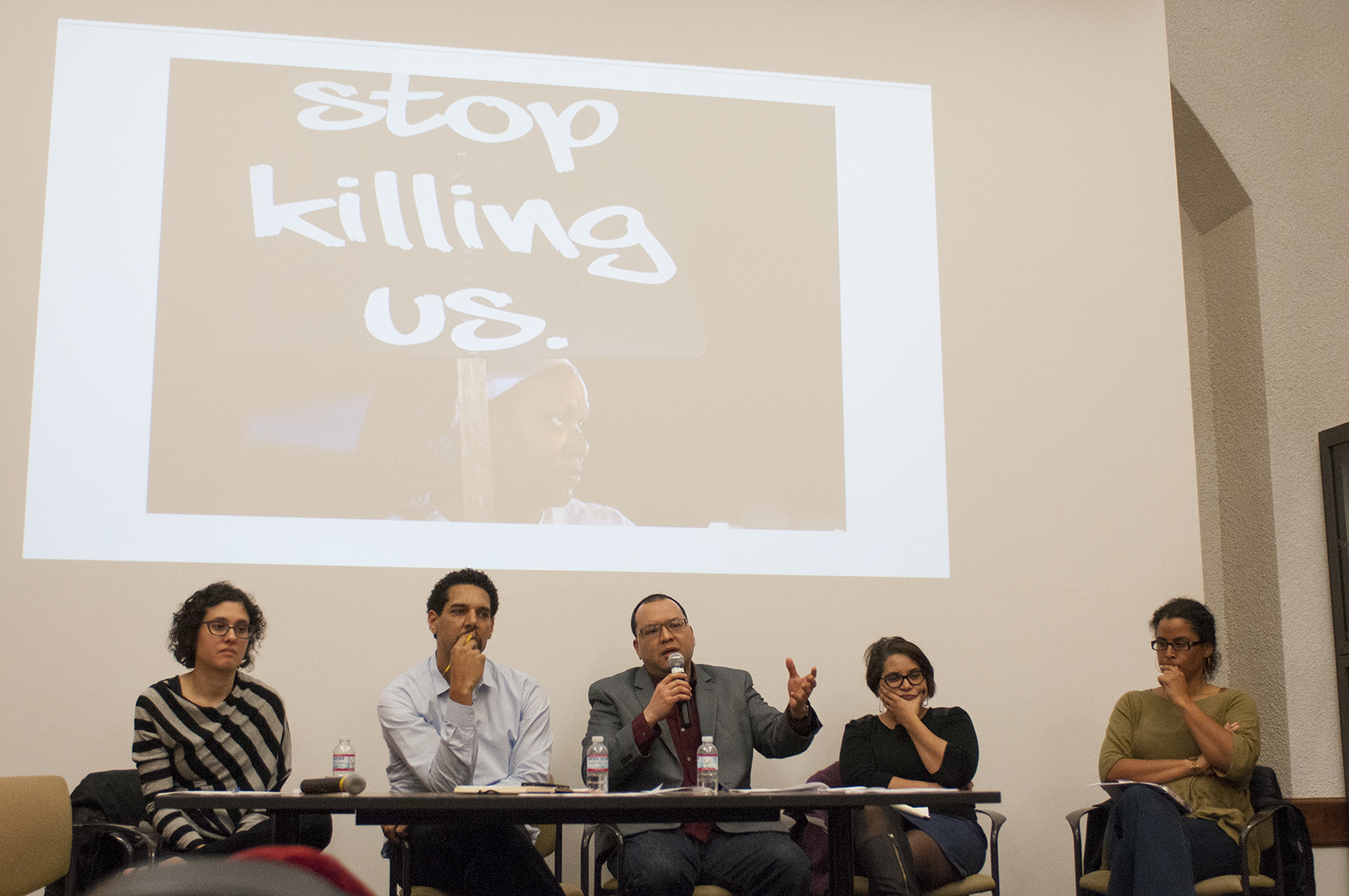 A panel of UCLA professors discussed race and social inequality issues with students Wednesday. (Heidy Cadena/Daily Bruin)
An image of a black student with a graduation cap with "stop killing us" written across it stuck in Jessica Barragan's mind on Wednesday.
Before seeing the image at a panel on race relations in the United States, the third-year sociology student said she had never thought about race relations and police brutality in such finite terms.
"I usually think of someone saying 'stop beating or brutalizing us,'" Barragan said.
The UCLA Division of Social Sciences hosted the panel discussion called "Unequal ground: Race and social inequality in America today" on Wednesday. About 75 students, professors and community members attended the event, which aimed to address what panelists described as structural inequalities that affect black Americans.
At the opening of the panel, Cheryl Harris, a law professor and moderator of the panel, said she thinks the recent killings of young black men, including Oscar Grant III, Trayvon Martin and Michael Brown, mark a crisis in American society.
The deaths of Grant, Martin, Brown and Eric Garner have attracted national attention and protests in cities across the country.
Professors from the economics, history, Asian American studies, gender studies and African American studies departments spoke from their academic research and personal experiences when talking about police brutality.
Leah Boustan, an economics professor, said she studies increased instances of police violence against black Americans despite a recorded movement of the population to the suburbs.
Only 1 percent of people in Ferguson, Mo., the site of the Michael Brown shooting in August 2014, were black in 1970, Boustan said.
About 67 percent of the city identified as black, according to the 2010 U.S. Census.
"We should not be surprised that the murders of Trayvon Martin, Michael Brown and Eric Garner occurred in a suburb," Boustan said.
Boustan said she thinks as black urbanites leave large cities for suburban life, dangerous urban realities, like police brutality, follow them to their new homes.
Melissa Han, a fourth-year communication studies student, said she thinks the panel helped draw real-life examples of issues her professors discussed in lecture.
Some professors drew from their personal experiences when discussing panel topics.
After hearing about the murder of Michael Brown, Peter James Hudson, an African American studies professor, said his 10-year-old son turned to him and asked if police in other countries killed black people.
He said that while he felt disheartened by his son's question and about recent incidents of police violence, he thinks young black activists are taking positive steps to come together and form a movement that reflects their own generation.
Harris said she is unsure how to describe the current experiences facing black Americans.
"We might be wrong (to say there is a crisis in America)," Harris said. "But I think the crisis is not the killing themselves, but the (perceived) acceptance of this crisis."