New MyUCLA feature gives students option of adding preferred name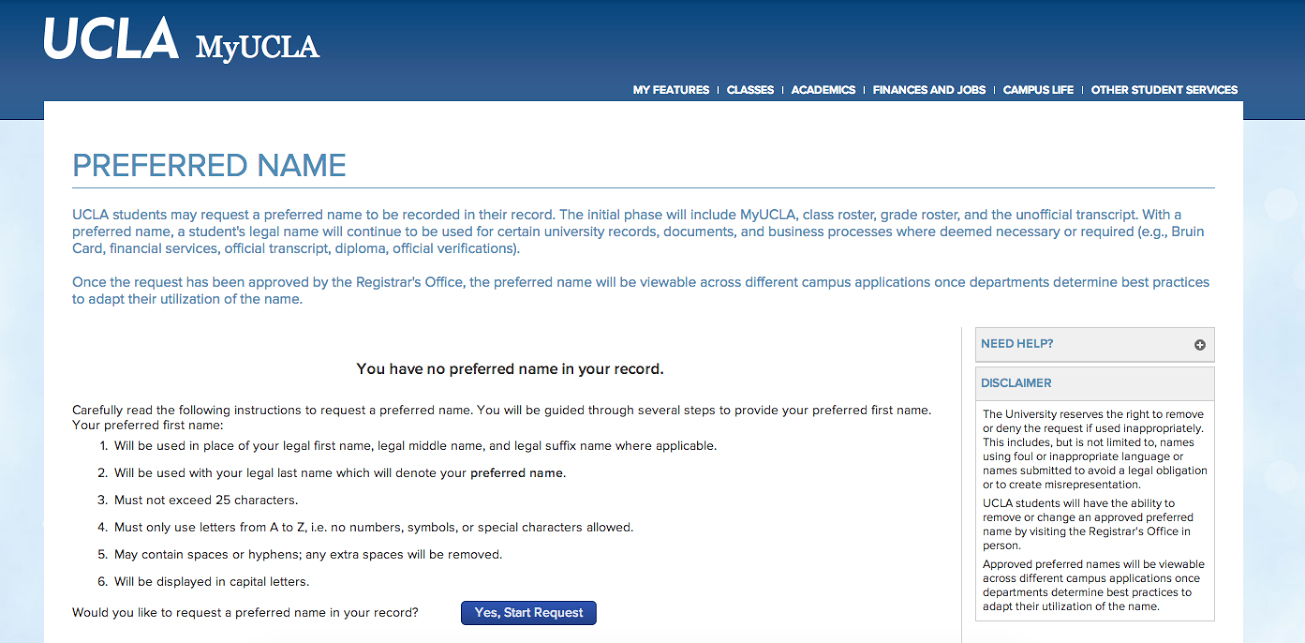 Students can now choose a preferred name on MyUCLA. (UCLA)
A feature added to MyUCLA last week allows students to give UCLA their preferred name, which will then appear on some academic student records.
The feature, which was added under "Settings" on MyUCLA, lets students request that a preferred name, a name chosen by the student that differs from his or her legal name, be added to records.
The feature comes in response to recommendations in September from the University of California's task force on lesbian, gay, bisexual and transgender issues. These included the additional preferred name option for students on academic records, UCLAspokeswoman Rebecca Kendall said.
The preferred name will be used on MyUCLA, class rosters, grade rosters and unofficial transcripts, while official names will still be used for some documents, such as BruinCards and diplomas, according to the MyUCLA website.
UCLA thinks the new featurewill create a more inclusive environment on campus and will benefittransgender students as well as international students and students with nicknames, Kendall said.
The new feature took about nine months to develop and did not require any new funding, as it made use of existing campus resources, Kendall added.
Allyson Bach, Undergraduate Students Association Council Academic Affairs commissioner, who worked with UCLA Registrar Frank Wada on ways to improve MyUCLA, said she is happy university officials implemented the feature.
"It's a really great feature because the roster might have an image of a student and they might have completed a sex change surgery or undergone other changes and might no longer identify with the picture," Bach said.
Though Bach said she is impressed with the new feature, she said she would like to see preferred names used more in the school system.
"To move forward, we'd also like to see that happen with the BruinCard. Now students have a safer classroom environment, but we'd really like to see (preferred names) on the BruinCard," she said.