Students hold town hall to address police brutality, draft demands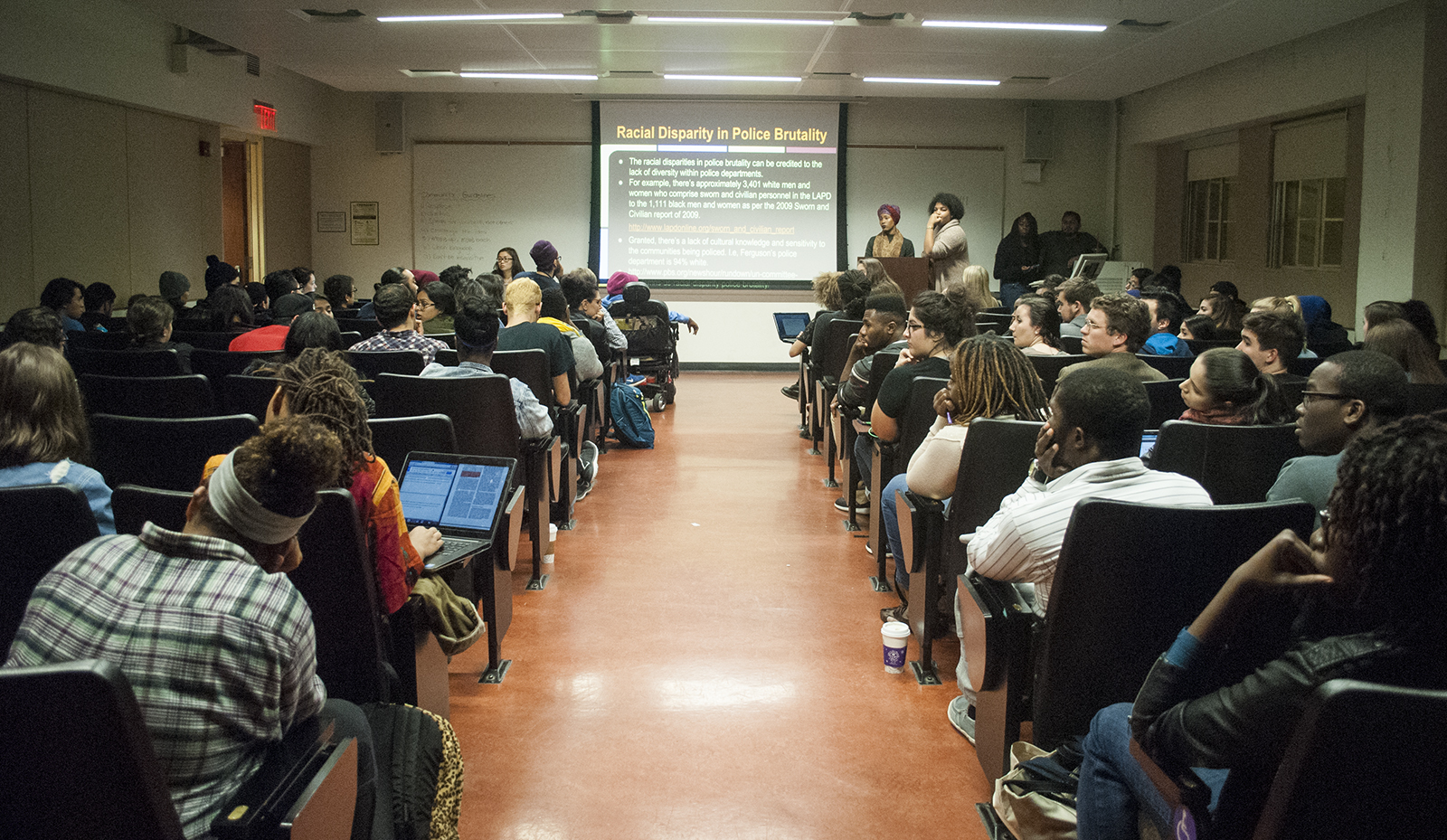 More than 100 individuals attended a town hall held by the Cultural Affairs Commission. (Heidy Cadena/Daily Bruin)
More than 100 individuals at a student-led town hall Thursday drafted a list of demands calling for the Los Angeles Police Department to patrol all communities in equal numbers and for university police to not carry any weapons.
Students drafted several demands for LAPD, including that the agency say how it funds weapons and for its workforce to reflect the demographics of Los Angeles.
The UCLA Cultural Affairs Commission held the town hall, called "Under Protected, Over Policed," to discuss what they described as a history of police brutality toward people of color.
The meeting was in response to recent incidents of police violence highlighted by the media, including the grand jury decisions to not indict police officers whose actions lead to the deaths of Michael Brown and Eric Garner, USAC Cultural Affairs Commissioner Irmary Garcia said.
Garcia said the purpose of the town hall was to unite different factions of UCLA students who have been protesting police violence.
"I've noticed there are a lot of students trying to maintain this and mobilize, but it's really difficult to do the things we want and accomplish the things we want to accomplish when we don't have all students really working together," Garcia said.
Town hall organizers opened the meeting with a presentation about police brutality. They also talked about ways they said structural problems in the United States and specifically Los Angeles have led to racism and the unjust treatment of people of color. Some students at the meeting called the police's treatment of people of color "a systemic genocide."
One student who attended the town hall, fourth-year political science student Adrena Collins, proposed that UCLA officials implement cultural sensitivity training at events such as New Student Orientation.
Collins said that after the recent controversial non-indictments, she thought other individuals used insensitive language that perpetuated racial stereotypes both online and on campus.
"I thought we were past the '60s. I thought blue and gold were the only colors that mattered," Collins said during the town hall.
Some town hall attendees said they plan to further specify their demands by laying out how they expect the university to implement them and evaluate them over time.
Amber Tidmore, a fourth-year English student, said she thinks creating a more detailed version of students' demands will be crucial to their effectiveness.
"It will serve no purpose if we are not specific about what sensitivity training will look like," she said.
To polish the language, the Cultural Affairs Commission is drawing from other demonstrations and lists of demands other cities have been adopting. She said the commission wants the discussion to be solution-oriented.
"I feel like people think because they're using different coded language that somehow that means racism is over," Collins said. "There are deeply rooted racial stereotypes that people aren't aware of that really hurt."
Garcia said she has also reached out to non-student organizations for support for the initiatives.
She said she talked with several professors and one of the leaders of the L.A. chapter of Black Lives Matter, a national movement created in response to the acquittal of neighborhood watch coordinator George Zimmerman and the death of black teenager Trayvon Martin, and they have all offered their resources.
"Right now we need to focus on (having) UCLA students … on the same page and that we know what our resources are and … what our plan of action is so that we can be more effective and efficient when we connect with the community," Garcia said.
Collins said she thought the meeting was an effective starting point for campus conversations about developing a unified response to police violence.
"I think this is how it starts," Collins said. "This is how we try and implement change."
Garcia said she and the organizers plan to meet again early in winter quarter.
Henthorn was the Enterprise Content editor from 2017-2018. She was previously a News reporter.
Henthorn was the Enterprise Content editor from 2017-2018. She was previously a News reporter.