New Amazon Lockers provide students package delivery alternative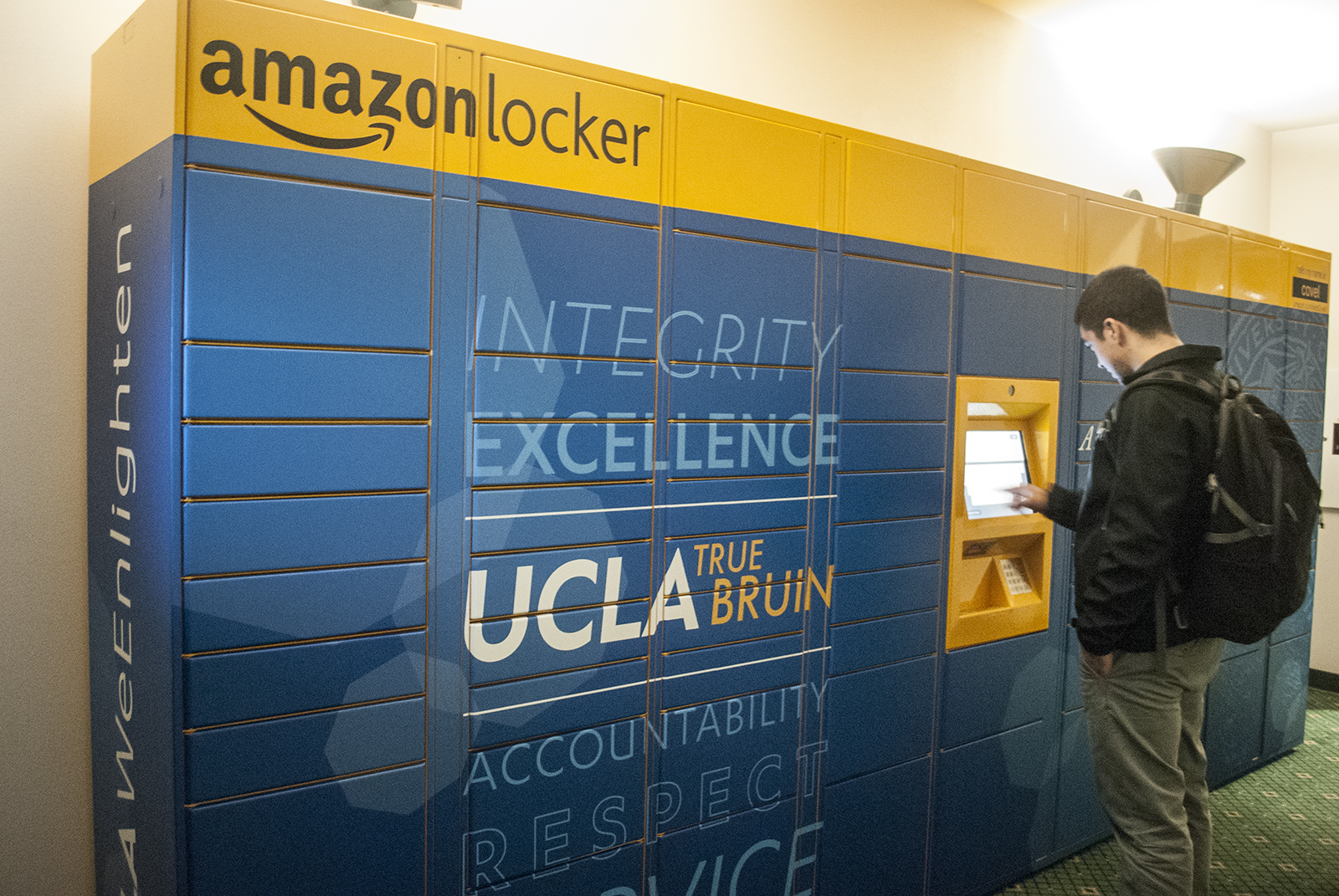 Julian Sandoval, a fourth-year Spanish student, tries out the new Amazon locker in Covel Commons. (Heidy Cadena/Daily Bruin)
UCLA Housing and Amazon.com officials installed yellow and blue Amazon Lockers on the Hill last week, offering students a new way to pick up packages from the e-commerce site.
The electronic self-service lockers are available on the first floors of Hedrick Hall, Rieber Hall and Covel Commons, near the front desk of De Neve Commons and in the breezeway of the Paseo building in the Weyburn Terrace graduate student housing complex.
In many cases, the lockers, which allow students to retrieve packages in a secure way, are closer to students' dorm rooms than the central mail room on the Hill, and are open 24 hours a day.
UCLA spokeswoman Rebecca Kendall said in an email statement that Amazon paid the full installation costs for the lockers. The university and Amazon have discussed installing lockers for months.
Students can use the lockers by adding a locker to their address book when ordering on Amazon. When their packages are ready, students receive a digital combination in an email, which they can type into the locker screen to pick up a package.
Amazon Lockers are available in many U.S. cities, including around college campuses. Before the UCLA lockers were installed, the closest Amazon Locker to campus was on Gayley Avenue.
Kent Leroy, a first-year physiological science student, said the lockers encourage him to buy from Amazon more frequently because he will be able to pick up his packages in Hedrick Hall instead of walking to the mail room in Delta Terrace.
"I don't use Amazon very frequently, but I like the concept of the lockers because they make receiving your orders less of a hassle," Leroy said.
Tal Newfield, a first-year psychology student, said she thinks the lockers will be helpful for students because they are open at all hours.
"I get a (lot) of things from Amazon and now I won't have to go as far to pick them up," Newfield said.
Students can add the lockers to their Amazon address book online.