UCLA students hold 'die-in,' moment of silence for Michael Brown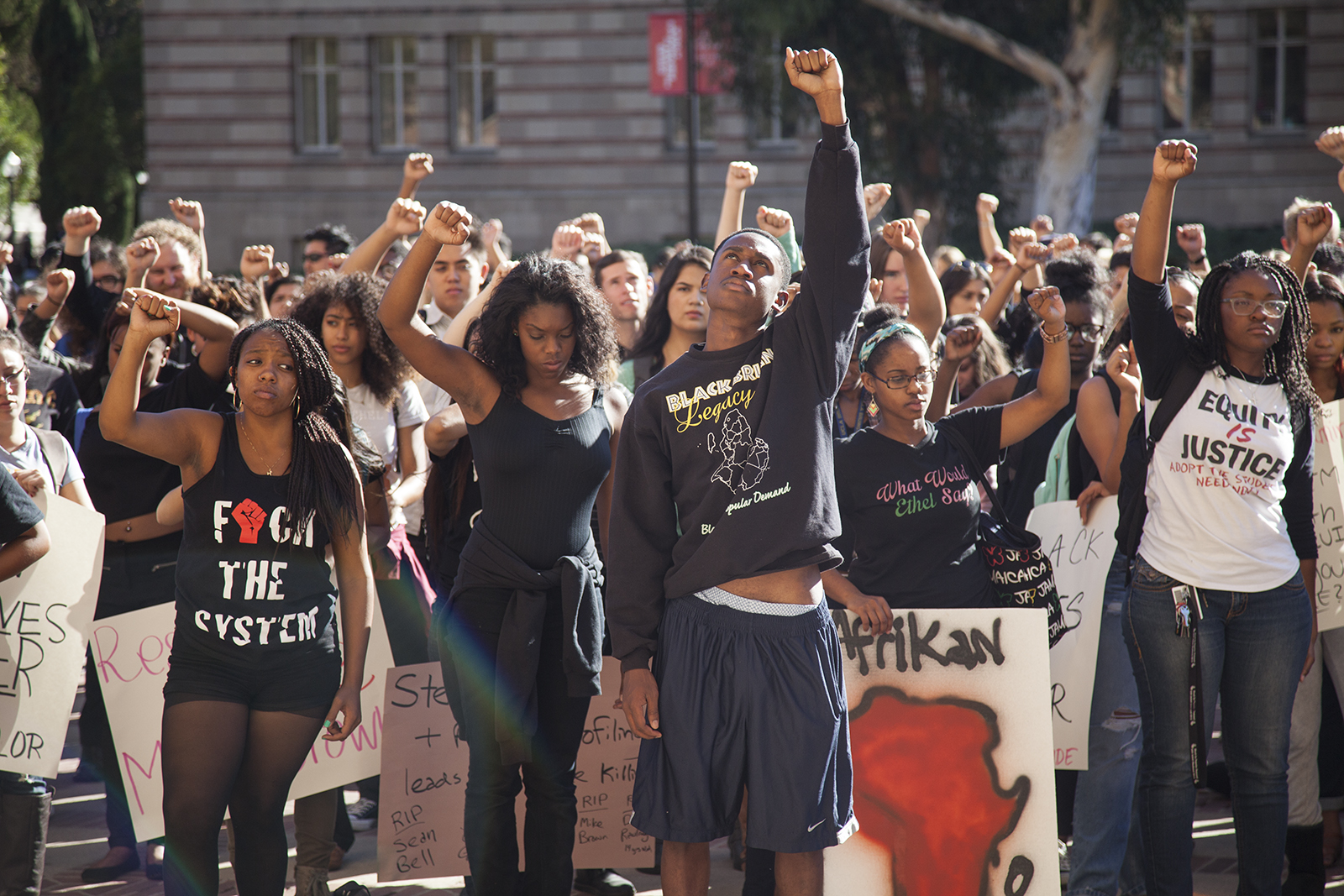 On Tuesday, hundreds of students protested a grand jury's non-indictment of Ferguson, Mo. police officer Darren Wilson, saying it is indicative of a trend of racial discrimination by police.
(Hannah Ye/Daily Bruin)
The original version of this article contained multiple errors and has been changed. See the bottom of the article for more information.
This post was updated on Nov. 25 at 7:20 p.m.
Several hundred students called for university police to institute a sensitivity training course for all its officers during a protest Tuesday, following a grand jury's non-indictment of Darren Wilson, a white Ferguson, Mo., police officer who shot and killed unarmed black teenager Michael Brown.
"After the news was released, I felt a lot of frustration, a lot of anger and defeat," said Mike Wamungu, a fourth-year sociology student at the protest. "People need to voice their concerns. They need a way to deal with psychological trauma."
Hundreds of students marched through campus chanting phrases like "no justice, no peace, no racist police" during the protest, which was organized by the Afrikan Student Union. They also hung a banner in front of Royce Hall with the words "Black lives matter" and called for reform of the U.S. criminal justice system.
Nancy Greenstein, university police spokeswoman, said the university police department has said it currently holds mandatory diversity sensitivity training for its office. UCPD also participates in a racial profiling in law enforcement database under the Center for Policing Equity. In October, former Undergraduate Students Association Council President Devin Murphy met with police and university officials to work on creating an oversight committee that will address concerns about racial profiling.
In front of Meyerhoff Park, students took turns speaking about how they feel the decision is part of a larger problem with America that affects their personal lives and the lives of their family and friends. They mentioned how black individuals make up a much higher proportion of people incarcerated, even though only 13 percent of the U.S. population is black.
The protesters held a "die-in," lying on the ground in front of Royce to signify how black individuals suffer from what protesters say is racial discrimination by police. Students then drew chalk outlines of other students on the ground, hoping other students will see the drawings and inquire further, said Donte Miller, a fourth-year sociology student.
They also held a four-and-a-half minute moment of silence holding up their fists to represent the four and a half hours Brown laid on the ground dead following the shooting in August.
Minutes following the announcement of the controversial verdict Monday night, a few dozen protesters marched around the campus and Westwood, temporarily blocking traffic. Protesters across the country said they think the non-indictment is part of a greater trend of racial discrimination by police.
Alex Mercier, a fourth-year political science student and member of ASU and the USAC President's office, referred to other incidents of perceived racial discrimination by law enforcement officers such as the shooting of Trayvon Martin by a neighborhood watch officer, George Zimmerman, in 2012. Zimmerman's acquittal last year also resulted in protests across the country.
"This is us being in solidarity with Compton. This is us being in solidarity with Sanford, Florida," Mercier said. "This is us taking our stance."
Ayesha Khan, project director of the Incarcerated Youth Tutorial Project, an organization that provides tutoring for youth in probation camps, said at the protest that she does not want to tell the youth she tutors about Wilson's non-indictment.
"It's really hard to go back to site and keep telling them that the same thing that happened to Trayvon Martin also happened to Brown," said Khan, a fourth-year microbiology, immunology and molecular genetics student.
Darnell Hunt, a sociology professor and director of the Ralph J. Bunche Center for African American Studies, said he thinks the grand jury's decision has far-reaching consequences.
"I am worried for the safety of young African American men," he said. "(This says) that they can be mistaken for someone who is a threat."
He added he thinks police forces in Ferguson and many other communities do not represent the communities they serve. As of August, three out of 53 police officers in Ferguson were black even though the town is two-thirds black.
"(The disparity) breeds a culture of separation," he said. "Police feel like an outside entity."
About a hundred feet away from the protest, Carlos Sotelo, a fifth-year computer science and engineering student, held up a sign that said he thinks there is no strong evidence to indict Wilson and that he thinks Wilson acted in self-defense. Many protesters engaged in an argument with Sotelo, debating the merit of the case.
"I'm not here to change their minds," Sotelo said. "I'm here to let the people know that there are people that think differently."
Briana Price, a second-year undeclared life science student, watched the argument as it unfolded. She said she thinks counter-protesters often ignore the struggle blacks face with the criminal justice system.
"They can't see the point because they are blinded," Price said. "If people are killed because of their blackness, then I'm going to look at myself in that light."
Contributing reports by Eliza Blackorby and River Sween, Bruin contributors.
Correction: Miller's first name was misspelled. UCPD participates in, rather than develops, the database with the Center for Policing Equity, not Center for Policing Inequality.