UCLA Bruin Marching Band to rally school spirit in rivalry game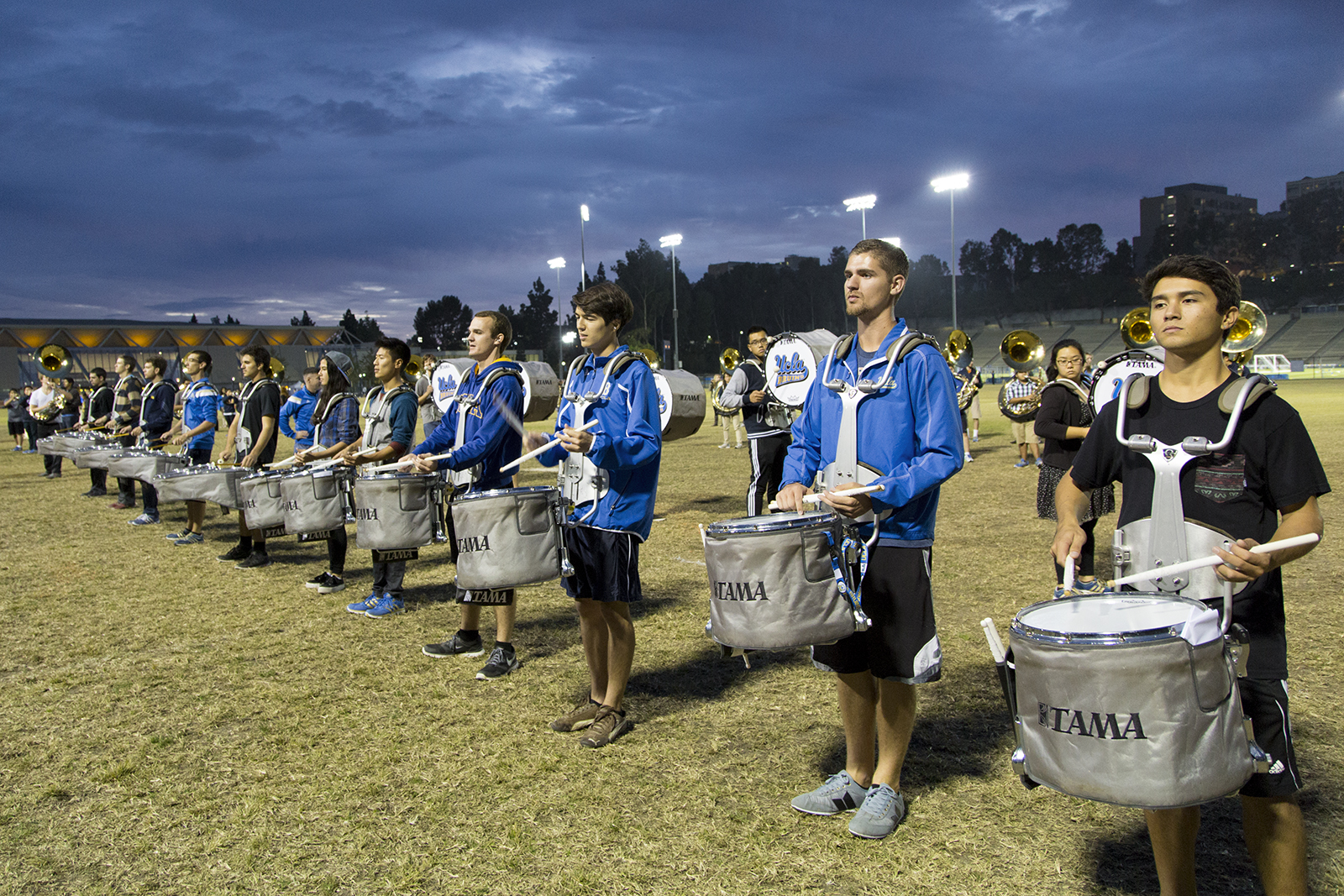 (Owen Emerson/Daily Bruin)
November 21, 2014 12:00 am
As students and fans get ready for the rivalry football game between UCLA and USC this weekend, the UCLA Bruin Marching Band is working hard to build city-wide enthusiasm for the big showdown.
—
TRANSCRIPT:
NABOR: Los Angeles fans are beginning to feel the stakes rising for this week's football rivalry game as the UCLA and USC teams vie for the coveted Victory Bell. But when fans fill the Rose Bowl and players take the field, what could happen to the energy of the game if the band doesn't show up? Justin Yee, a fourth-year biology student and alto saxophone section leader of the UCLA Bruin Marching Band, offers one answer:
YEE: I've noticed when the band's not playing or when the music is not playing at all, like in Pauley, it's sort of awkward.
HALL: Being such a part of the sound of the game is so important.
NABOR: This is Charlie Hall, a fourth-year cognitive science student and drum major for the band.
HALL: I know it's a huge part that everybody at the Rose Bowl, but even the people at home are hearing us too.
NABOR: But the UCLA band doesn't just perform at games to fill the silence. Western Kramer, a third-year ecology, behavior and evolution student and drummer for the band, describes how its self-proclaimed "solid-gold sound" encourages enthusiasm and school spirit among fans.
KRAMER: Everyone is looking to you as the leaders in school spirit for just an overall good time at the game. And it's nice that we get to be the leader of that.
NABOR: During the football season, the band performs for thousands of people at a time at the Rose Bowl. Aside from fight songs during matches, the Bruin Marching Band produces a unique halftime show for each of these home games.
FLICKINGER: It's different for every home game. We do a different show. All the planning starts usually in spring quarter …
NABOR: This is Kelly Flickinger, the assistant director of the Bruin Marching Band.
FLICKINGER: We meet and go over ideas, brainstorm. We look over videos, listen to different music and try to come up with ideas for the shows for the next year.
NABOR: The band has spent a year preparing for this week's halftime show, in which they feature a mix of hits from bands and artists including Imogen Heap, Van Morrison and Styx.
FLICKINGER: This week's performance is really our big show. We usually do one big show a year. We call it our big show because it's usually our most challenging musically and for marching too.
NABOR: Kramer agrees.
KRAMER: The 'SC game is one that we put our best on. // It's something we've been working on for just about two months now. And everything really culminates at this game. // We perform and try to outperform our competitors, and really just show them what the true image of success and a winner is.
NABOR: So what does the true image of success look like? Hall paints this picture …
HALL: There's nothing more satisfying than right after a big touchdown to play our fight song and just have the entire Rose Bowl go crazy for us and know that we're kind of rallying everyone behind us to celebrate the big victories. So, it's fun.
NABOR: The UCLA Bruin Marching Band will perform its big show on Saturday evening at the UCLA-USC football game.
For Daily Bruin Radio, this is Dariane Nabor.