Natalie Delgadillo: Debate on USAC president's legitimacy widens council rift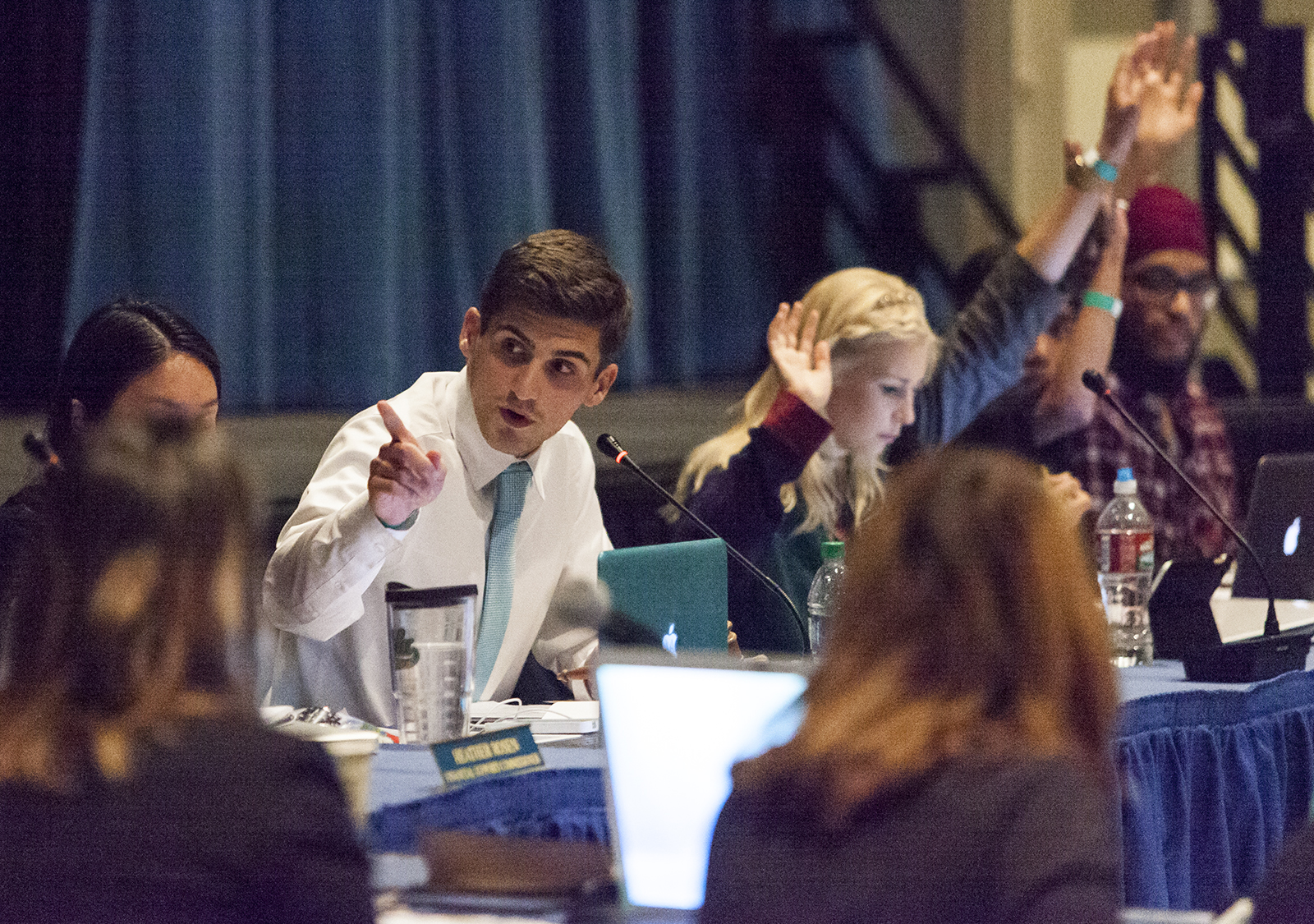 USAC councilmembers questioned the legitimacy of former USAC Internal Vice President Avinoam Baral's rise to the presidency during Tuesday's council meeting, where they passed the divestment resolution. (Joseph Chan/Daily Bruin)
November 21, 2014 8:11 am
The original version of this article contained an error and has been changed. See the bottom of the article for more information.
Tuesday's student council meeting was about as divisive and damaging as we all knew it would be.
But some of the damage didn't come from the expected places.
For weeks before the meeting, student groups, councilmembers and cultural communities on campus had been preparing for the upcoming vote on a resolution exhorting the University of California to divest from American companies profiting from human rights violations in Gaza and the West Bank. Divestment is the biggest and most divisive issue the Undergraduate Students Association Council has grappled with in recent years, and it has totally dominated the conversation in student political spaces for as long as I've been a student at UCLA.
That's why it seemed strange to me when, before voting on a resolution that will in many ways come to define their terms, several councilmembers chose to bring another issue to the forefront: the legitimacy of former Internal Vice President Avinoam Baral's ascension to the presidency after former President Devin Murphy's resignation last week.
Transfer Representative Negeen Sadeghi-Movahed, External Vice President Conrad Contreras and General Representative 1 Manjot Singh all questioned the process by which Baral had filled the empty seat, contending that the stipulation in the USAC constitution that provided for his immediate adoption of the presidency had been misinterpreted.
Despite what they may tell you, their contention was an ill-timed, ill-advised and poorly hidden attempt to oust Baral from the presidency before arguably the most important council vote of the year.
The contention these councilmembers raised was about the midpoint of their term; there is a stipulation in the USAC constitution that provides for a special election for any vacancy on council that occurs before the midpoint of the term. Any vacancy that happens after is filled by appointment. In the case of a presidential vacancy after the midpoint, the IVP automatically assumes the spot.
Contreras, Singh and Sadeghi-Movahed tried to contest Baral's original interpretation of the midpoint. Had their interpretation been adopted by the council at large, the constitution would have mandated that there be another $6,000 special election in a few weeks to elect an entirely new president. Both Contreras and Sadeghi-Movahed said they were wary of the cost of another special election – but both were clearly willing to risk pushing that expense onto students by bringing up an alternate interpretation of the midpoint. That risk seems particularly disingenuous in the midst of protests of a UC-wide tuition hike currently being overseen by Contreras' own office.
In a room full of hundreds of people, during a meeting that both revealed and perpetuated deep rifts among communities at UCLA, three councilmembers came together in a baseless and targeted attack on another. In so doing, they not only cast their integrity as public officials into question, but they also all but doomed any hope for cooperation between the new Office of the President and the offices of his political rivals.
Contreras and Singh are both a part of the LET'S ACT! slate and Sadeghi-Movahed was formerly a part of that slate, while Baral comes from Bruins United, the other major political slate that runs candidates for student council. For some incomprehensible reason, these two groups seize upon any and every ideological difference with each another and fight tooth and nail against the other side. What happened at the start of the last divestment meeting was the latest in a long string of events showcasing councilmembers' petty focus on political rivalries when they're supposed to be solving real problems.
Both Contreras and Sadeghi-Movahed said that what they really wanted at Tuesday's meeting was a discussion. They felt – and, according to them, many students felt – like Baral's sudden ascension to the presidency before any kind of discussion with the council was a disingenuous grab for power. His email to the council announcing his presidency mere hours after Murphy resigned struck them the wrong way, they said.
It's true that Baral should have gone about filling the empty seat differently – perhaps waited until he could call an emergency meeting of the council before Tuesday's vote on divestment and discussed the issue with all members before making a public announcement. But these councilmembers' insistence on publicly calling him to order was petty and mean. It also posed the serious risk of another $6,000 USAC special election in the coming weeks, had Baral's presidency been determined illegitimate.
And for what reason?
It seems to me that it was for the sake of symbolic political victory. These councilmembers felt slighted by Baral's assumption of the presidency and shrugged aside more important considerations to call him out in front of a crowd of people who loudly and obviously dislike him.
The truth is simple and clear as day: These councilmembers do not like Baral, and they chose to put that dislike before the interest of the council as a whole and the students it represents.
Either they are being dishonest about being driven by slate politics, or their adherence to this standard of behavior has become so ingrained in their way of thinking that they've forgotten how to tell when it's there.
Correction: Sadeghi-Movahed is not part of the LET'S ACT! slate.