Beat 'SC bonfire canceled because of tuition hike protest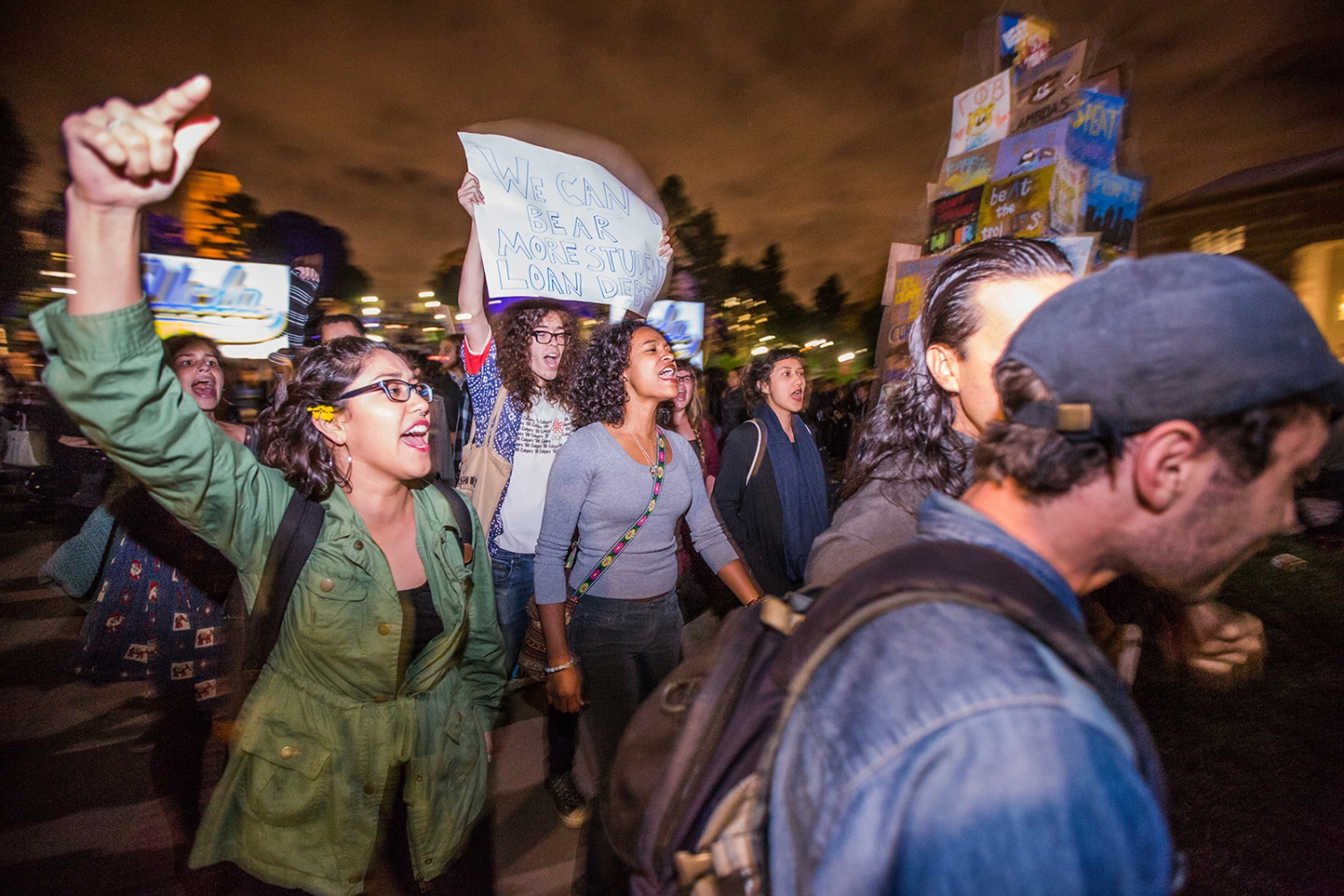 About 50 student protesters cancelled Thursday's traditional Beat 'SC bonfire, which between 4,000 and 5,000 students attended.
(Austin Yu/Daily Bruin)
The original version of this article contained an error and has been changed. See the bottom of the article for more information.
This post was updated on Nov. 20 at 9:54 p.m.
UCLA officials canceled the bonfire portion of the Beat 'SC Bonfire and Rally Thursday night as about 50 students marched in circles around the bonfire site to protest potential tuition hikes.
Rally attendees and organizers tried to ignore the protesters, who banged a drum, chanted and circled the woodpile while student groups danced, cheered and sang on stage to continue the Beat 'SC rally. Several attendees booed the protesters in between performances.
Nobody who spoke at the rally, attended by more than 4,000 students, acknowledged the protesters.
Football coach Jim Mora officially announced the bonfire's cancellation, saying it was cut because of "circumstances beyond our control."
"We don't need a friggin' fire to get it fucking turned up," he yelled, and the crowd responded with cheers and dancing.
The cancellation came as a surprise to many students at the bonfire, who shouted "Light the fire" in response to Mora's announcement.
Even though some rally attendees said they agreed with the intent of the protest, they said they thought protesting at one of UCLA's biggest traditions was inappropriate. Organizers said the goal of the event was to rallyfootball fans for the rivalry game against USC and support UCLA as it makes a run to clinch the Pac-12 South division.
"I'm very upset because this bonfire was hyped up all year through tours and media," said Emma Rosen, a first-year applied mathematics student. "People come to UCLA for the academics but also for the great events like this. This is a great tradition."
Some students at the event said they think the protesters sent the wrong message to the student body.
"This protest makes students think that this protest is against school spirit and not the regents," said Praptee Chowdhury, a second-year biology and physics student. "It makes them less inclined to join their cause because they're interrupting a major tradition."
University police said they would not arrest the protesters unless UCLA officials asked them to because the protesters were not trespassing or breaking any laws.
Campus officials said they did not force the protesters to leave because they have the right to free speech on campus.
"We negotiated with the students. We thought that they would leave and they didn't," said UCLA spokesman Tod Tamberg. "We wanted to make sure we acted in the interest of everyone's safety, the people in there and the people outside."
Prior to the scheduled start of the rally, the protesters huddled closely together and debated their next course of action. Some said they should stay and risk being arrested, while others said they should disperse in case canceling the bonfire generated student animosity toward their cause.
The protesters, who occupied the bonfire site since shortly before 5 p.m. Thursday, demanded that the University of California Board of Regents cancel its plan to raise tuition by up to 5 percent annually for the next five years. The board approved the plan Thursday despite loud student protests at its meeting in San Francisco, saying tuition hikes may be necessary to keep up with inflation, increased pension costs, deferred maintenance and other costs.
Daisy Castillo, a third-year sociology and Chicana/o studies student who participated in the protest, said that even though she did not want the bonfire to be canceled, she wanted to make a statement.
"People need to realize we are not against UCLA but (against) an institution," Castillo said. "(Blocking the bonfire) is the most historical way. We have to make noise."
Protesters said they think they achieved a victory by canceling the bonfire because they brought some attention to the tuition raise.
"(The rally organizers') priorities are different," said Angelica Lopez, a fourth-year French and music history student.
Before sitting on the bonfire wood, students marched around the campus, chanting at the front door of Murphy Hall. United Auto Workers Local 2865, a union that represents graduate student workers at the UC, organized the protest along with several other groups, including the Student Coalition Against Labor Exploitation.
Similar protests against tuition hikes were also held this week at UC Berkeley's Wheeler Hall, UC Santa Cruz's Humanities 2 building and UC Irvine's Aldrich Hall.
On Thursday, protesters announced plans for another demonstration against tuition hikes Monday as part of a UC-wide "day of action."
Contributing reports by Jeong Park and Sam Hoff, Bruin senior staff, Arthur Wang, Bruin contributor, and Korbin Placet, Bruin Sports contributor.
Correction: Students for Justice in Palestine did not participate in the protest.