Scoring medley sends UCLA women's soccer past first round of NCAAs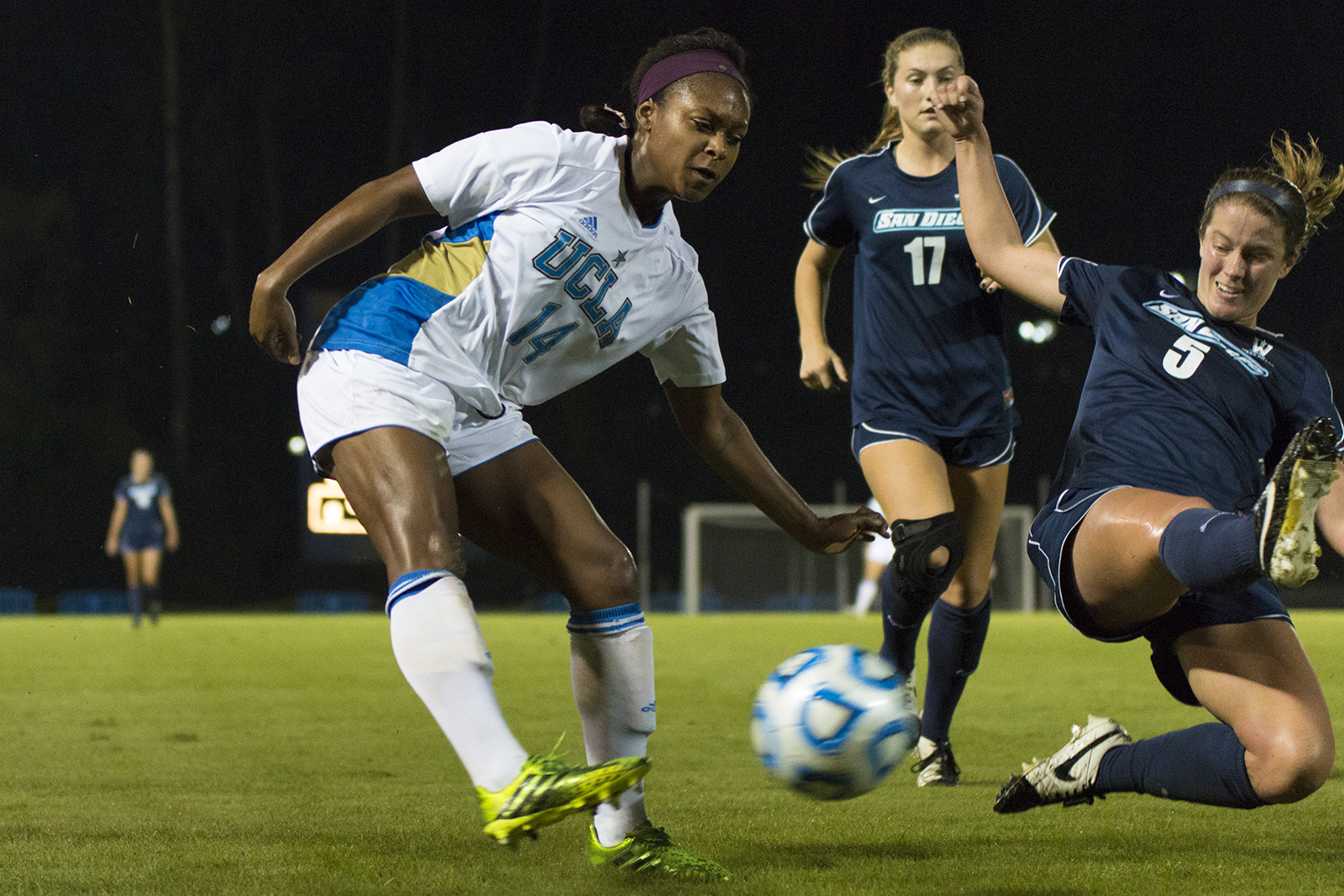 Junior forward Taylor Smith completed a coast-to-coast run to successfully score off a counterattack and complete the Bruins' trifecta of a goal off a set piece, one in the run of play and another off a counterattack. (Aubrey Yeo/Daily Bruin senior staff)
The UCLA women's soccer team has three goals it wants to accomplish going into every game.
"Every game we have a goal to score off a set piece, in the run of play and off a counterattack," said junior forward Taylor Smith.
It took the team just 11 minutes and 35 seconds for the team to reach that target on Friday against the University of San Diego, leaving No. 1 UCLA (19-0-2) plenty of time to add two additional goals to that tally and complete its first round of the NCAA tournament with a 5-0 win.
It took UCLA just six minutes to open the scoring goal against USD (10-8-2), courtesy of a set piece. A right-corner kick by senior forward Rosie White floated toward Abby Dahlkemper. The senior defender managed to connect with a header to direct the ball straight into the Toreros' net for her first goal of the season.
"We've been rehearsing (set pieces) and we know that set pieces are definitely something to rely on," Dahlkemper said. "It was definitely important for us, and we're happy that we did."
Just a minute later, Dahlkemper would go from goal scorer to goal creator, switching roles with White, who latched onto her teammate's pass to score a goal of her own and UCLA's second.
With that goal scored in the run of play, the Bruins had two out of the three types of goals in the bag. All that was left was to score off a counterattack, and the Bruins would complete what they sought out to do. And they didn't have to wait long.
After a USD corner was picked up by senior goalkeeper Katelyn Rowland, the Bruins finally had that chance.
"It was really funny, because we always talk about in practice how I'm the outlet for their corners," Smith said. "You know, we never really practiced it and it never really happened, and the one chance we get, Katelyn made a great throw, and I was like, 'Okay, let me have a great first touch.'"
She did just that, and more.
As the crowd began buzzing in anticipation of a possible third Bruin goal, it started to look as if nothing could stop Smith. Not even when she momentarily lost her balance after a challenge. Not any of the three defenders she had to take on. And after she fired a rocket of a shot at the top-left corner of the net, not even the USD goalkeeper.
"Three goals in the first 11 minutes in a first-round game is really important," said coach Amanda Cromwell. "Any team you let hang around is just going to be more confident. You give them hope and they're just going to believe they can pull off an upset."
UCLA, however, wouldn't just stop at three. The team added a fourth goal to its tally through senior forward Kylie McCarthy shortly after the commencement of the second half.
And true to the spirit of the night, senior midfielder Sam Mewis added some more variety to the Bruins' scoring repertoire by booting in a penalty kick in the 54th minute to close the books on scoring for the night.