UCLA student's blog chronicles journey before, after double mastectomy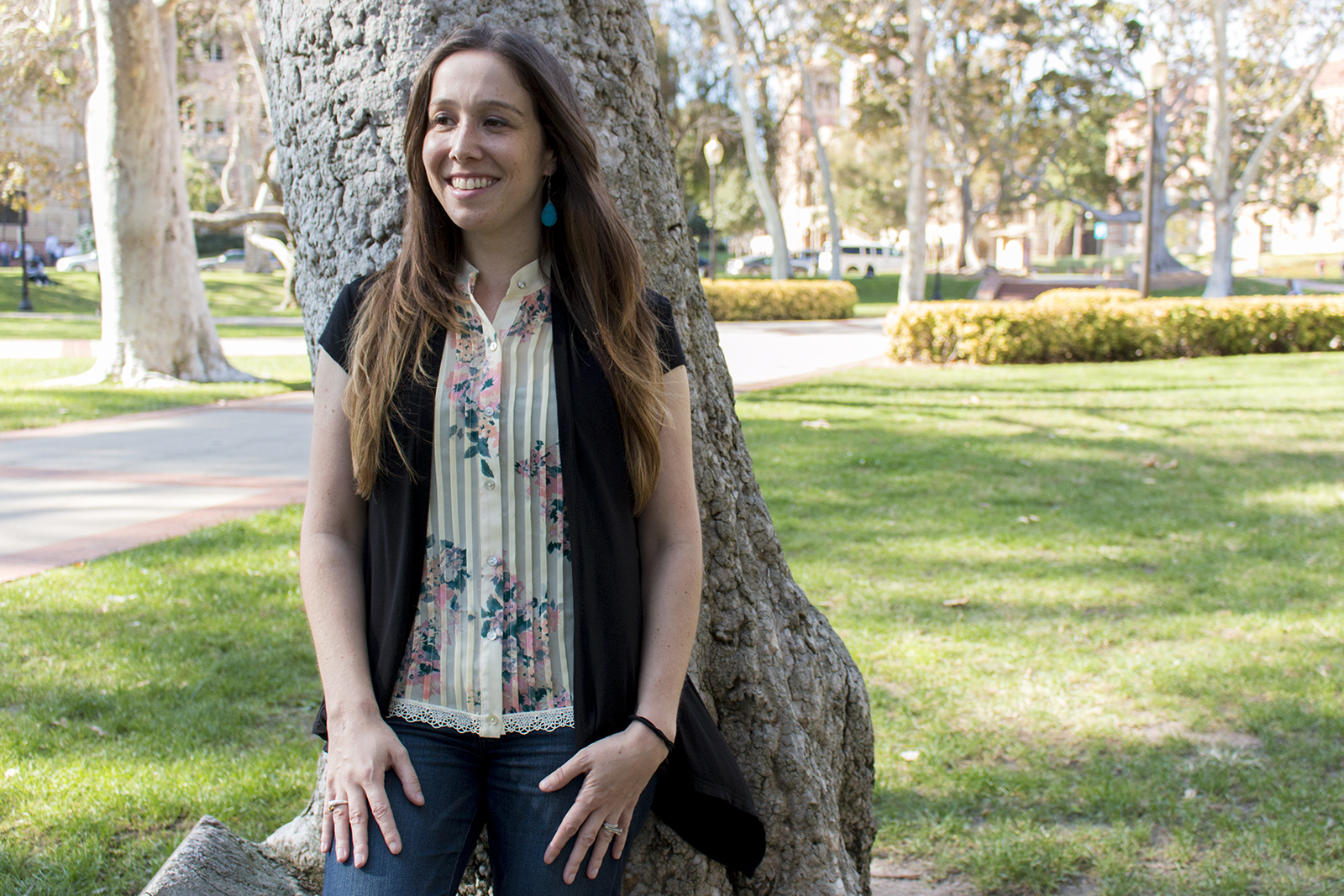 Rachel Stone, a graduate student at the UCLA School of Nursing, successfully underwent a prophylactic mastectomy in August and will undergo the second phase of the surgery in December. (Jessica Zhou/Daily Bruin)
In the evenings when her husband was sleeping, she would talk to herself to prepare for the procedure. Though she was nervous about the decision she was making, she knew it could potentially change her genetic fate.
Rachel Stone, a graduate student in the UCLA School of Nursing's Masters Entry Clinical Nurse program, underwent a prophylactic double mastectomy in August after finding out she had a genetic mutation that gave her a higher probability of developing breast cancer. The procedure removes breast tissue and potentially cancerous cells.
In May, she created Funky Genes, a blog that documents her experiences before and after she received the mastectomy. Stone said she hopes her blog will encourage women to get tested for the mutation and support women who are going through the same procedure.
"I feel better bringing down my risk (of breast cancer), whereas other people might think it was a gamble," Stone said. "I wanted to talk on my blog about why I chose it."
By receiving the preventive mastectomy, Stone's lifetime risk of breast cancer went from 87 percent to less than 1 percent.
A mutation can occur in either the BRCA1 or BRCA2 gene, which normally protect against certain cancers, Stone said. If a person inherits a mutation in one of the two genes, the risk of ovarian cancer, breast cancer and other cancers increases.
Stone wrote posts to educate others on the BRCA mutations and her preparation for the double mastectomy procedure. Sometimes she posted funny videos that made her laugh when she was stressed. Other times, she wrote about how nervous she was for the surgery, which can have medical complications.
In 2007, Stone said she tried to convince her mother, Anna Sandor, to get tested for the mutations because she met many of the risk factors.
Stone's grandmother died from ovarian cancer – a cancer linked to BRCA mutations – and she was Ashkenazi Jewish, a population with high incidences of the mutations.
Stone said she decided to get tested at that time to show her mother she was at high risk as well. Through the test, she found out she had a BRCA2 mutation.
"I think at that time, Rachel was thinking more about me," Sandor said. "She got tested because she didn't want me to die young, or die, period."
At the time, Stone wasn't planning on undergoing any surgical procedures. But six years later, in one of her nursing classes, she said she learned more about the mutation.
Stone opted to undergo a preventive mastectomy at 29 years old after speaking to one of her doctors. She started going to a support group and preparing for the surgery by working out with a personal trainer and eating healthy foods.
The surgery lasted for several hours, she said. When she returned home, she said she stayed on the first floor of her house for 10 days, with barely enough energy to move.
"The thing about Rachel is she's one of those people who can do 10 things at once. She's the one you want to be with if you want something taken care of or in case of emergency," Sandor said. "To see someone like that very helpless and in pain, especially if it's your child, it's a terrible thing."
Her husband, mother and friends helped her with everything, from eating food to showering.
"It was hard for me to shift from the nursing student role into the patient role," Stone said. "It definitely made me look at things differently."
She said being a nursing student has affected her attitude about undergoing the surgery.
"(During) my rotation that I had done right before the surgery, I worked with a lot of oncology patients," Stone said. "That really puts things into perspective (and) helps you have a good attitude."
Shelli Shepherd, director of student services at the UCLA School of Nursing, said Stone initially approached her about her surgery in the summer. Because the procedure would affect her studies, Stone needed to work with the school to accommodate her schedule.
"Having gone through this experience, I think she's going to be a better nurse and a better patient advocate," Shepherd said. "I know those are some of the reasons she decided to become a nurse in the first place."
Adam Stone, Rachel Stone's husband, said friends have reached out to him about the blog and said that it's been helpful for those wanting to learn more about the procedure. Some of his colleagues at work also shared it with family members who underwent mastectomies, he said.
"I think (Rachel) telling her story is incredibly inspiring because she's been able to connect with so many people who are going through a similar (procedure), whether it's preventative or a cancer diagnosis," Adam Stone said.
Rachel Stone said she plans to continue writing about her recovery on Funky Genes and to speak at various meetings on campus to educate nurses and others about the BRCA mutations.
"If I could get one person to change their mind about getting the test, I've succeeded," Stone said.