DACA Project analyzes economic benefits of immigration policy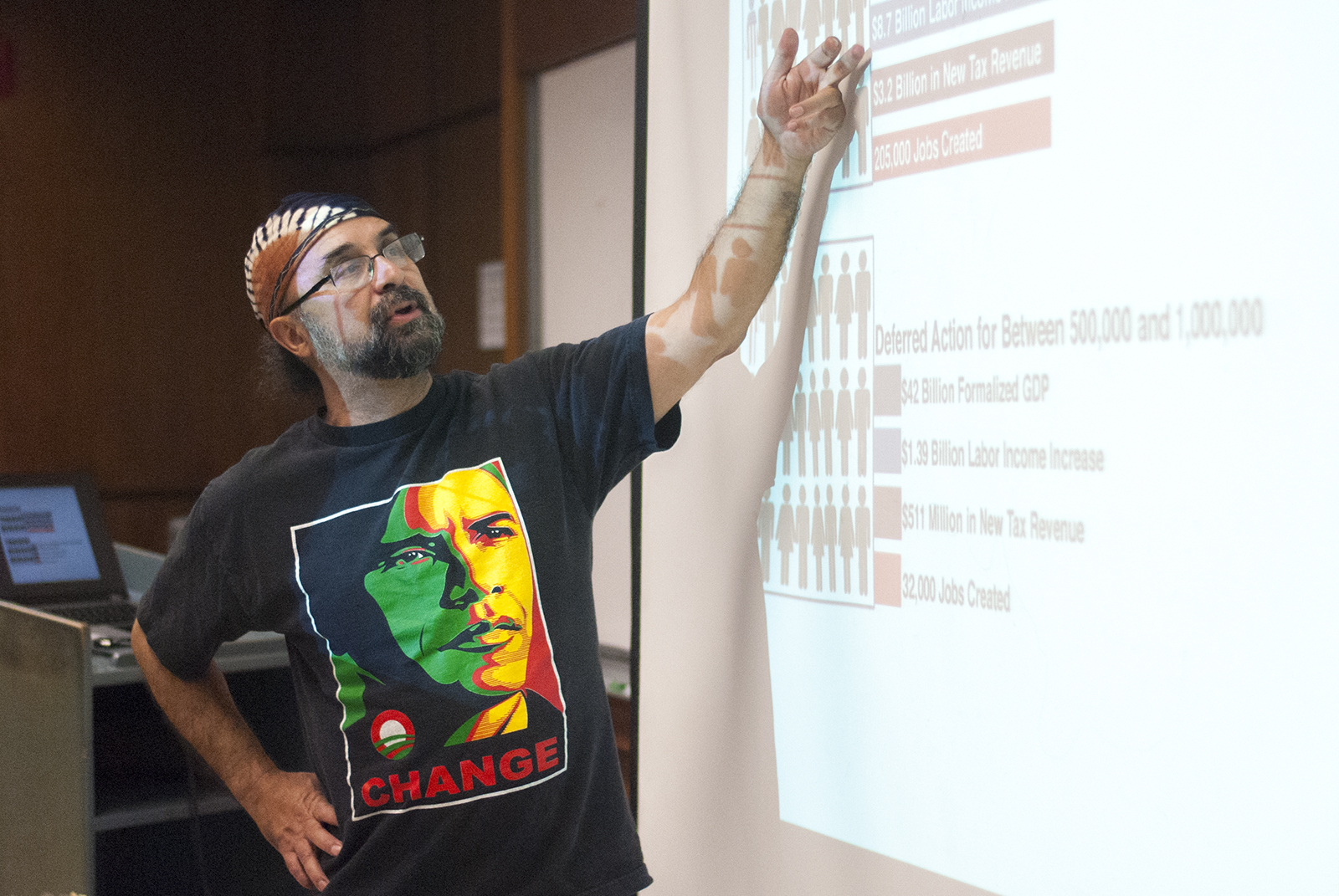 Professor Raúl Hinojosa-Ojeda presents to his class on Deferred Action for Childhood Arrivals, known as DACA. (Heidy Cadena/Daily Bruin)
His mother and brother were deported to Mexico at different times in past years, and while his mother was able to come back, Francisco Lopez-Flores said he hasn't seen his brother in six years.
Lopez-Flores, a fourth-year Chicana/o studies student, said he thinks he has been fortunate because he was able to stay in the United States until he was eligible for Deferred Action for Childhood Arrivals, known as DACA. In 2012, the Obama administration implemented DACA to defer the deportations of undocumented individuals brought to the United States as children. The measure also gives those individuals the documentation necessary to get jobs, open bank accounts and obtain driver's licenses in certain states.
As a DACA recipient, Lopez-Flores found that his wages increased, and he said he wondered if other DACA recipients saw the same effect. Intrigued, he said he went out to try to see if there was anyone doing any research on the subject.
"Nobody was (really) looking at this," Lopez-Flores recalled.
Last year, Lopez-Flores wrote a paper on the economic impacts of DACA. Using a small sample size of six students, he said he discovered that others were experiencing the same wage increases he was because of DACA.
Raúl Hinojosa-Ojeda, an associate professor of Chicana/o studies, said he liked Lopez-Flores' paper and asked him to expand it to a larger sample size to get more representative results.
That's how the DACA Project, which surveys undocumented students to understand the program's economic benefits, was created.
"(The immigration system) has divided my family, and maybe the work we do here can stop that from happening to other families," Lopez-Flores said.
Lopez-Flores said he, along with students in Hinojosa-Ojeda's Chicana/o studies class, posted a survey online and then contacted various nonprofit organizations to encourage individuals to participate in the project. He said he reached out to the Coalition for Humane Immigrant Rights of Los Angeles and the League of United Latin American Citizens to get the surveys out to their networks.
"We needed to get it out to as many people as we could in order to get the best results," he said.
The survey asks participants to fill out information regarding their financial situations before and after receiving DACA status. Based on this information, Lopez-Flores said preliminary reports show nearly a 270 percent increase in wages for DACA recipients, mainly because DACA allows individuals to get the documentation they need to work.
The DACA Project is one component of the work Hinojosa-Ojeda has been doing researching the economic impacts of immigration in the United States for many years. On Dec. 19, Hinojosa-Ojeda and the students conducting the DACA Project plan on presenting their findings to the White House and members of Congress.
According to his projections, Hinojosa-Ojeda said he thinks comprehensive immigration reform – expanding DACA to nearly all undocumented immigrants, could add nearly $1.7 trillion to the U.S. economy. He added that he thinks the findings of the DACA Project will provide good backing for reform if President Barack Obama takes unilateral action on immigration reform.
"Let's not be naïve here. … In this current political environment, no major immigration reform is going to get passed through Congress," Hinojosa-Ojeda said. "And the president does have the authority to act on his own. My research shows that what the president is doing is good for the country as a whole."
Some recent news reports suggest that Obama will take action. On Thursday, The New York Times and The Wall Street Journal published reports from White House sources predicting that Obama will defer deportation and expand DACA to as many as five million undocumented individuals.
According to Hinojosa-Ojeda's findings, this would add $268 billion to the gross domestic product and bring in about $3.2 billion in new tax revenue.
Others, however, said they would oppose Obama's unilateral action.
Alexander Rhim, a second-year mathematics student and internal vice president of Bruin Republicans, said he thinks Obama did not have the constitutional authority to implement DACA.
"I believe that the president should not take anymore executive action on his own and that any immigration reform should be passed by Congress," he said.
Many of the students working on the DACA Project said they had a personal connection to it.
Juan Manuel Menjivar, a third-year Spanish student, was one of the first people to sign up for DACA. He said it changed his life.
Before he received DACA status, he had to drive illegally because he didn't have a driver's license and struggled to get a job because he didn't have the required documentation. After receiving DACA status, however, he got a license and a job to help pay for his community college tuition. He also applied to UCLA, which he said was a dream before DACA because he couldn't receive certain scholarships.
"I'm doing this project because I want to let people know how important it is that DACA gets expanded, and I want others who are undocumented to have the same hope for the future that I have now," he said.
A version of Hinojosa-Ojeda's research using preliminary results from the DACA Project and other forms of statistical modeling using census data is set to be published next week. The project's final work will be presented in the White House on Dec. 19.
Bharanidaran was the News editor from 2017-2018. He was previously a news reporter for the campus politics beat, covering student government and the UCLA administration.
Bharanidaran was the News editor from 2017-2018. He was previously a news reporter for the campus politics beat, covering student government and the UCLA administration.