UCLA celebrates Veterans Day, draws student attention to larger issues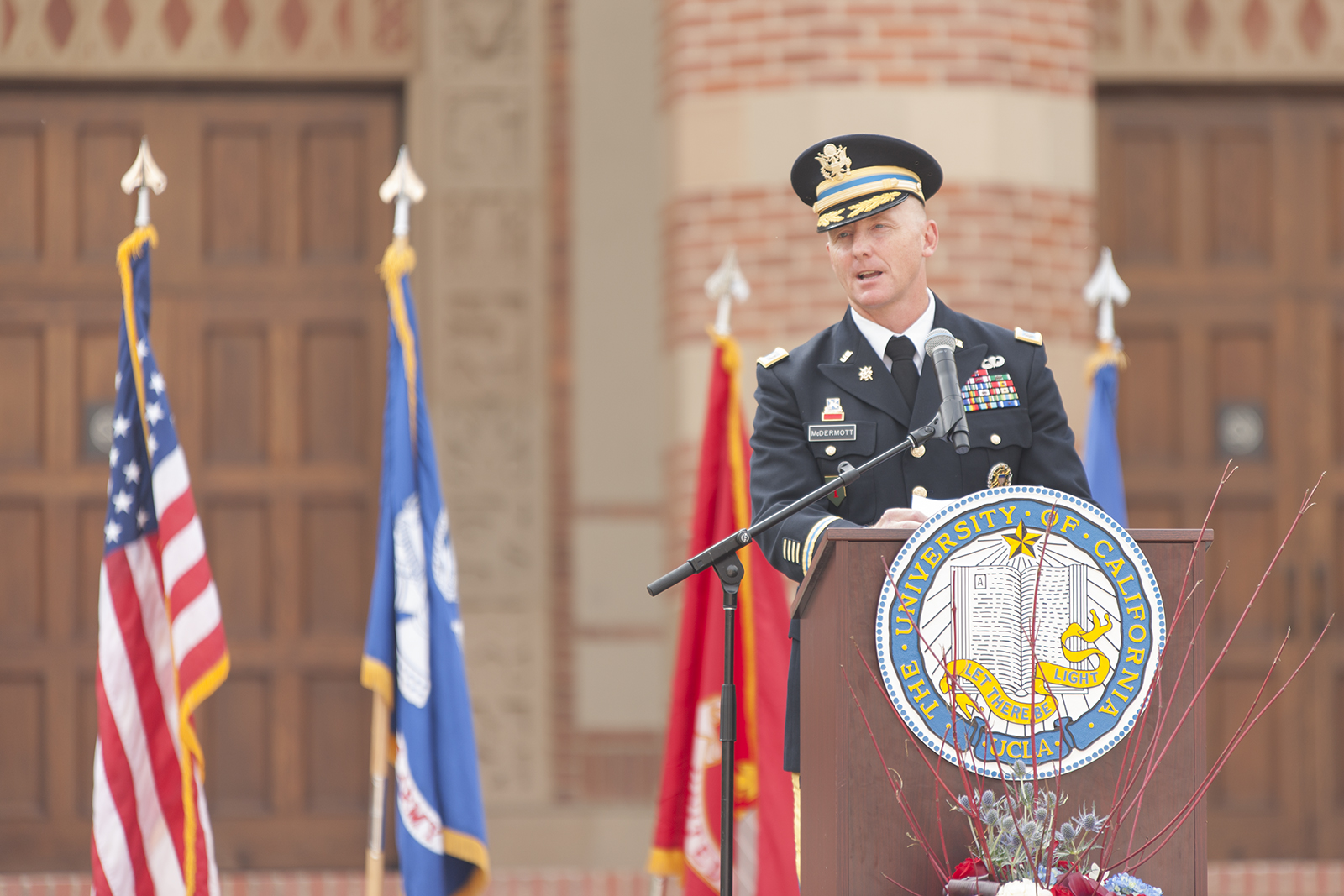 Military science department chair Lt. Col. Michael S. McDermott gives a speech. (Aubrey Yeo/Daily Bruin senior staff)
Years or even decades after they fought in military conflicts for the U.S., UCLA student veterans gathered Monday at the university's seventh annual Veterans Day ceremony to contemplate their service and the fights that lie ahead.
The event in Wilson Plaza, which included a resource fair with Army Reserve Officer Training Corps programs, government agency services and university programs for veterans, began in 2007. It grew out of a ceremony that year in the memory of UCLA ROTC alumnus Mark J. Daily, who was killed in Iraq by an improvised explosive device in January 2007. About 60 people, mostly ROTC members, attended the ceremony.
Speakers at the event included UCLA dental student Tigon Abalos, an Afghanistan veteran and refugee camp volunteer, and Kelly Schmader, assistant vice chancellor for facilities management and a former Navy Civil Engineer Corps officer for 28 years. The speakers discussed the relationship between their experiences in the armed forces with their roles at UCLA.
Chancellor Gene Block spoke at the event about the university's Veteran Initiative, launched January 2013, which aims to bring more attention to the university's resources and programs that assist and rehabilitate veterans. This includes Operation Mend, a program that helps service members physically, such as with facial reconstruction. It has also recently begun to focus on mental health. UCLA has about 400 student veterans.
Several students affiliated with the Bruin Resource Center's Veterans Resource Office who attended the ceremony said they were grateful for the event but expressed reservations about the extent to which UCLA and society in general are helping veterans.
Some said they thought that Veterans Day should be spent paying attention to the challenges veterans face in transitioning to civilian life, such as finding employment and completing an education, beyond simply thanking them.
Thomas LaMarr, a recent alumnus working at the center who served as a Marine sergeant for five years before attending UCLA to study psychology, said that when it comes to the university's services for student veterans, he thinks establishing a center dedicated specifically to veteran services should be the highest priority of the Veterans Initiative.
LaMarr said he said a lot of work has been done for veterans, but that he thinks there should be more communication between the administration and student veterans on how to make UCLA more veteran-friendly.
The university currently offers a number of services on campus, including financial support through programs such as Yellow Ribbon for veterans, and research about issues veterans face. UCLA also has veteran specialists in multiple campus departments, including the Ashe Center, housing services and counseling and psychological services, to assist with military-to-civilian transition, according to the UCLA Veterans website.
Military science department chair Lt. Col. Michael S. McDermott of the Army ROTC delivered the welcoming speech. He believes that the ceremony is indicative of what the school provides for veterans.
"UCLA as a university community has been incredibly supportive for student veterans," he said.
Other student veterans found the ceremony to be an appropriate gesture of recognition. However, some said they thought the ceremony could have focused more on the larger issues veterans face when they return from tours of duty and transition to civilian life.
"I want the 'thank you' to turn into attention to the issues," said UCLA law student David Tierney, a Gulf War veteran and president of the Veterans' Law Society at UCLA. "Most veterans can't be here at a school like UCLA."
Wang is an Opinion and Quad senior staffer, and a sociology graduate student. He was the Quad editor in the 2015-2016 academic year and an Opinion columnist in the 2014-2015 academic year.
Wang is an Opinion and Quad senior staffer, and a sociology graduate student. He was the Quad editor in the 2015-2016 academic year and an Opinion columnist in the 2014-2015 academic year.