Councilmember considers plan to create bike lanes on Westwood Boulevard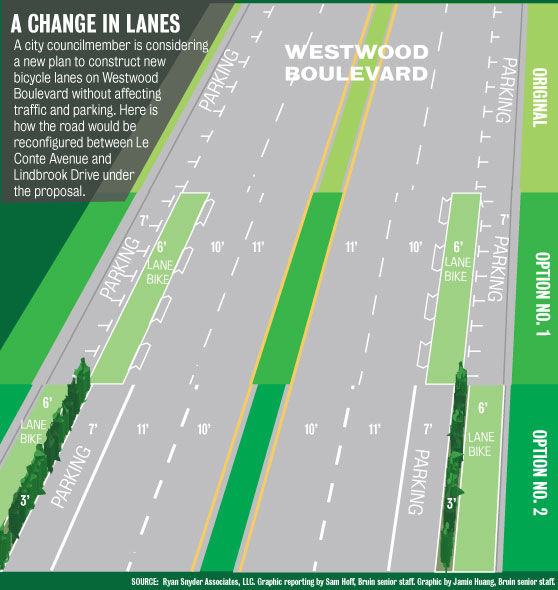 A city councilmember is considering a new plan that aims to construct bicycle lanes on Westwood Boulevard without affecting traffic and parking.
The proposal, which has garnered community support through an online petition with about 500 signatures, would install bike lanes between Santa Monica Boulevard and Le Conte Avenue.
In those areas there is enough space for either a colored lane with a buffer or a protected bike lane next to the curb, without taking space away from traffic or parking. Ryan Snyder, the plan's creator and a UCLA alumnus, sent the plan to Councilmember Paul Koretz's office for consideration.
Previous attempts to bring bike lanes to Westwood have failed, Snyder said.
In the past, some community members were concerned that new lanes would remove space for parking or cause even more traffic on the street.
Koretz was unwilling to approve anything that would make traffic any worse, so he created a plan to install bike lanes where they will comfortably fit, Snyder said.
"Since I live in the community, I wanted something to improve conditions for bicyclists in this area," said Snyder, president of Ryan Snyder Associates, LLC, a transportation planning consulting firm. "I wanted to give everybody something specific to advocate for."
Eric Bruins, planning and policy director for the Los Angeles County Bicycle Coalition, said Snyder is one of the main experts of bicycle planning in Southern California and that the coalition was eager to support the plan, which is known as the "Remove Nothing Plan".
Bruins said Westwood Boulevard has more bicycle traffic than many nearby roads, and he thinks implementing bike lanes on Westwood is especially important for the safety of students and other commuters who regularly bike to UCLA.
Third-year mathematics student Katie Lu said she often bikes around campus and the surrounding area, and that she thinks unsafe conditions are fostered by a lack of bike lanes.
"You're either in a dangerous place where cars can turn and cause accidents, or you're in the middle, holding up traffic, and people get upset," Lu said. "There's really no good place for bikes to be."
The Los Angeles Department of Transportation began a study last year authorized by Koretz to determine how bike lanes would affect traffic in Westwood, but Koretz put an end to it before any results were found.
"There was an incredible amount of opposition from very many sectors of the community to the proposal," said Koretz's spokesman, Paul Michael Neuman.
The previous plan included reducing some of the lanes used by motorists, unlike the current plan.
Neuman said that Koretz is aware of the new proposal and is interested in receiving input and giving it due consideration.
Email Brunson at [email protected].