Students express frustration over proposed UC tuition hikes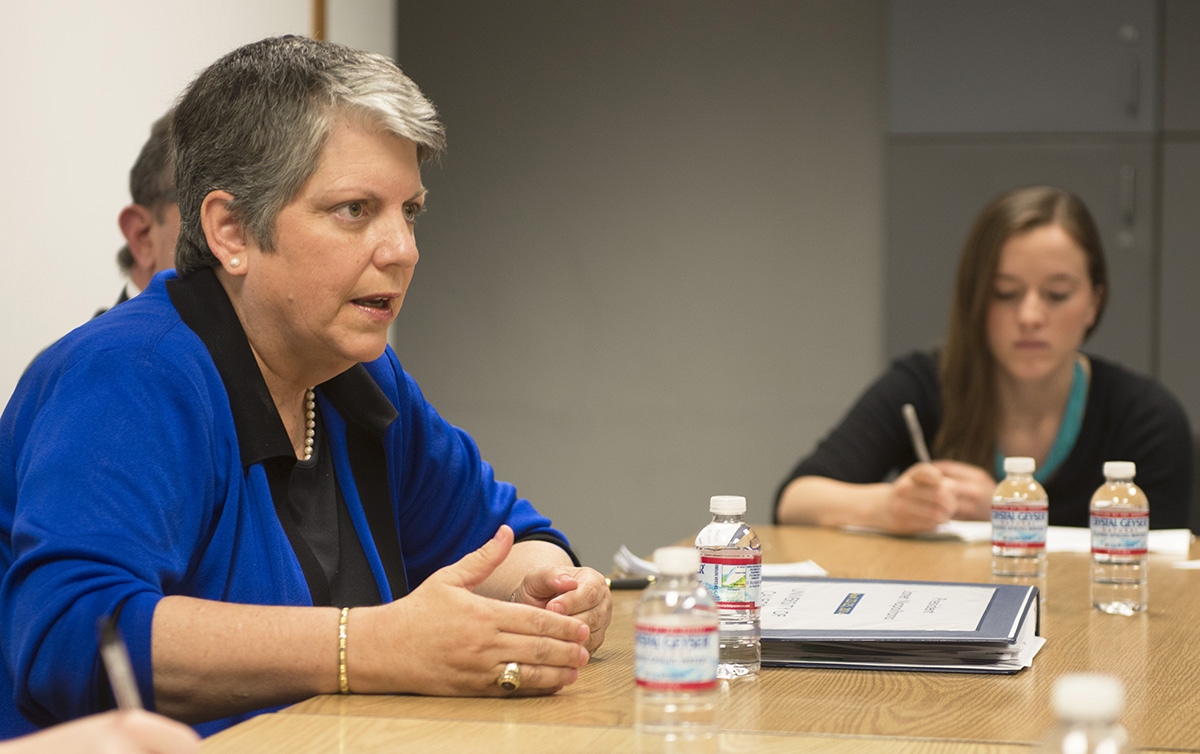 The original version of this article contained an error and has been changed. See the bottom of the article for more information.
Students and state officials voiced shock and discontent at the University of California's recent proposal to increase tuition over the next five years, some claiming they were not adequately consulted in the process.
The plan, if approved by the UC Board of Regents in two weeks, would increase tuition and fees for all UC students by up to 5 percent every year until the 2019-2020 academic year.
Nathan Brostrom, chief financial officer for the UC, said Thursday in a conference call that the state would have to approximately double its planned $119 million in additional contributions to the UC to avoid a tuition hike next year.
UC President Janet Napolitano, who spearheaded the proposal, said in a separate conference call that the policy is necessary to address growing costs in the University, including inflation, deferred maintenance projects and pensions.
Brostrom said that the state's planned $119 million in additional funding to the UC next year would increase the UC's core education budget by 1.7 percent, which he said is not even enough to cover inflation.
"At a certain point you can't cut your way to excellence, and you have to say what does it really take to run a university of this caliber," Napolitano said in Thursday's conference call.
In a statement released by the UC on Thursday, all 10 campus chancellors endorsed the tuition plan, saying more money is needed to compensate for the hundreds of millions the state has cut from its allocations to the UC over the past decade.
"State funding for the University is still $460 million below what it was in 2007-2008, even though we are educating thousands more California students," the statement read. "The plan addresses our obligation to students and their families to provide them with the best education possible at the most affordable price. It is predictable and fair, and it allows families to plan ahead."
Some state officials said they were disappointed that the UC appears ready to break its 2013 agreement with Gov. Jerry Brown.
Under the agreement, the state would give the UC steady funding increases, including 4 percent increases for the 2015-2016 and 2016-2017 fiscal years, on the condition of a tuition freeze until 2016-2017. Brown has been cautious in allocating large funding increases to the UC, choosing instead to focus on reducing the state's deficit and debt.
"The condition of the agreement has been clear from the outset," said H.D. Palmer, a spokesman for the California Department of Finance.
Palmer said he does not want to speculate on what Brown will do if the UC Board of Regents passes the policy at its next meeting, which will be held from Nov. 19 to 20.
Devin Murphy, president of the Undergraduate Students Association Council, traveled to Oakland Wednesday to meet Napolitano and other undergraduate student government presidents on the issue. He expressed frustration at what he said was a lack of student inclusion in the conversation about tuition hikes.
UC spokeswoman Dianne Klein said Napolitano has consulted students more than 25 times since she became UC president and openly talked about tuition in those meetings. But she said Wednesday was the first time student leaders were aware of the proposal and its specifics.
"There's a difference between consulting and accepting something," Klein said. "It's clear nobody wanted a tuition increase. … We hoped there (wouldn't) be a tuition increase."
Murphy said he wished students were told the specifics of the proposal earlier.
"This is not only a problem around tuition; this is a problem around shared governance," Murphy said. "When you make decisions without stakeholders and they're so fast-paced, you can't expect us to get on board with a plan that is going to be published in a few hours."
UCSA said in a statement Thursday that it does not support the tuition plan and that the plan holds students hostage for the future of their education.
Avi Oved, the UC's student regent-designate, said he thinks the UC is in a tough financial position.
"We want to maintain the quality of education but we don't have enough funding to fill the gap that was created by the 2007 recession," Oved said. "(Napolitano) wants to create a predictable trajectory for students."
The UC hasn't seen a tuition increase since 2011, when regents raised tuition by 17.6 percent in the wake of state funding cuts. Napolitano said her proposal would allow steady and predictable tuition increases in lieu of steep and sudden ones.
Oved said he and UC Student Regent Sadia Saifuddin are planning on talking with Assembly Speaker Toni Atkins (D-San Diego) next week to discuss the matter further.
Atkins, an ex officio member of the UC Board of Regents, pledged to vote against a tuition increase at the regents meeting.
"(The) UC needs to recognize the realities facing middle-class Californians and step down from brinksmanship that could wind up harming students and the UC system itself," Atkins said in a statement.
Maria Marquez-Alvarez, a third-year history student, said she plans to go to the regents meeting in San Francisco to protest the increase. She said she questions how a tuition increase would fit in with the UC's goal to make its campuses more socioeconomically diverse.
"There's been all this talk about diversity, but how diverse is it going to be if only certain people can afford to go here?" she said.
However, some students were not as worried about the plan, saying they think financial aid covers their needs.
"I'm lucky enough to have my parents pay for me and I know they will support my education no matter what," said Rand Hale, a second-year physiology student. "But I would like to see exactly how the money will be used."
The regents' next meeting will be held at UC San Francisco's Mission Bay campus.
Contributing reports by Jeong Park and Amanda Schallert, Bruin senior staff, and Emily Liu and Melyssa Cruz, Bruin contributors.
Correction: Oved said there is a funding gap that needs to be filled.