The Daily Bruin wins award for nation's best daily college newspaper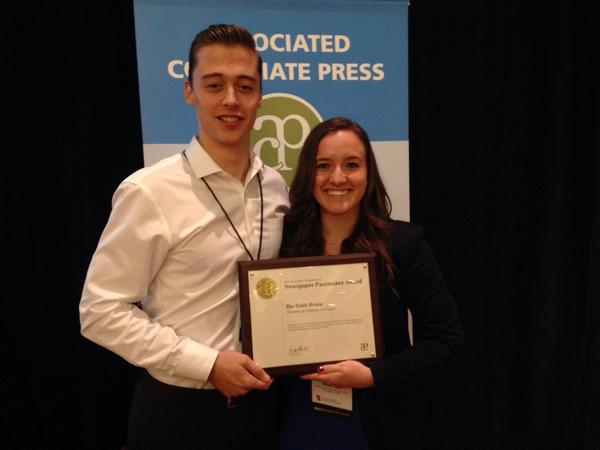 Loic Hostetter, former Daily Bruin managing editor, and Jillian Beck, former editor in chief, present the Daily Bruin's Pacemaker award for best daily college newspaper while at the Associated Collegiate Press awards.
Courtesy of Loic Hostetter
The Daily Bruin won a Pacemaker Saturday for the nation's best daily college newspaper.
Pacemaker awards, considered the most prestigious honor in college journalism, are based on a paper's content, reporting, design and art, among other factors. It was the first time in three years that The Bruin won the award in the daily, four-year category of the contest.
Several Bruin staff members also won Pacemaker awards at the annual Associated Collegiate Press/College Media Advisers convention in Philadelphia. Former Daily Bruin opinion editor and columnist Eitan Arom won third place for a column he wrote about UCLA's academic freedom policy. Sam Grinberg won fifth place for an editorial cartoon focused on the FBI's investigation of California state senator Leland Yee. Photographer Blaine Ohigashi won third place for a photo slide show about lesbian, gay, bisexual and transgender individuals in Malawi.
Compiled by Amanda Schallert, Bruin senior staff.