'Change the Course' promotes water conservation, sustainability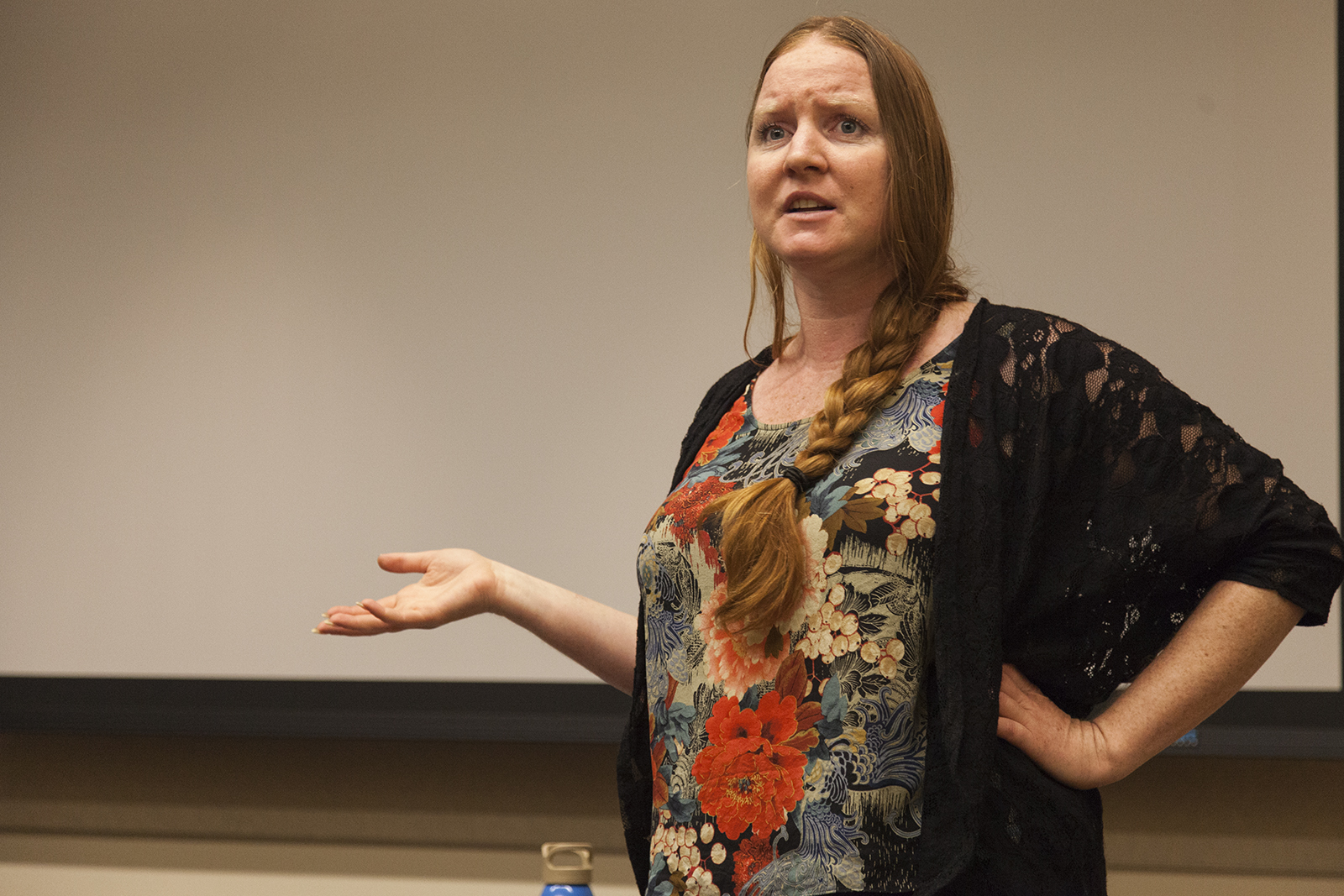 We Bring It On's Chief Sustainability Officer Jennifer Regan speaks to students about the changing course of the Colorado River, which no longer flows to the sea. (Hannah Ye/Daily Bruin)
A sustainability expert urged UCLA students Tuesday night to pledge to conserve water by taking shorter showers, eating less meat and turning down water pressure while washing dishes.
Jennifer Regan, chief sustainability officer of We Bring It On, a company that encourages businesses to use green practices, spoke to about 20 students at an event about the dire situation facing the Colorado River.
Regan showed UCLA students a video depicting the dramatic shift in the course of the river, which no longer reaches the sea. The short film was meant to reiterate the need to save a significant source of water for Los Angeles.
During the presentation, many audience members went on their phones to text the word "river" to 77177, signifying their pledge to put 1,000 gallons of water back into the Colorado River.
Carlos Quintanilla, Undergraduate Students Association Council's facilities commissioner, organized the event, called Change the Course, with Team Green, a Residential Life group. Quintanilla ran on a platform of water conservation in the spring USAC election.
"By bringing Change the Course, we want students to see how the mobility around environmental issues can be huge and successful," Quintanilla said.
At the event, Regan spoke about her experiences consulting Madison Square Garden and Coachella organizers about how to conserve water during their large events.
"We want to make water conservation as commonplace as possible and mainstream it through sports and entertainment events," she said.
Regan said she thinks saving the environment is not as controversial as other causes, partially because the gains to be made by improving the environment could benefit everyone.
"All human lives are impacted by the environment and you can't hurt people by supporting it you just end up doing the most good," she said.
After the presentation, students gathered around Regan and asked her questions about her experience with environmentalism and water conservation.
"I found (Regan) to be so inspiring, enlightening and very genuine because she has been able to work with large businesses and help them see how important environmental efforts are," said Sean Murphy, a fourth-year environmental science student.
Quintanilla said his office will continue to organize events focused on promoting environmental sustainability in the coming weeks.