UCLA ROTC cadets take part in grueling Ranger Challenge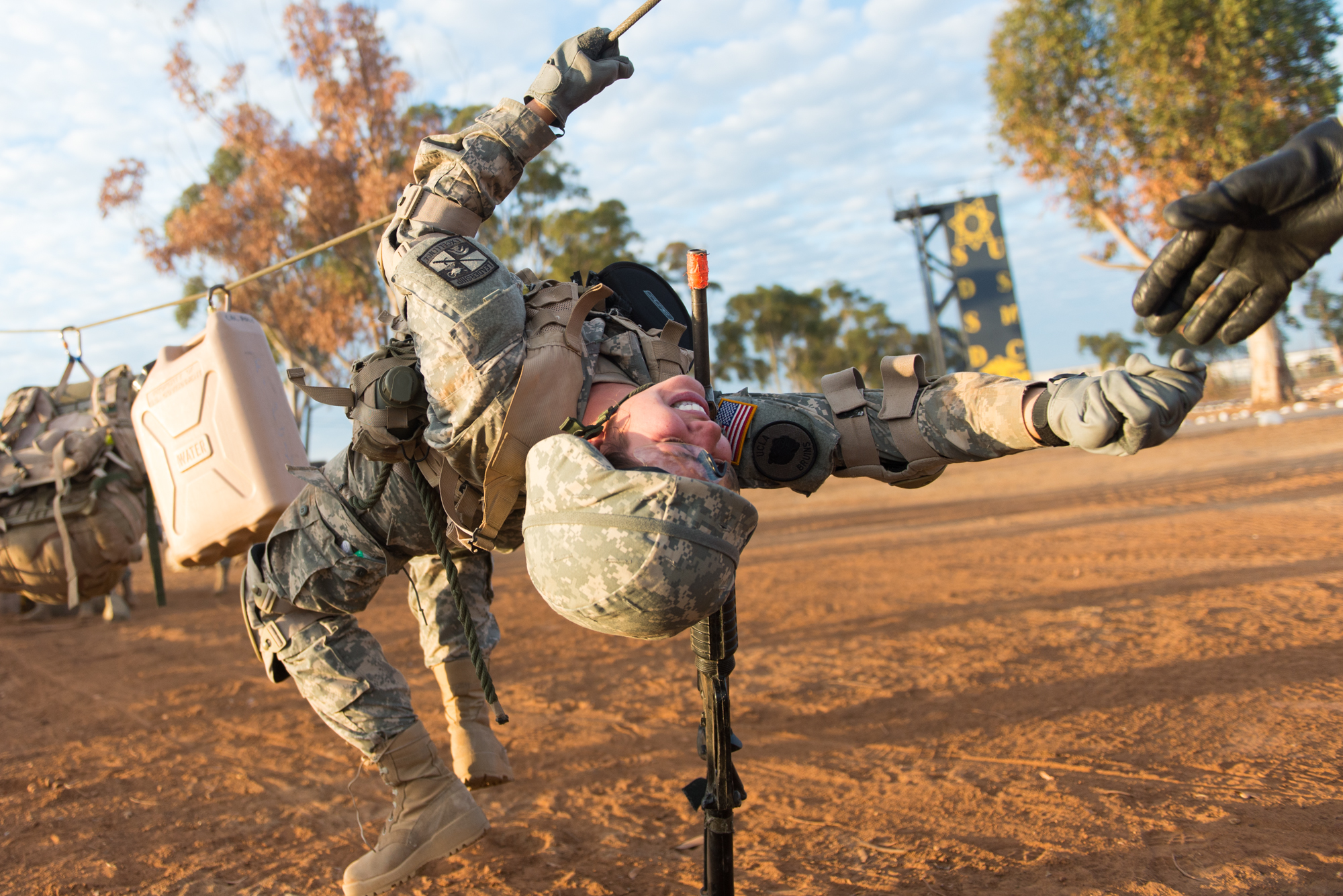 Katherine Knobloch, first-year biology student, reaches for her fellow cadet's hand to help pull her across a one-rope bridge. Knobloch and eight other ROTC cadets competed in an annual Ranger Challenge Saturday, which tests their physical endurance and teamwork.
(Brandon Choe/Daily Bruin senior staff)
SAN DIEGO — The UCLA cadets went to sleep at 9 p.m. and woke up three hours before sunrise. By 2 p.m. they had sprinted, jogged, climbed and hauled equipment for more than 8 miles up and down steep brush- and dirt-covered terrain, most of it while carrying more than 45 pounds of military gear, including "rubber ducks," or dummy rifles. Three of the cadets were first-years and had been in the Reserve Officers' Training Corps for less than a month.
"It was challenging as hell, but it was worth it," said James Mumma, a second-year California State University, Northridge student who is part of the Bruin Battalion, UCLA's Army ROTC program. "Maybe not now, but it will be."
Mumma and eight other students from UCLA, Cal State Northridge and Pepperdine University – satellite campuses for UCLA's ROTC program – camped at the Marine Corps Air Station Miramar this weekend to compete in the Ranger Challenge with nine other California colleges.
The challenge is an annual ROTC event held at the regional, national and international levels in which cadets take on 10 grueling events from before dawn into the hot afternoon. The events test the cadets' physical endurance, teamwork and technical knowledge about tasks like first aid, weapon assembly and grenade tossing. Besides bragging rights, the challenge is a chance for cadets to earn leadership points and increase their chances of being placed well in the military, said Nathan Baldwin, a fourth-year Pepperdine University student and member of the UCLA team.
The UCLA team had trained for 15 hours a week since the beginning of October, but all of the team members were panting and draining their canteens and CamelBak hydration backpacks after almost every event.
Capt. Santos Ortiz of UCLA's ROTC program, said such physical training is crucial for serving in active combat because soldiers are expected to fight and defend themselves even after traveling over difficult terrain with few resources.
"There's the sheer exhaustion, and after that you still have to defeat the enemy," Ortiz said.
One day at the Ranger Challenge shows the grittiness of infantry life. Participants camped with sparse amenities – one-person tents, potable water tank and portable latrines. For two days they ate MREs, or meals ready to eat, which are sealed pouches of calorie- and electrolyte-packed food engineered to last for years, like strawberry banana milkshake powder and crackers with cheese spread.
But in recent years, ROTC has focused less on tactical skills since not all cadets will serve in combat, said Paul de Lemos, master sergeant for UCLA's ROTC program. The only times UCLA cadets will be exposed to such outdoor training this year are at their regular spring training and the Bruin Challenge, UCLA's version of the Ranger Challenge, which will be held on campus in December. De Lemos added that UCLA is limited in securing space for outdoor training because it's located in an urban area.
"The main thing we're trying to get them to understand is how to become a leader, how to accomplish a mission," de Lemos said.
Ranger Challenge rules require that teams have nine members, including at least one person from each school year as well as one female cadet. Katherine Knobloch, a first-year biology student, was the single female cadet on the Bruin Battalion's team.
Janna Başaran, a first-year biology student who was Knobloch's alternate in case of injury, said while she thinks the "one female" rule was created to make the competition more equal, it limits each team's performance since she said female cadets are often not as strong as male cadets.
Knobloch almost couldn't make it across the rope bridge and was one of the last to finish in the 2-mile run, but she bested her male comrades in the air squats challenge.
"It's hard because you're naturally the slowest, you're naturally the weakest link. It's how we're built," Knobloch said. "But I didn't notice it. (The cadets) treat me like family."
In the Bruin Battalion, cadets are called affectionately by their last names or nicknames and not their first. James Barnes, a third-year political science student and leader of the team, isn't Jimmy to the other cadets, but rather the Winter Soldier. Jonathan Kim, a third-year political science student, is J-Kim, and first-year applied mathematics student Louis Bethge is Big B. During running events at the Ranger Challenge, William Wells, a first-year Pepperdine student and the male alternate for the team, ran along with his team members when they got tired and encouraged them to keep going.
"There are little things cadets do for you that your other friends won't," said Robert Burns, a third-year geography student and assistant team captain of the UCLA team.
They all gave similar reasons for joining ROTC. Many of them, like Başaran, joined because their parents had served in the military. Others said they signed on for the financial aid that ROTC provides. Antonio Henry, a third-year biology student who had already served right after high school as an Army combat medic at Fort Gordon, Ga., joined for career opportunities that come with the Army and because he had to pay for his tuition himself.
Others said they wanted to make history and be a part of something bigger than themselves.
Burns, who had dabbled in working at a literary magazine and living in Alaska when he got out of high school, said he would have dropped out of UCLA if it weren't for ROTC.
"Why am I going home and writing a 15-page essay on … urban development in 17th-century Vienna?" Burns said.
He gestured at the empty Ranger Challenge camp with camouflage tents flapping in the wind.
"This is logical; this makes sense," he said.