Samah Pirzada: Dining Services must serve up sustainable info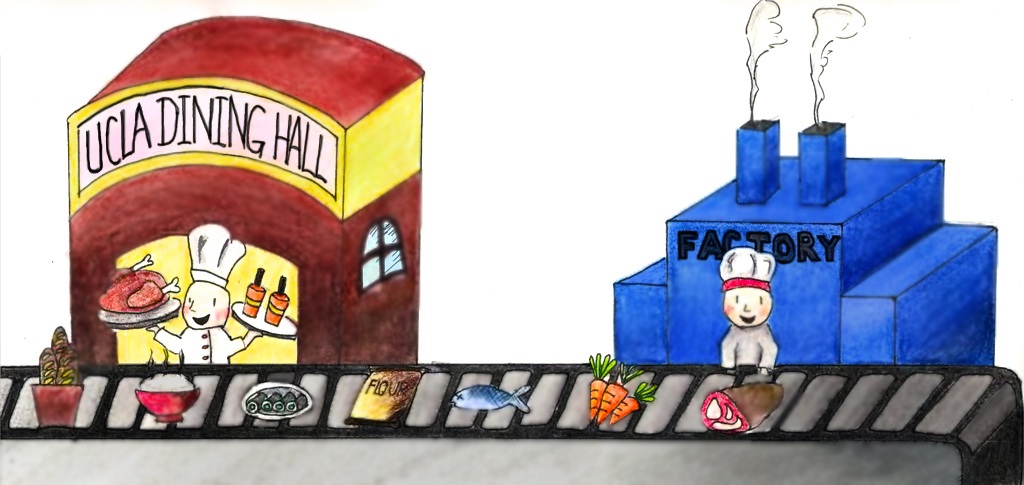 Instead of blindly accepting what UCLA dining halls are feeding us, UCLA students should start asking questions about where their food is coming from.
Whole Foods Market, Walmart and even McDonald's have launched programs that educate the public about the value of responsibly grown food. Whole Foods' program, Responsibly Grown, provides information for consumers about the environmental impact of the company's food, including information about pesticide and water use.
If grocery stores and restaurant chains are making substantial efforts to inform their customers, UCLA Dining Services should follow their lead and make a more active effort to inform students about where its food comes from. While UCLA Dining Services currently offers information about the source of its food on its website, it should make a more active effort to give the information to the students instead of expecting the students to seek it out.
This July, the UC launched its Global Food Initiative, which outlines plans to increase sustainable food purchases to 20 percent of all food purchases by 2020. In order to be considered sustainable food, the purchases need to meet one or more of the criteria listed under the University of California Office of the President's Sustainable Practices Policy. These criteria include being locally grown and distributed, Food Alliance certified, USDA organic, grass-fed, cage-free, etc.
Sustainable food purchases make up about 16.6 percent of total UCLA food purchases in 2014, which is a substantial increase from the 4.7 percent in 2010. Bruin Plate's sustainable spending was 32 percent this past year, which is higher than that of any other dining hall.
While UCLA Dining Services is making substantial efforts to purchase sustainable produce, that is only half the battle. UCLA Dining Services also needs to educate students about where our food is coming from and why it's important to care. Students need to understand that they have a responsibility to eat food that not only nourishes their bodies but that also is produced in an environmentally conscious way. Students should have easy access to information about how their food is produced and why they have a responsibility to eat food with a smaller carbon footprint.
If UCLA Dining Services is more active about educating students, we all might end up being a little more interested.
Several students on the Hill said they care more about nutrition facts than the source of food served at dining halls, but this attitude of indifference needs to be combatted. The source of food is just as important as its nutritional value to ensure healthy and responsible eating.
In 2009, UCLA Dining Services implemented a "Beef-less Thursdays" program to encourage healthy eating and reduce UCLA's carbon footprint. To educate students about the program, UCLA Dining Services placed informational placards on dining hall tables about the environmental consequences of beef consumption. UCLA Dining Services should use these same placards as a simple and effective way to inform students about the benefits of sustainable food purchases and sources of our ingredients for a wider variety of food choices, not just beef.
Implementing small changes like this would help students learn about the importance of responsible eating without necessarily having to seek out the information for themselves. At the very least, it could help spark the interest of students who could then visit the website for more detailed information about where UCLA's food comes from and what environmentally sustainable eating looks like at UCLA dining halls.
It's particularly important that students understand the environmental impact of food production in regard to how food cultivation impacts water consumption. The severity of the California drought requires extra precaution from California citizens, including students. Some foods require hundreds of gallons more than others in order to produce the equivalent of one pound. If students at UCLA are more informed about the process of food production, students can make the conscious choice to eat foods that require less water consumption.
Lilian Chou, a third-year environmental science student and co-director of the EARTH committee in the Student Wellness Commission, explained environmentalism as a two-way street. Every individual needs to do his or her part to ensure a secure environment to live in.
UCLA Dining Services makes environmentally responsible decisions regarding food purchases, but students should be more aware of the value of these decisions. If UCLA Dining Services educates students about the importance of responsible agriculture, it will be able to help equip students with healthy habits that translate past the dining halls and past college. The process can be as simple as adding an informational placard to a table center, but the impact is vital.