Bruin Diversity Referendum fails due to insufficient voter turnout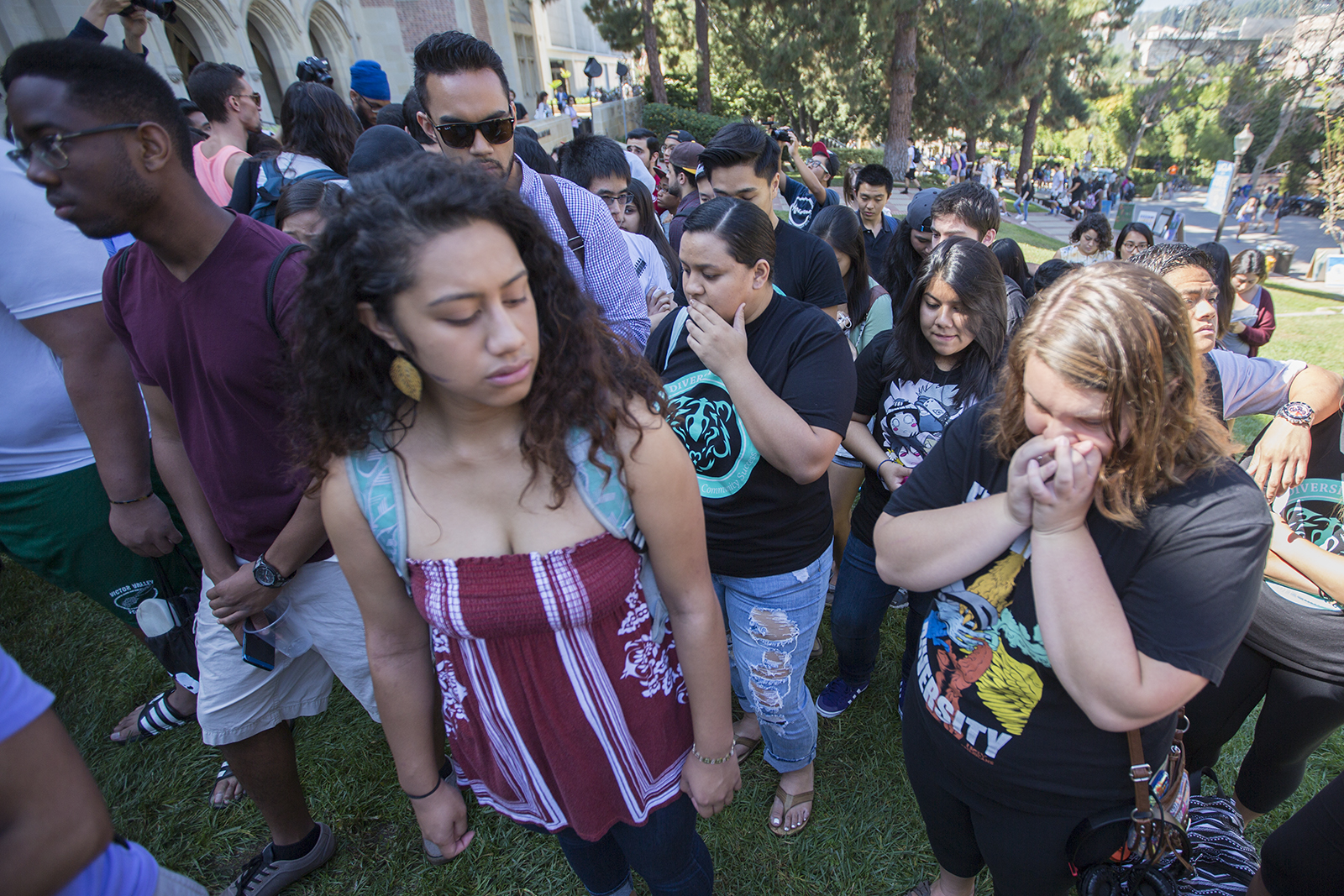 Students in support of the Bruin Diversity Referendum of 2014 wait for election results. (Austin Yu/Daily Bruin senior staff)
A referendum to increase quarterly student fees by about $10 to fund diversity-related programs did not pass Friday because voter turnout fell short of the 20 percent threshold in the undergraduate student government special election.
Just 13.6 percent of eligible undergraduate students voted in the Undergraduate Students Association Council special election this week. Though the Bruin Diversity Referendum earned 58.2 percent of the vote, at least 20 percent of eligible students needed to vote in the election to reach the threshold for it to pass.
"We won, but we were knocked down by a systematic barrier," said Jazz Kiang, a third-year Asian American studies student and director of the Asian Pacific Coalition. Kiang was an author of the referendum.
The referendum was created by student groups on campus, including the Vietnamese Student Union, the Muslim Students Association, the Afrikan Student Union and the Asian Pacific Coalition.
The student fee increase would have taken effect in spring quarter and would have funded certain diversity, retention and outreach programs on campus. Specifically, fees would have supported the Student Initiated Outreach Committee, Campus Retention Committee, Community Service Mini Fund, Community Programs Office, USAC Contingency Programming Fund and Lesbian, Gay, Bisexual and Transgender Campus Resource Center, among other programs. In line with University policy, $2.48 would have been returned to students as financial aid.
As Election Board Chair Shagun Kabra announced the results, proponents of the Bruin Diversity Referendum looked solemnly at the ground. Some of them had been in the crowd in 2013 when a similar ballot measure, the Bruin Diversity Initiative, was voted down by students in the spring elections by 52.1 percent of students.
Kabra said he came into the elections with low expectations for voter turnout, but that he was pleasantly surprised overall.
"I was preparing for the worst," Kabra said. "I knew the chance for the referendums (passing) and even for the (constitutional amendment), I was really worried."
After hearing that the referendum failed, about 20 students, some wearing "Vote Yes on Diversity!" T-shirts, walked away from Meyerhoff Park to the side of Bruin Walk. As they gathered in a circle, other students cheered for the other election results in the background.
Kiang told the referendum proponents that they should remember that they won the election in their hearts. Other students who supported it also spoke about how they were disappointed by the university and by students' lack of interest in the election.
"This momentum we have, we're going to need to continue the movement that we have for the whole year," said Miriam Rodriguez, a fifth-year Chicana/o studies and Spanish student.
Kiang said referendum proponents aren't sure whether they will bring up another diversity-related referendum in the spring, though he mentioned it as a possibility on Friday.