New student group explores intersection of medicine, technology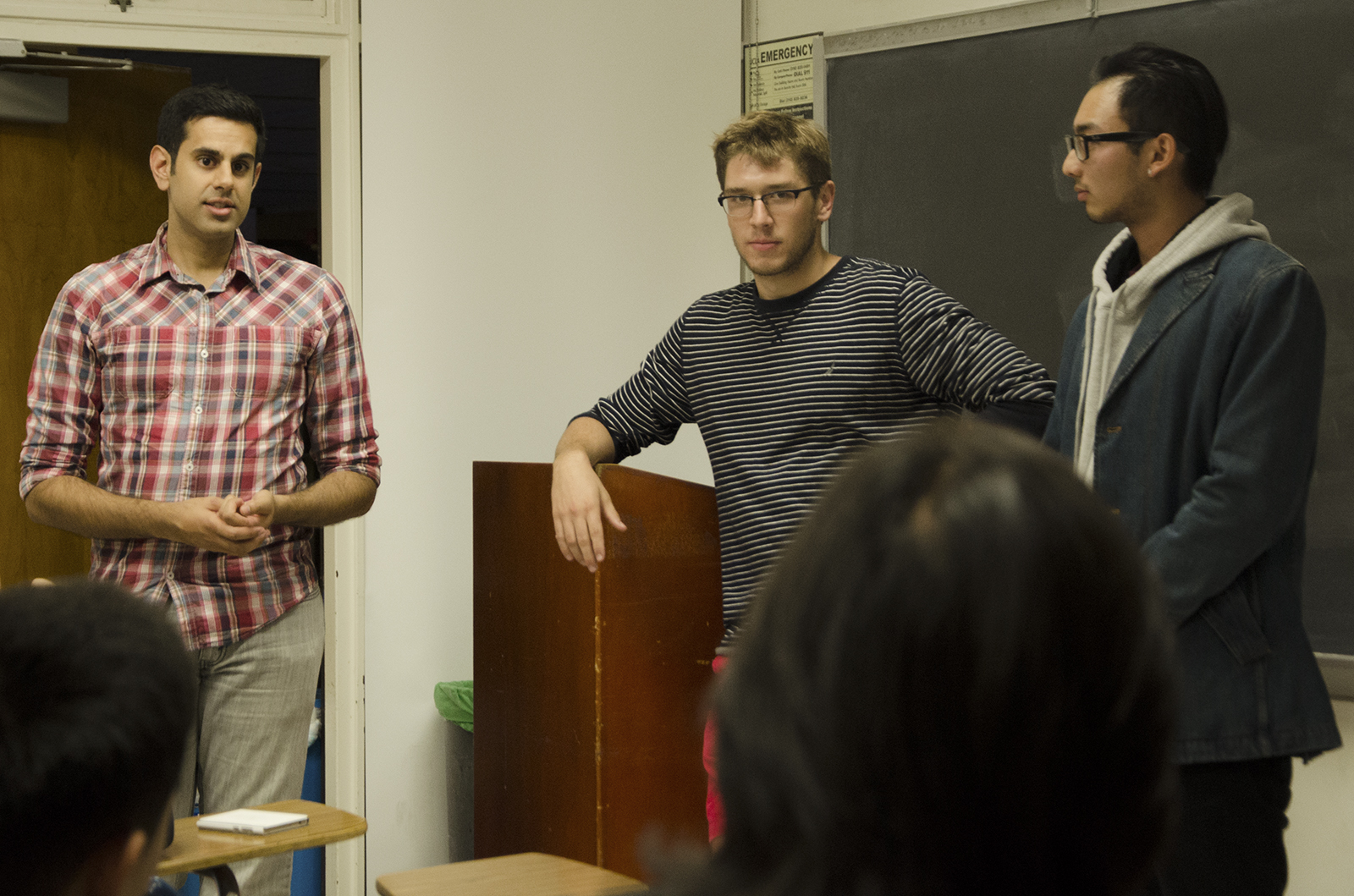 Shyam Natarajan (left) participated in the Bruin Medical Entrepreneurs meeting led by Kevin Stangi (center), a third-year computational and systems biology student, and Jeffrey Hsiao, a third-year molecular, cell and development biology student. (Emily Cao/Daily Bruin)
Before doctors implanted an electrical device in Sammi Chan's heart, the vital organ struggled to pump blood. Diagnosed with heart disease her freshman year, many of her high school nights were spent in a hospital.
"When I was diagnosed with heart disease, that's when I knew I wanted to go into medicine," said Chan, a third-year molecular, cell and developmental biology student. "Yet despite all the medications I've taken, the device is the only thing keeping me alive."
This intersection of medicine and technology is the phenomenon that a new group on campus, the Bruin Medical Entrepreneurs, wants to explore. The student-run organization seeks to solve health problems by developing new technologies in the medical field.
Founded by five students, including Chan, the club aims to gather pre-health students from all over campus to network and create a viable project or device that targets a specific medical need by the end of the year.
Jeffrey Hsiao, a third-year molecular, cell and developmental biology student and the main founder of the club, was inspired to start the group after noticing the lack of group projects available on campus.
"I feel like a lot of entrepreneurship clubs on UCLA offer a mentorship program and not enough group projects," Hsiao said. "I want to focus on one thing and carry it through."
After tossing ideas around in May, Hsiao began recruiting people throughout the summer who were just as passionate about innovative medical technology. The club plans to hold weekly meetings with guest speakers, mentorship opportunities and brainstorming sessions.
Hsiao said the creation of a medical device involves multiple skills: Research needs to be done to assess the applicability of the device, engineers are needed to build the device and a business model is needed to put the device on the market.
"An ideal entrepreneur would be able to hit up every aspect," Hsiao said. "I wanted to create a club that integrates health, undergraduate students and entrepreneurship. My ultimate goal of this club is to transform UCLA to a health tech place."
Hsiao said he still aspires to be a doctor, but another founder of Bruin Medical Entrepreneurs, Kevin Stangl, had different motivations when it came to the health field.
"I'm interested in biological problems – all the problems are so noisy and complex," said Stangl, a third-year computational and systems biology student. "I think that for everything in the medical field, there's no such thing as a perfect solution."
Stangl said he thinks that college is often the perfect environment for students to come together and create something new.
The club's information session last week featured a few introductory speeches and a question-and-answer session in which the club founders talked about the upcoming year. Hsiao emphasized the many possibilities for finding solutions when it comes to medical technology – mentioning the idea of creating an app that could detect flu symptoms as an example.
"I've been reading a lot of books about investment and finance, and that really inspired the entrepreneurship spirit in me," said Joe Kim, a third-year biology student. "On the other hand, biology is what I study, and with this club, I want to take advantage of my niche."
As the classroom of engineering, biology and computational science students began to mingle and converse with each other, ideas and possible solutions to medical problems bounced around the room.
"Born and raised in L.A., I've always had this West Coast, innovative, risk-taking character," said Samuel Kim, a third-year geology and cognitive science student. "I study human health and interaction with the environment, and it would be cool to focus on one project and dedicate my time to that."
Over the weekend, the club members held a "boot camp" at Inventathon, a 24-hour competition to help develop medical solutions, at which they helped participants create devices and navigate computer programs. The club plans to continue partnering with the Inventathon in the future.
"All the technology is getting cheaper and cheaper every year. There are less barriers to access and a lot more flexibility," Stangl said. "This is a great time to get involved."