UCLA women's soccer celebrates Senior Night with 6-0 win over Arizona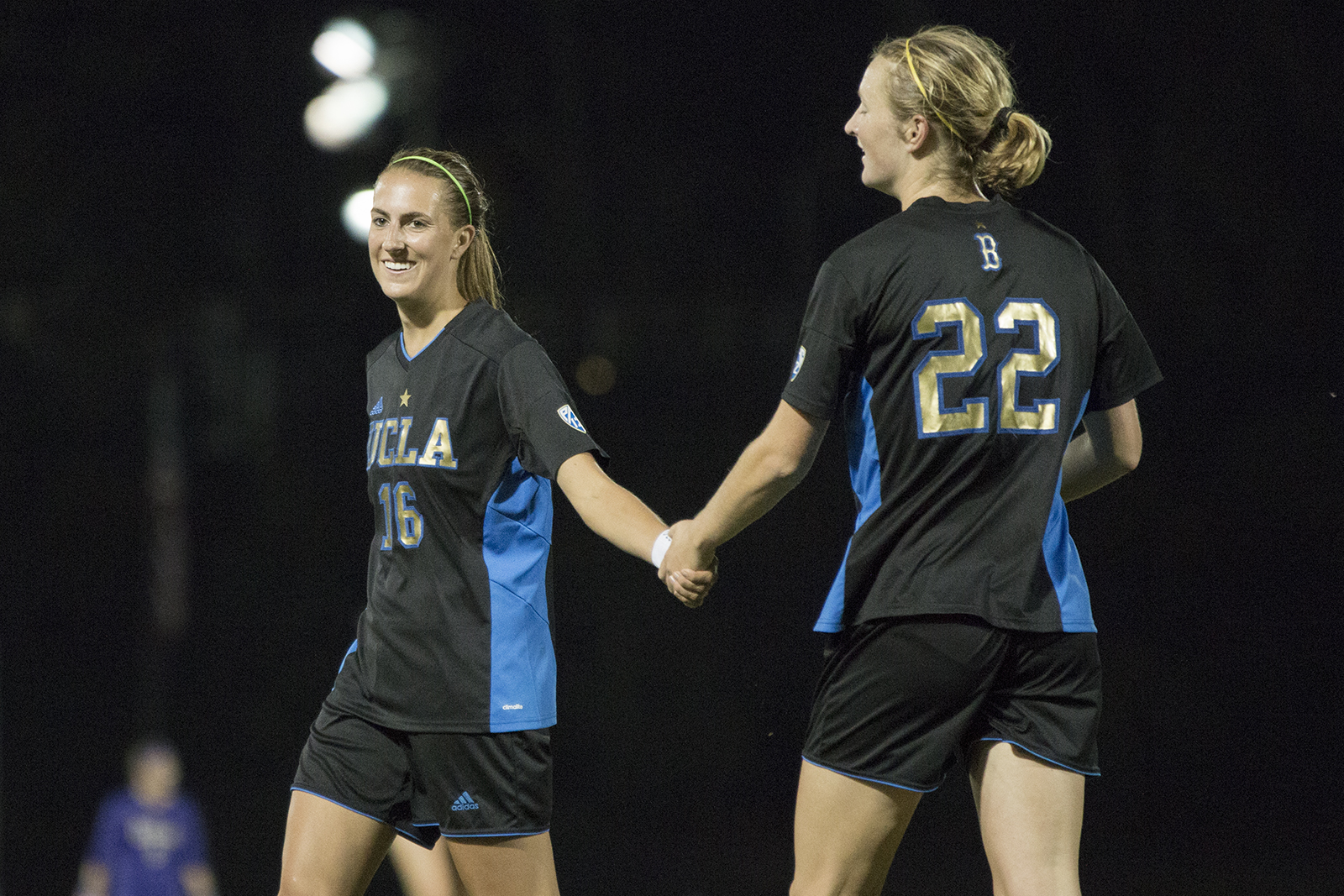 UCLA women's soccer cocaptain senior midfielder Sarah Killion (left) said she could always count on her counterpart, Sam Mewis (right), to believe in her during crucial moments, such as the penalty kick on Senior Night. (Aubrey Yeo/Daily Bruin senior staff)
It didn't feel like Senior Night 81 minutes into UCLA women's soccer's game against Arizona on Friday night.
Save for goalkeeper Katelyn Rowland, there were no other seniors on the field. But that was quickly about to be remedied.
What happened next was a sight for the Bruin fans and family in attendance. The remaining eight seniors began marching toward Marshall Field together in a collective substitution, and the nine seniors played out the final nine minutes of their 6-0 win over No. 23 Arizona.
It seemed fitting that the seniors would combine for four of the six goals on a night dedicated to their four years together.
Senior midfielder Sarah Killion opened scoring for the upperclassmen with a spot kick in the 50th minute to put the Bruins up 2-0. But it was the little exchange between Killion and her fellow cocaptain, senior midfielder Sam Mewis, before she was appointed as the penalty taker that really told the story of how close they have grown as a class.
"That's one thing I can always count on Sam for: She always believes in me," Killion said. "She knows if I want it, feel like it, I can take it. She'll give me that opportunity."
Just two minutes later, senior defender Caprice Dydasco would score her first goal of the season, while Killion would complete her brace with another goal in the 59th to put UCLA (13-0-2, 5-0-1 Pac-12) up 4-0 against Arizona (9-4-1, 3-3-0).
Not even a booking on Dydasco for an illegal substitution could dampen her spirits on Senior Night. As the referee raised his card and began writing the senior defender's name in his books, Dydasco simply responded with some laughter and a big smile.
"I came out and (coach) Amanda (Cromwell) said, 'Who took Caprice out?' And I just dropped my stuff and ran back on," Dydasco said, explaining the miscommunication. "That was my first yellow card of my life. It was really funny, so I was just laughing."
Now with a comfortable lead over the Wildcats, the coaching staff could finally orchestrate a gesture for the seniors – they just needed to figure out what would be the best way. But when Cromwell started to consult one of her cocaptains, the answer became clear.
"When I took Sam Mewis off, I kinda wanted to ask them what they wanted to do," Cromwell said. "When she came off, she was like, 'I wanna keep playing.' So I was like, 'Oh boy.'"
As No. 1 UCLA's lead grew larger, so did the list of seniors who were taken off the field via substitution.
The game clock continued to wind down, and the seniors waiting on the sidelines grew more and more anxious to return to the field. Finally, it was time to let them play.
"I was going to wait a little bit longer, but they kept inching closer and closer to the scorer's table to check in," Cromwell said. "They were already behind me, behind the table, and I think Sarah was like, 'Can we do it now?' And I turn around, and they're already there."
With nine minutes left in the game, the nine seniors finally got what they wanted – another chance to play. And they made sure they'd have the final say on Senior Night with Mewis' goal in the 89th minute.
The seniors closed the game, and they did it together as a class.
"My senior class – I wouldn't trade them for the world," Killion said. "They mean everything to me."