Students express hope, doubts regarding Hong Kong protests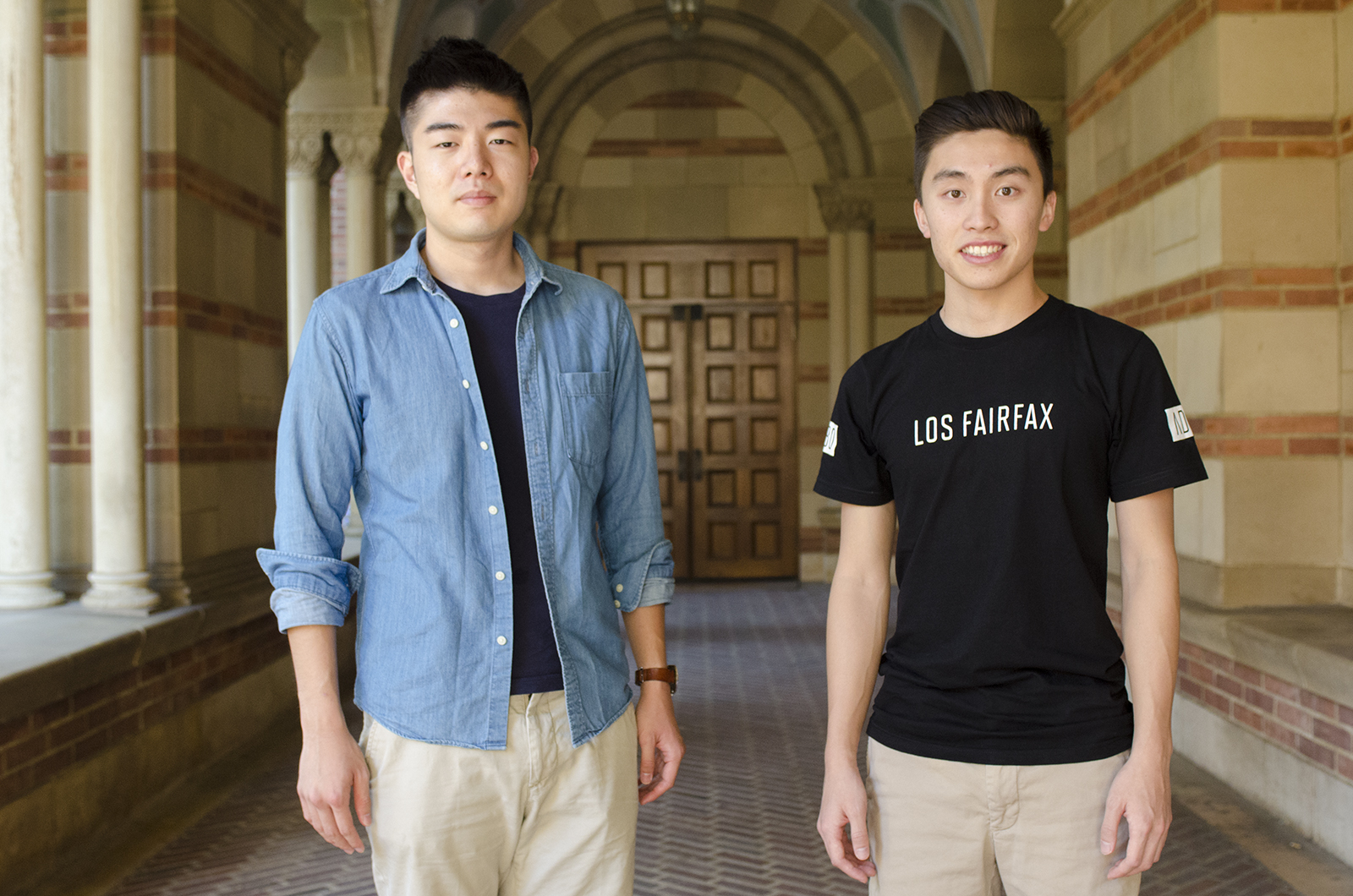 Hugo Rei (left), creative director of the UCLA Hong Kong Student Society, and Nicholas Leung (right), president of the Hong Kong Student Society, hope that the protests in Hong Kong lead to tangible changes. (Kelsey Kong/Daily Bruin)
Hong Kong city officials canceled negotiation talks with student leaders of Hong Kong's Occupy Central movement Thursday evening, confirming expectations and dashing the hopes of some UCLA students who have family in the city or who participated in the protests.
Two weeks ago, demonstrators took to the streets to rally against a decision made by the central Chinese government on the election process for Hong Kong's chief executive. The decision would have a committee filled with Beijing loyalists screen and choose who can run as a candidate for the city's top bureaucratic position in the 2017 election.
Hong Kong, a special administrative region of China, was a British colony for more than 150 years before Britain handed over the city to the Chinese government in 1997. The port city currently governs itself through the "one country, two systems" policy, which gives citizens certain freedoms nonexistent in other parts of China, including freedom of speech and the right to protest.
When the Chinese government enacted the "one country, two systems" policy, Hong Kong was guaranteed universal suffrage in the 2017 election. Protesters feel that the government violated its promise when it decided on having a committee screen candidates.
"I think it was the promise that makes everything so much worse. … That's why the relationship between the people and the government keeps tearing apart," said Nicholas Leung, president of the UCLA Hong Kong Student Society and a fourth-year business economics student. "I think the country needs to do a better job of keeping its promises."
The protest has created a standstill in Hong Kong for about two weeks, with pro-democracy protesters blocking the main road to the city's financial district. Some of the city's schools also closed because of the protests, causing some students to criticize the protests.
"If this is really (for) democracy, then I guess you don't infringe the benefits of other people. What they do already seriously affect the life of other Hong Kong people who do not want to be involved," said Zhongtian Dai, a third-year sociology student.
Though the number of demonstrators has dwindled considerably since the first days of the protest, protesters still occupy several roads in Hong Kong.
Before Thursday night, Leung had expressed hope for the negotiation talks.
"I'm really looking forward to some change to this stalemate," he said. "We want to listen to the government and feel how much they're willing to give and if they're willing to listen."
Leung took part in the Occupy Central movement for two nights before the quarter started, after much of the violence had receded.
"As a younger generation that takes on the future of Hong Kong, even if we don't really have a realistic goal, I think it's still worth it, and we still need to do it," Leung said about the protests.
Leung protested along with friends, but he said he also sat with strangers and befriended them.
"We talked to people we never knew," Leung said. "We talked and we made friends."
Hugo Rei, creative director of the UCLA Hong Kong Student Society and a fourth-year sociology student, said he thinks the negotiation talks and pro-democracy movement as a whole could serve as a catalyst for change in mainland China.
"I would say (what is happening in) Hong Kong will be a very good chance for China to move towards democracy," Rei said.
Other students agreed, saying that the protests have been at least effective in drawing the attention of individuals across the world to the cause of pro-democracy activists.
"While their goals may not happen, they have gained support, and China now has eyes on it from all sides," said a third-year business economics student studying abroad in Hong Kong. The student asked to remain anonymous for fear of his safety.
But some students are more reluctant to say the movement will lead to reform in China.
Chaowei Hu, a third-year chemistry student from mainland China, suggested that instead of reforming China's policies, adapting to them may be more effective.
"I think in China it takes too much to change the status quo, so (mainlanders) are more willing to change ourselves and adapt if we are not satisfied," Hu said. "It's not that bad. You can usually survive very well with the system."
Other students said they believe that negotiations between protesters and the government are out of the question.
"They want to reach an agreement with the (Chinese) government? It's impossible," Dai said. "The Chinese government won't yield."
James Tong, a professor of political science at UCLA, said he does not expect the protesters to accomplish their key ultimatums because Beijing officials are unlikely to change their minds about the committee.
"For sure, some of the main demands of the protesters will not be met," he said. "It's not up to the Hong Kong government. It's up to Beijing, and Beijing would not agree to this."
As for what's next for Hong Kong and its relationship with the mainland, Tong said he thinks the forecast is unpredictable.
"This is only the first quarter in a football game," he said. "We won't know the outcome."