UCLA women's soccer wins game dedicated to breast cancer awareness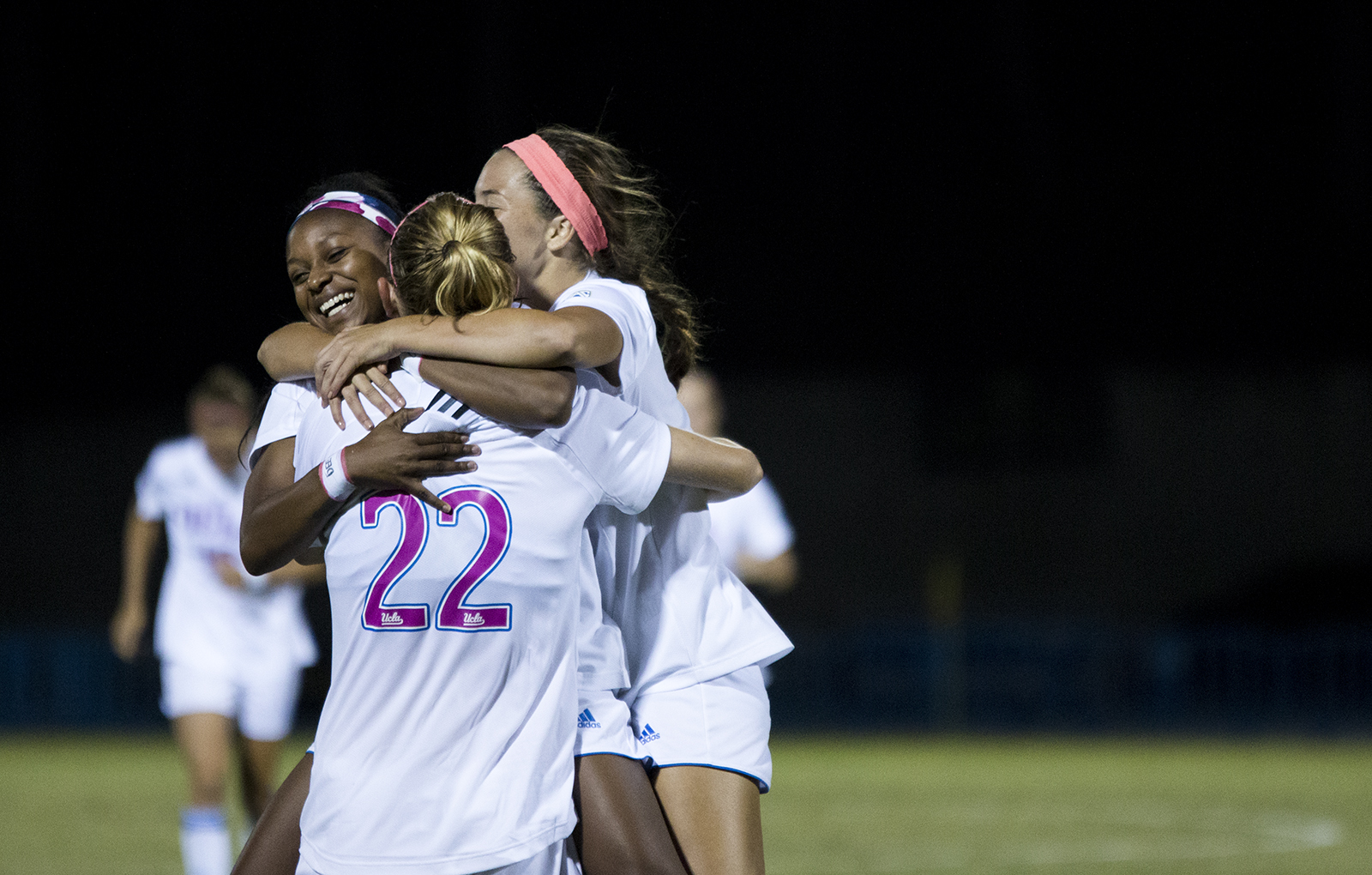 UCLA's decider against Utah in a game dedicated to breast cancer awareness came courtesy of two players, junior forward Taylor Smith (left) and senior midfielder Sam Mewis (center), whose mothers are both cancer survivors. (Aubrey Yeo/Daily Bruin senior staff)
For one night, blue and gold didn't highlight the numbers and names of the players.
The players, clad in pink-trimmed uniforms, walked onto Marshall Field in Drake Stadium on Friday night and clinched a 1-0 win against Utah in what was more than just a soccer game.
Before that matchup, the team published a video with players and coaches sharing how cancer has affected someone close to them. The video included a segment about how the team has rallied around junior midfielder Madison Tye's mother, Dee Schmidt, who was recently diagnosed with cancer.
With players wearing wristbands with "Dee Strong" written on them and different personal narratives playing into the game, it was time for No.1 UCLA women's soccer to begin "a battle greater than winning (its) second NCAA championship."
"It's really about cancer awareness and celebrating, fighting and trying to give positive energy to the survivors and those fighting it now and also honoring those that have passed away," said coach Amanda Cromwell.
Freshman forward MacKenzie Cerda said having a chance to play for something more than just the game of soccer created a positive effect on the Bruins.
"It definitely brought a lot more energy and excitement to the field," Cerda said. "We weren't just playing for ourselves and the team, but we're playing for the other people who can't play, and it was really meaningful to do that."
That energy was just what UCLA (10-0-2, 2-0-1 Pac-12) needed to execute their strategy against Utah (7-2-3, 0-2-1).
Each time a Ute defender was about to clear the ball, she'd have to face that energy head on, as a Bruin would come charging straight toward the ball, either creating pressure or trying get a lucky block in good field position.
"(Utah was) kind of slowing the game in the first half," Cromwell said. "By halftime, we decided we wanted to press them higher and force the issue. We noticed when we did it in the first half they were making mistakes and giving us the ball in some good spots."
UCLA's relentless pursuit finally paid off in the 48th minute, when Cerda's pressure on an opposing center back caused the defender to mistakenly pass the ball to junior forward Taylor Smith, who fed the ball to UCLA's top scorer, senior midfielder Sam Mewis.
At the edge of the box, Mewis hit the ball "low and hard," just like her coach had constantly said in practice. It was 1-0 UCLA.
Within the home crowd that finally had a chance to cheer for a UCLA goal was one person who made Mewis scoring that goal that Friday night much more special –Mewis' mother, Melissa, a cancer survivor herself in her third year of remission.
"It's been a recent thing for my family," Mewis said. "She's actually here (Friday night) from Massachusetts, so it was emotional for me to play for her in front of her."
On Sunday, UCLA faced another tough defensive team in the Colorado Buffaloes (8-4-0, 1-2-0) but once again was able to break the deadlock in the second half to take the contest 1-0.
And after two hard-fought wins, the players finally had a chance to kick back and play some soccer for fun this time. They led a free children's soccer clinic and raised funds for Soccer Without Borders.