UCLA women's volleyball heads to Washington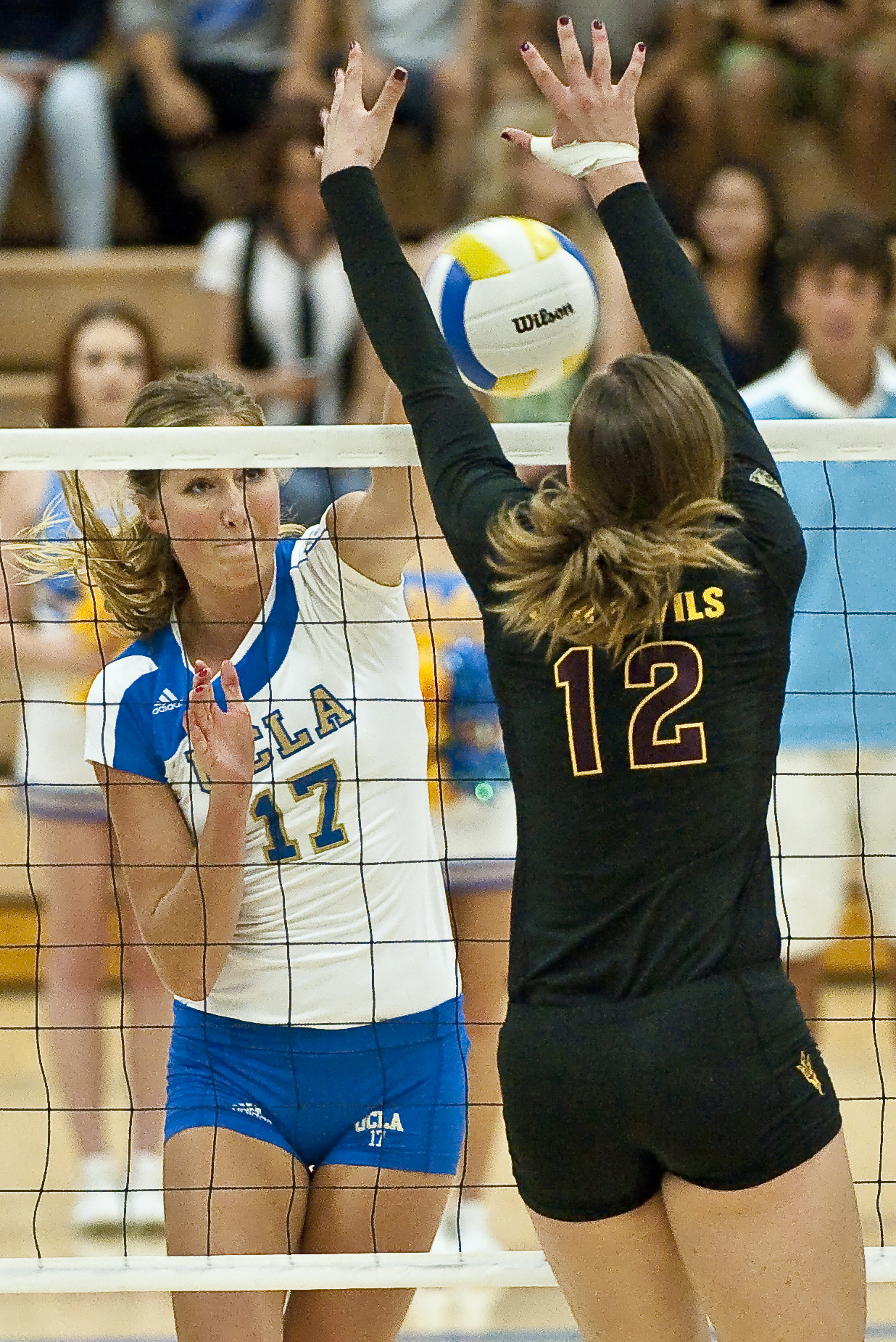 Senior outside hitter Karsta Lowe will walk into this weekend's games in Washington as the player who leads the nation in kills per set with 6.49. (Daily Bruin file photo)
This weekend, the UCLA women's volleyball team will face both the University of Washington and Washington State University on a three-day road trip in the Evergreen state.
As the Bruins arrive in the state of Washington, however, the team's own history will simultaneously be both its friend and its enemy.
2004 marked the beginning of two vastly different streaks of play for the Bruins in the Pacific Northwest, one of UCLA's own asserted dominance and one of dominance asserted upon them.
Against the Washington State Cougars, the Bruins secured the first of what would turn into a nine-game winning streak in the college town of Pullman.
In Seattle, on the University of Washington campus, however, UCLA was handed nine straight road losses to Washington.
And it's in Seattle where the No. 20 Bruins will first find themselves along their tour of Washington's Pac-12 teams, with a matchup against an undefeated No. 4 Washington Huskies (14-0) squad.
A key to breaking the nine-game skid in Seattle could lie in UCLA senior Karsta Lowe continuing to dominate the net.
Lowe, who currently leads all of college volleyball with 6.49 kills per set, was key in UCLA's previous victories over top-10 opponents this season.
Her 22 kills against a then-No. 9 USC team and her season high of 29 kills against a then-No. 9 ranked University of Illinois squad led her UCLA team to dominant three-set sweeps in each of the matches.
Following a day of rest Saturday, the UCLA team will travel nearly three hundred miles east to Pullman, Wa., home of the Washington State Cougars.
The Cougars (14-5), currently facing a three-game skid, haven't fared well against ranked opponents this season, dropping each of the four games they've played.
Despite what UCLA's history against Washington State might teach, a foregone, conclusive victory for UCLA could be upset by a State squad who has already tasted some success earlier this season. In early September, the Cougars knocked off host team Notre Dame (3-10) to win the Gold Dome invitational.
A part of subduing any potential threat from Washington State and leaving with a win is with senior setter Julie Consani.
Consani, who currently leads all of the Pac-12 in assists per set at 12.18, could be an important part of setting up teammates and establishing the potential for UCLA to hit over .300 as a team – a statistic which has yet to indicate anything short of a victory for UCLA this season.
Compiled by Erik Kaye, Bruins Sports contributor.