prime's Guide to Zero Week: Sawtelle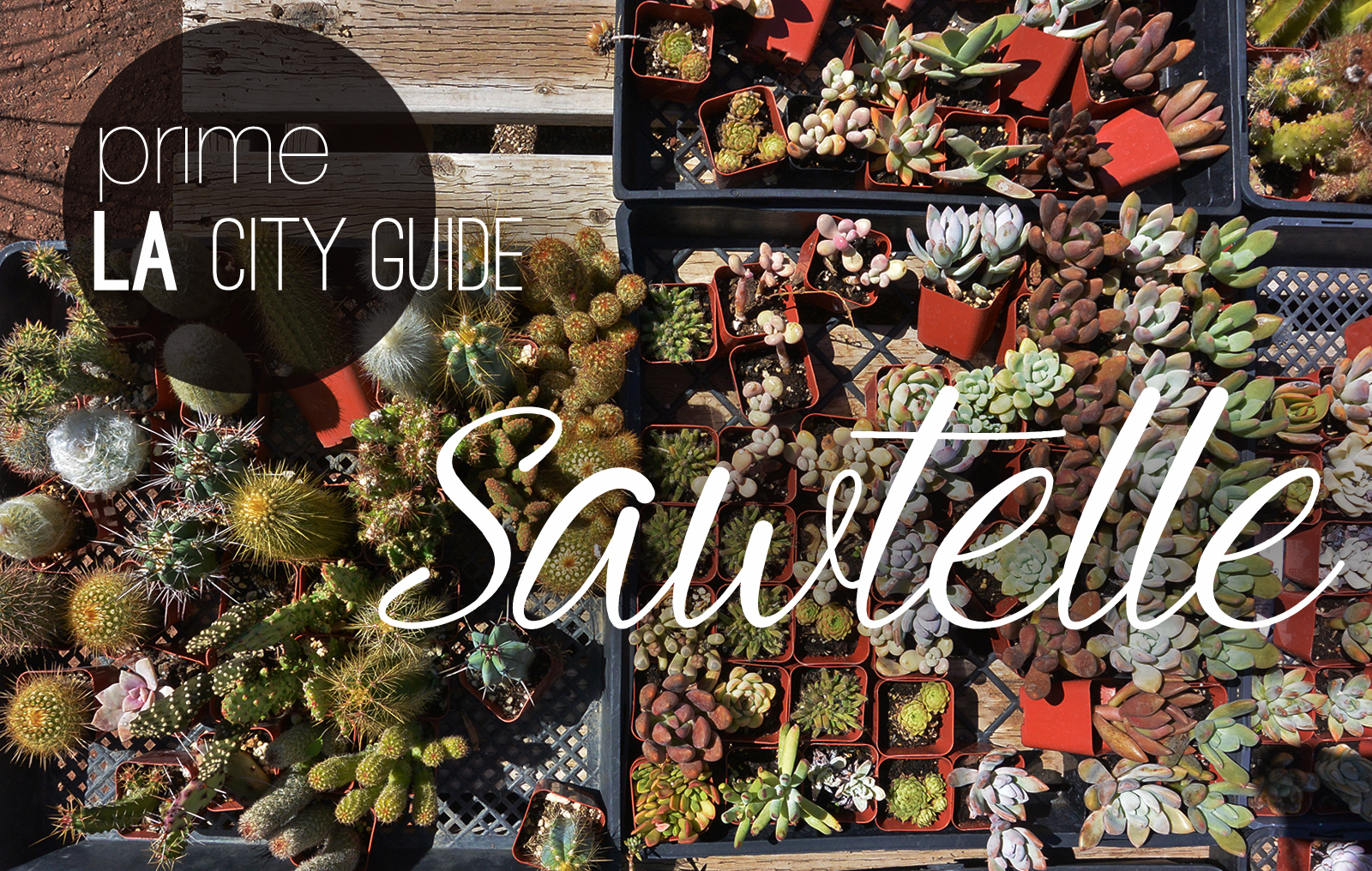 Even though you've familiarized yourself with the crooked streets of Westwood and made sure your dorm room or apartment is primed for the school year, you aren't ready to be a UCLA guru until you know the ins and outs of Sawtelle.
What is Sawtelle? Well, it's literally a street, running from Santa Monica Boulevard south through Culver City, but the part we are concerned about covers only a couple blocks, between Santa Monica Boulevard and Olympic Boulevard, conveniently located less than three miles away from campus.
Sawtelle – the neighborhood – known unofficially as "Little Osaka," is a Bruin's favorite secret, though in recent years it's become less of a secret. Nevertheless, it caters to your Asian food cravings on the Westside, so what more can you ask for? From a hot bowl of ramen to a frosty bowl of shaved ice to the rare soup dumpling sighting west of the 405, here is a quick rundown of Sawtelle treasures.
The Must-Visits
Tsujita L.A. Artisan Noodle: Luckily for UCLA students, some of the best tsukemen – a variety of ramen – in Los Angeles is located on the corner of Sawtelle Boulevard and Mississippi Avenue. For the uninitiated, ramen is a lot more than just a late-night snack that comes in a box. Ramen, at least here in Los Angeles, represents a food group of its own. Tsukemen is a particular type of dipping ramen that's popular in Japan. The chewy noodles are served cold beside a rich, steaming-hot pork broth. Tsukemen is sometimes only served at lunch, and Tsujita often has a long line, so it is definitely not a place to come for a quick bite. The plain tsukemen will set you back $9.95, with additional boiled egg and char siu pork options costing slightly more. They also have regular soup ramen as well, if you're more of a traditionalist. This restaurant is cash-only though, so be sure to come prepared or walk over to SushiStop to make quick use of their ATM.
Blockheads Shavery: If you are a lover of Yogurtland or Cold Stone Creamery, Blockheads is a stop you won't want to miss. Right around the corner from Tsujita is this snow cream favorite. "Snow cream" is the creamier and fluffier cousin of traditional shaved ice, somewhere in the middle of the spectrum between shaved ice and ice cream. At Blockheads Shavery, snow cream comes in four classic flavors year-round, like green tea, as well as various seasonal varieties. There are also a couple dozen toppings to choose from, but think quickly, because like Tsujita, there is often a line. Prices are reasonable – starting at around $4 – but beware: There is a $5 credit minimum, so be prepared to get crafty with extra toppings in a pinch.
SushiStop: There's nothing Angelenos like more than cheap sushi. That's why UCLA students are so lucky to have SushiStop nearby. The pilgrimage is well worth it – every dish is $2.75. Yes, you read that correctly. There's probably enough spare change rolling around in your backpack for a spicy tuna roll. If sushi isn't your thing, they also have udon and mini bowls, including a chicken teriyaki bowl, also for $2.75 each. The catch is that SushiStop isn't for everyone: It's for the patient. The wait can seem arduous, but they do have an ATM inside, which is a nice touch. There are two locations on Sawtelle, one around the corner from Tsujita, and the other is conveniently located in a mall on the corner of Sawtelle Boulevard and West Olympic Boulevard, which has two hours of free parking (an L.A. blessing).
MJ Cafe and Teahouse: Sorry, Volcano Tea House and CoCo Fresh Tea and Juice, there's a new kid in town. MJ Cafe opened just this summer and offers a large menu of tea drinks as well as a selection of Taiwanese snacks. Like the other tea houses, you can personalize the sweetness level and amount of ice in your drink. But what sets MJ Cafe apart is that they have a much more extensive tea menu. Prices are around the same as Volcano and slightly cheaper than CoCo, but overall, another tea house nearby means a shorter wait for all three.
B Sweet Dessert Bar: Also new to the area is a dessert-catering and food truck service, serving up sweet treats in a brand-new location on the corner of La Grange Avenue and Sawtelle Boulevard. Open Thursday through Sunday, you can browse the weekly menu online and order ahead for pickup to avoid the wait. From their famous bread pudding to glazed donut ice cream sandwiches and a curious menu item called "Sluttiest Brownie," it serves to satisfy any post-savory ramen sweet tooth.
Other meals under $10
Sawtelle is a perfect place to get out of Westwood for a meal without breaking the bank. Here are some places worth checking out, all with fulfilling meals under $10.
Seoul House of Tofu: If you are ever craving spicy food, be sure to check out Seoul House of Tofu, the Korean tofu house located right across from Blockheads. Though it is usually crowded, the wait is quick. Every order of soondubu, a spicy Korean tofu soup, comes with a hot bowl of rice and costs $9.50.
Daikokuya: Located near SushiStop, by the parking structure, is a small branch of the famous Little Tokyo ramen restaurant, Daikokuya. Delicious and piping hot, a bowl of their original ramen costs $9.50.
KULA Revolving Sushi Bar: Located in Sawtelle Store, which has free underground parking with validation, KULA is a revolving sushi bar where each plate costs $2.25. That means you can get four plates of sushi for $9, all while enjoying the novelty of watching plates of sushi cruise by.
Shin-Sen-Gumi: A little farther from the central area (but closer to UCLA, at the corner of Santa Monica Boulevard and Sawtelle Boulevard) is this other, popular ramen chain restaurant. With bowls of ramen starting at $4.75 and a large selection of sides and starters, it's hard to beat.
Seoul Sausage Company: Opened just two years ago by winners of the Food Network's "The Great Food Truck Race," Seoul Sausage offers street food from a storefront. From a galbi twist on a hot dog at $7 to Korean-fusion poutine at $8, it's no wonder this little spot has become a neighborhood favorite.
But there's more to Sawtelle than just eating.
Nijiya Market – also located in Sawtelle Store – is a store that sells Japanese groceries. They also have an entire section with prepackaged fresh sushi and bento boxes. If you are a fan of miso soup, their miso packets are a cheap and easy option if you want to get creative with a dorm room microwave.
On the other side of Sawtelle Store is Daiso Japan, the Japanese "dollar store" where almost everything costs $1.50. There, you can find everything you will and will not ever need, from miniature pots and pans to air fresheners, cheap makeup and even an impressively large selection of pens.
A little further down the street, you will find a few historic nurseries. Hashimoto Nursery is the oldest. It is a family-owned nursery that opened in 1928 as O.K. Nursery and was later renamed Hashimoto Nursery after the brothers who founded it were released from internment camps during World War II. Today, it offers a wide selection of plants, including a succulents section.
Directions
Sawtelle is easily accessible from UCLA. Here are some transportation suggestions:
By Car: The fastest way to get there from UCLA is to take the 405 and get off at Olympic, which takes around nine minutes. During rush hour – and let's be real, when isn't it rush hour in Los Angeles? – it would probably be best to take Veteran south, turn right on Ohio and then left on Sawtelle, which is about a 10-minute commute.
As for parking, the lot next to Marshalls has two hours of free parking, and Sawtelle Store has free parking with validation. There is also ample parking in neighborhood streets such as on Corinth Avenue – just make sure to be conscious of parking restrictions.
By Bus: From UCLA, take Route 8 (there's a stop by CVS/pharmacy in Westwood), and get off at Westwood and La Grange. Continue walking south on Sepulveda, then turn right on West Olympic and make your way under the 405. This will take 20-30 minutes depending on how far you live from the bus stop. When returning, the bus stops at the station right next to the 7-Eleven on Sepulveda.
By Foot: Finally, if you're ambitious and feel like taking a stroll, take Westwood south from UCLA, turn right on Ohio or Santa Monica and then left onto Sawtelle, which can take about 40 minutes, depending on how fast you walk.