UCLA lecturer's work on prison program allows inmates exposure to arts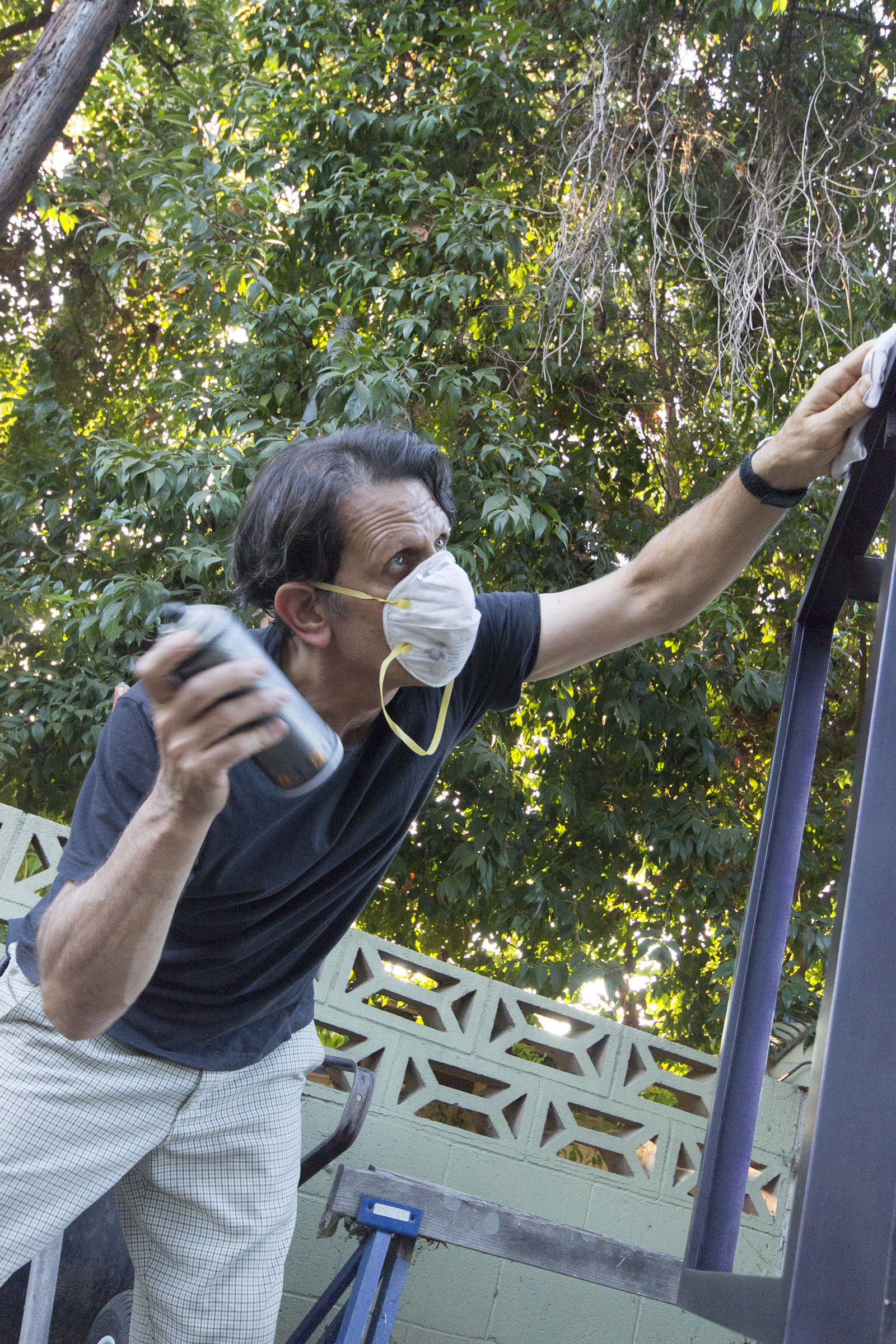 Tom Skelly, an arts lecturer at UCLA, spray paints a picture frame in his yard. He often works on his art from a studio at home. (Felicia Ramirez/Daily Bruin senior staff)
C.A. Department of Corrections and Rehabilitation Division of Rehabilitative Programs
2012-13 Budget
Total: $302.9 million AIC Funding: none
2013-14 Budget
Total: $325 million AIC Funding: $1 million
2014-15 Tentative Budget
Total: $310.9 million AIC Funding: $1.5 million

Source: Kristina Khokhobashvili, C.A. Department of Corrections and Rehabilitation spokeswoman
Sept. 28, 2014 12:00 a.m.
They told him they didn't want a bureaucrat, so Tom Skelly took the job at Chino prison.
At the state institution, sprawled across 2,500 acres of land in San Bernardino County, Skelly's job as the prison's new arts facilitator started simply. It was 1980 and the 28-year-old had never been in a jail or in trouble when he arrived.
"I was green and naive and the prisoners protected me," said Skelly, who is now an arts lecturer at UCLA. "They protected me from staff and other inmates."
At the time, the California Institution for Men in Chino was one of a handful of prisons participating in Arts-in-Corrections, which first launched as a pilot in the 1970s. The program was meant to give inmates a chance to feel the gratification of creating fine art and to fill idle time with productive, rehabilitative activities.
But after decades of successful work, the program had its funding slashed by the state in 2003 and was put to bed in 2010, though some privately funded arts programs still continued at state prisons. Skelly helped form AIC when it launched and helped close it when the end he saw coming finally hit. Skelly said he felt robbed, but didn't take the decision personally because state cuts were happening across the board.
This summer, with $2.5 million allocated over two fiscal years, AIC is returning to California prisons. Skelly, who teaches an annual class at UCLA on prison arts programs, still works regularly at different state prisons.
The California Institution for Men, which opened in 1941, now runs on a budget of about $160 million a year and houses more than 4,500 inmates. When AIC first operated at the complex, Lori Sheridan served as the prison's warden. She started working at Chino prison when she was fresh out of college and was interested in serving as a correctional counselor. While the funding lasted, she supported the arts program because she thought it gave inmates a voice and because of the way Skelly organized it at Chino prison.
"(Skelly) is just one of those intrinsically good people – a community-minded person but also able to see the world very realistically," she said. "(Skelly) was able to communicate well with those in custody and with the programming side, to pretty much walk right down the middle of the road. He didn't become involved in politics or things of that nature."
For the 30 years he worked full-time at the prison, Skelly coordinated arts classes and projects for inmates. He met with other prison officials, local artists and members of the community to organize and improve the program. Skelly said he saw inmates as a resource instead of a burden, and pushed for them to do public art projects, from a bronze statue of a San Dimas police officer who was killed to a tiled mural at a local elementary school.
Healing through art
Skelly starts every class at Chino prison the same way he teaches students at UCLA, hoping to get people to oust any insecurities they have and go back to the way they were as kids.
He talks in ideals, saying everyone can be creative but that, at some point, when children grow up, they are told to stop being themselves and to quit making art.
"You know when you're a kid and it's raining and you can build bridges or boats in the gutter?" he said. "I give them the chance to go back and recapture that creativity."
An artist himself, Skelly tries to lead by showing his own work – flattened bottle caps he pounded down with a hammer one by one and arranged into the face of a bird or oil on canvas pictures with paint splatters that throw the designs slightly off beat. For each piece he creates, he gives a name that usually stems from some type of wordplay, such as "Two Faced" for a vase with designs mirroring one another or "Tired" for painted rubber designs on a car tire he twisted into a deflated shape.
Hundreds of CDs line the walls of his own home, where Skelly shapes other pieces of work from scratch. In a room off to the front of the house, he saws wooden planks on a table adjacent to his laundry machines and a multicolored dollhouse. Then he smooths them with a hand-cranked sander to make picture frames. Sometimes he does it just to get his mind focused before starting his creative work, but it also helps save some money, which means he can buy more records.
At Chino prison, Skelly ensured AIC centered around the fine arts and not just crafts or hobby projects. He said he wanted prisoners to create and feel through their work.
For Franky Carrillo, the arts helped him cope with the frustrations that came with a wrongful murder conviction and 20 years in state prisons.
Carrillo was 16 years old when he was arrested for the drive-by shooting of a 42-year-old man and 37 years old when he went home again. It took decades for Carrillo, who now attends Loyola Marymount University and advocates for prison system reform, to be exonerated after new evidence proved his innocence.
"The tragedy of being convicted is something I will have to live with for the rest of my life, but it hasn't overwhelmed me," Carrillo said.
During that time, he went from the Richard J. Donovan Correctional Facility in San Diego to a state institution in Corcoran to Folsom State Prison.
"The arts became an exercise of my patience," he said. "It was an opportunity for us to sit in a room and understand that an art piece involved a process and a sense of patience."
Carillo said he then applied that same formula to his life, learning to be gentle with himself and to persevere. He kept himself motivated enough to continue attending arts classes and pursued guitar, which he had always wanted to learn.
"In my case, I still believed that someday, somehow – with my constant drive to get out and get attention – eventually justice would prevail," he said.
Carrillo said that in addition to offering therapeutic activities, AIC helped him and his peers let down their guard and interact with one another as well as with the program directors.
"Not only was it about art, but it was an opportunity to be a gentleman and to sort of be free," he said. "Interacting with someone from the outside world who was not looking down on you or criticizing you is something that came along with Arts-In-Corrections."
Working in prisons
In 2006, Skelly started working with Sabra Williams, who brought the Actors' Gang theater troupe to Chino prison the same year. The group performs a highly physical and emotional type of theater and leads workshops with inmates who also want to participate in the art.
"We use theatrical tools with cognitive therapy," Williams said. "We give (inmates) ways to hold a mirror up to their lives and see how what they do affects other people."
Williams pitched the project about eight years ago, and the group has continued to work at Chino prison and several other prisons using funding from private grants. With an influx of funding for AIC, the Actors' Gang received $112,000 for its work as part of AIC at three state prisons, including Chino prison, for the 2013-2014 fiscal year.
Williams said she thinks her work is important for inmates who have tried to numb their emotions in prison, but it is also something the group does to make sure the prisoners it works with do not become repeat offenders upon release.
Williams cries during many Actors' Gang workshops. Sometimes she'll cry because she's heard something beautiful, like how an inmate has become a father or a partner for the first time, or when an inmate says he would go to war for other men in the room even though they're from a different gang. She said she is also moved when inmates share obstacles they have had to overcome, or when they lose a family member or friend. But she doesn't forget where she is or her role in the prison.
"We are emotionally vulnerable with (inmates) as well, but it's done in a sensible and wise way," Williams said. "We're not their friends. We're there for a reason."
Skelly said his ability to separate his personal life from work allowed him to keep going back to Chino prison each day for so many years.
He couldn't use sarcasm or talk to anyone for too long in his classes because he felt his actions could be misinterpreted as favoritism, and, for safety reasons, he couldn't tell anyone too much about his family life or go into specific inmates' cells to teach them how to draw. He said he did this as much for the prisoners as for the guards, who he felt watched him as closely as anyone in the prison.
There were many times when Skelly thought he wouldn't be able to go back to Chino prison – too many small fires to put out each day, between inmates stealing X-Acto knives and some employees telling him, "I can't do this Tom, I gotta quit."
He said he got tired of being around "cops and robbers" all the time, but he liked the challenge of the job, and he was seeing too many positives to give up.
Paying upfront
As AIC heads back to state prisons, Skelly said he hopes the California Arts Council, a state agency that aims to improve California by promoting the arts, and the California Department of Corrections and Rehabilitation make it a priority to conduct recidivism studies related to the program, or studies that examine how often former inmates become repeat offenders.
The state conducted a study in 1983 and found that it saved about $228,500 in "measurable social benefits." A 1987 study later found that it helped reduce recidivism rates significantly, according to a report on the AIC program released in 2012. In 2007, interviews with individuals on parole echoed a common theme that AIC served as "a final salvation of (inmates') minds from prison insanity."
Skelly said he believes the program paid for itself by keeping former inmates out of prison, but without up-to-date studies, he thinks state officials had to take too much anecdotal evidence as proof of its effectiveness. And with significant budget cuts for rehabilitation programs over the years, the arts were seen as only a luxury to some officials, Sheridan said.
"We were taking so many cuts over the years, it was almost a disaster in all arenas," Sheridan said. "There were some pretty significant budget and personnel reductions and it was no secret."
For now, Skelly does not plan to go back to work full-time at Chino prison or another state prison unless he is given more autonomy in his job. Without a long leash, he said he doesn't think he'd be able to get a lot done, and he doesn't want to feel like he's wasting his or the inmates' time.
Still, he is going back to teach a weekly painting class at Chino prison next month, and he plans to continue working in California prisons for a while as the AIC program develops further.
"I'll go wherever they need me," he said. "If they say they need me at Chino, I go to Chino."
Contributing reports by Matthew Joye and Leslie Yeh, Bruin senior staff.