Reily Buechler's father grows from volleyball coach to her biggest fan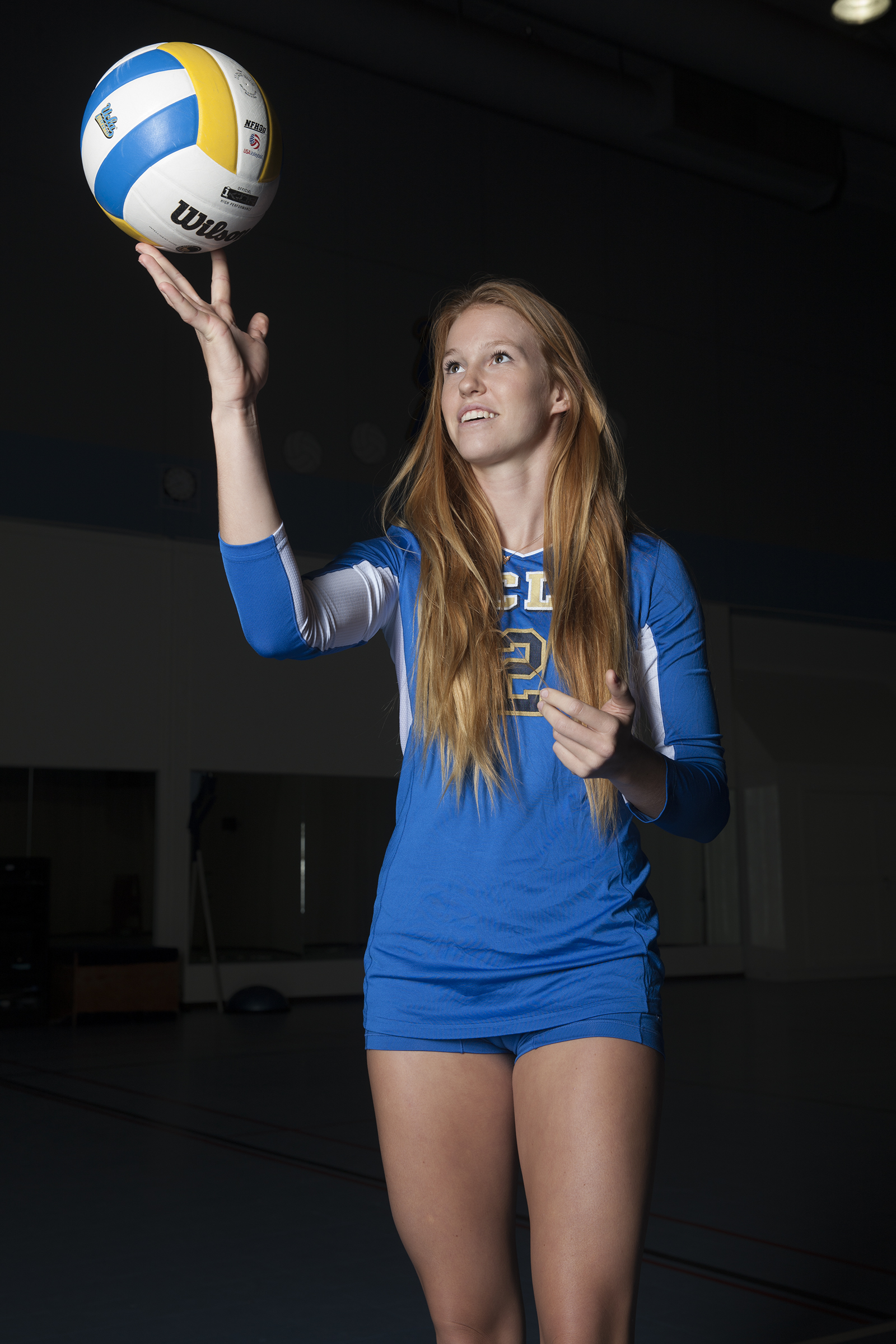 Since the age of 9, freshman Reily Buechler has always been the coach's daughter at WAVE Volleyball Club. Being a part of the UCLA team was the first time the outside hitter had to move out of the comfort zone of being coached by her father. (Aubrey Yeo/Daily Bruin senior staff)
Sept. 28, 2014 12:00 a.m.
In May 1996, NBA guard/forward Jud Buechler welcomed his first daughter, Reily, into the world in Chicago.
Just a month later, Buechler lived another one of his life's best moments. Along with Michael Jordan and the rest of the Chicago Bulls, he won his first NBA title, four games to two, against the Seattle SuperSonics in the same city.
Now retired from his professional basketball career, Buechler sat down in the stands in January 2009. The proud father watched from the stands as his seventh-grade daughter dribbled the basketball up and down the court, a huge smile on her face the entire time.
Despite her smile and her father's three NBA championship titles, Reily Buechler's realization struck in seventh grade: She wanted to play volleyball.
"All of a sudden, I was like, well, I think I could go a little further with volleyball. Basketball was fun but it was more of a pastime," Buechler said. "Volleyball was more of my focus: That's what I wanted to pursue."
It was a decision that the outside hitter's father understood well, as he had faced the same one years earlier. Having been both a basketball player and an All-American volleyball player in high school, Jud Buechler knew that committing to a college meant committing to a sport too. And while he ultimately chose to play basketball for Arizona and continue professionally, he never did give up both nets completely.
After his retirement from the NBA, Buechler went on to introduce his daughter to his other passion – volleyball – by becoming her coach.
"I got a call from a club director that said, 'Hey, why don't you come down and coach a team? You have a daughter, Reily, right? She's going to be tall – let's get her involved.' And that's how it started," Buechler said.
From the time Reily Buechler entered her first WAVE Volleyball Club practice at age 9 up until she graduated high school, she looked to her father not only as a parental support base, but also as an assistant volleyball coach. While Buechler said her father was a great, positive coach who brought a lot of energy to practice, being the coach's daughter also pushed her to play at an extremely high level.
"I told her, "Listen, I'm your dad, and I'm coaching. If you're even with another player, that player is going to play because I don't want (other parents) thinking you're playing only because I'm your dad,'" Jud Buechler said. "'You have to be not even with but clearly better than that other player for you to play.'"
However, after discussing volleyball on car rides to practice, over dinner and before bed, the real adjustment for Reily Buechler came at the start of her career at UCLA, when, for the first time in nine years, her father no longer doubled as her coach.
Though Buechler still sees her father cheering on the sidelines at every UCLA match, even the ones far away from Los Angeles, she no longer calls him "coach" at the end of the night and no longer discusses the smallest details of her performance with him on the drive home.
This season, Buechler is on her own.
"It's nice not having him coach me, just because it's a fresh start," she said. "Obviously I miss him coaching me, but at the same time, it's nice to get away and not have volleyball constantly on your mind and be the only thing you talk about."
Although Jud Buechler still attends every match and even texts his daughter inspirational quotes from college coaches before her matches, he is settling into his new role as No. 1 fan and cheerleader. For the first time, Buechler is able to sit back, relax and enjoy watching his daughter play, with their many practice sessions together already having served their purpose.
"He's just a normal parent," said UCLA women's volleyball coach Michael Sealy. "He comes to all the stuff that parents come to. He's obviously been more supportive to her, more from a parental role than an overbearing athlete father."
But Jud Buechler's 12-season career in professional sports has prepared him well for his debut as his daughter's insightful fan. Because both of Reily Buechler's parents played Division I athletics in college, they are well-versed in the highs and lows of collegiate athletics. So whenever Buechler needs advice, she knows her parents will give her the best there is to offer.
"I've had to really back down," Jud Buechler said. "I just tell her how proud I am of her now and how I love her, and just all that stuff. I think she's ready to be on her own."
Buechler walked into a busy Galen Center one evening in September 2014. As he watched his daughter's team win all three sets against crosstown rival USC, the smile, this time, was on his face.