UCLA women's soccer finds new ways to score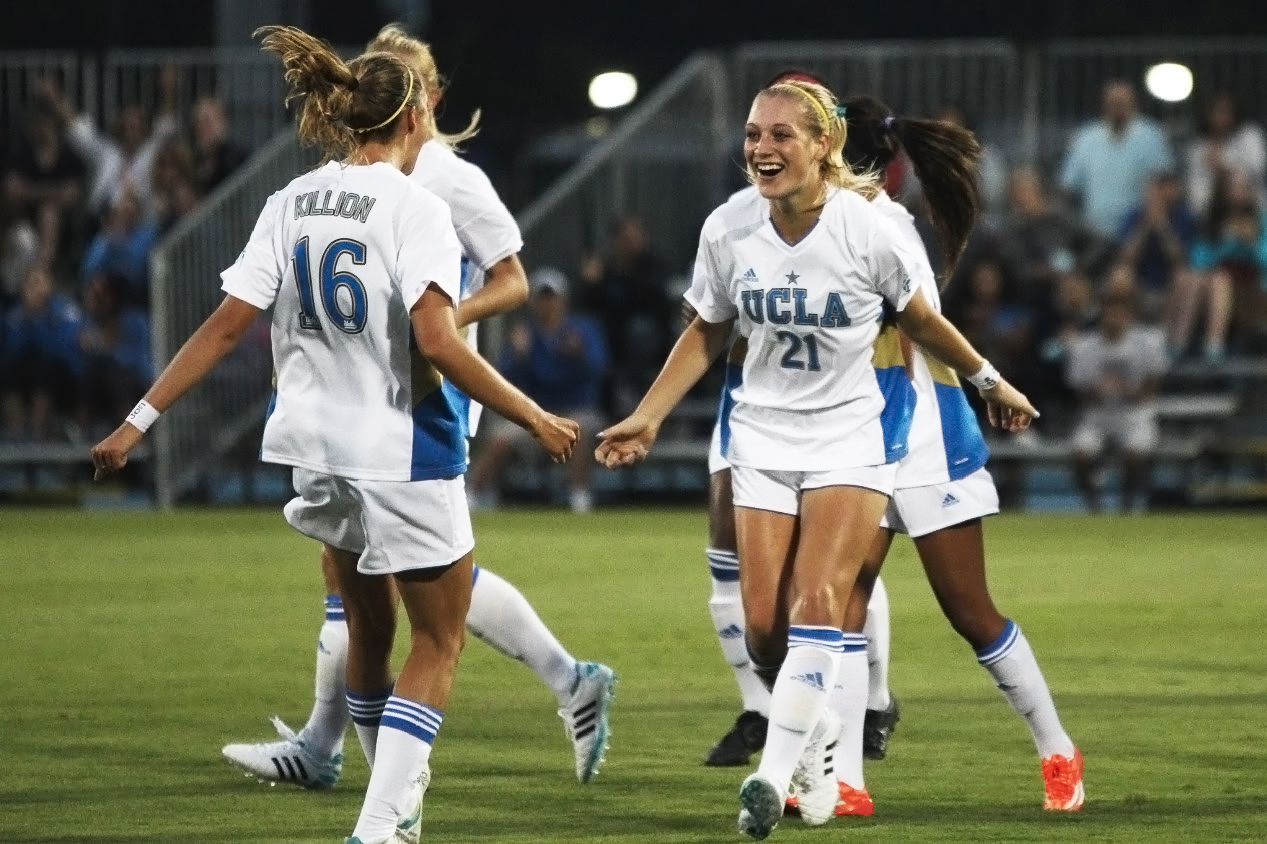 Senior defender Megan Oyster celebrates after scoring the Bruins' first goal of the season with a header off a corner kick. Scoring off set pieces has been a focal point of improvement for the Bruins since they identified that weakness last season. (Aubrey Yeo/Daily Bruin senior staff)
It took the UCLA women's soccer team all but 26 minutes into its new season to answer the question: how does a team improve fresh off a championship run?
The answer became apparent in the No. 1 Bruins' 3-0 home wins against Maryland and UC Irvine on Friday and Sunday: getting more productivity from set pieces.
"Last year it was a focus for us because we weren't very good at it," said coach Amanda Cromwell. "We needed to be a lot better with our set pieces, whether it's corner kicks, free-kicks, in range, out of range, we needed to just improve on being more dangerous."
And with that weakness pinpointed, the next thing on the agenda was issuing the remedy.
"Starting from this season we worked on corner kicks, the timing of it, the ball in, the texture of the ball and just our runs in general," said senior defender Megan Oyster. "That's something we've been working in every single practice; talking to our teammates and getting it down, and it's worked."
The first hint of this change came just a week before the Bruins' season started when Oyster opened scoring in the team's 3-1 win against No. 9 Texas A&M; via a converted chance from a corner kick.
It didn't take long for the Bruins (2-0-0) to replicate that success once the season began. That moment came in the 26th minute against their the team's first opponent, the Maryland Terrapins.
It began with senior forward Rosie White sending the ball into the middle of the penalty box off a right corner kick. Oyster would repay her teammate's accurate delivery with what her coach would describe as an "authoritative" finish – a header that would bullet past seven Terrapin defenders and the goalie to make the score 1-0.
There was Oyster's posterizing moment.
"It felt really good; it was like a slam dunk," she said.
UCLA's second goal would come just seconds later when a costly error in handling senior midfielder Sam Mewis' long drive by the Maryland keeper would double the Terrapins' deficit.
White, who took all of the Bruins' 11 corners on Friday, would go from provider to goal scorer in the 32nd minute and put the Bruins up 3-0. Sophomore forward Taylor Smith's quick pass found Sarah Killion, who responded with a one-touch flick that put White in a one-on-one situation with Terrapins keeper Rachelle Beanlands. The left winger struck the ball with a half-volley that arced above the goalkeeper's reach and into the back of the net.
"It was such a perfect lead up," White said. "I just had to volley it, basically, and hit it well."
Just two days later, UCLA was able to produce another convincing 3-0 win and make it two goals from set pieces in two games. Mewis managed to fire a header off a corner kick, which ricocheted off the crossbar into the feet of eventual goal scorer, sophomore Darian Jenkins.
"Being one of the tallest players, I should be more dangerous in the box than I am," Mewis said. "Players like myself, Megan and (senior defender) Abby (Dahlkemper) have just become more committed to it and we're staying after practice to work on it.
Although UCLA may have found a way to improve a weakness, it didn't come at the cost of their biggest strength. The team that finished No. 1 nationally in goals against average last season once again managed to keep it tight at the back, allowing zero shot attempts against Maryland (0-2-0) and one against UCI (0-2-0).
Next on the Bruins' schedule is No. 4 North Carolina (1-1-0) – the only team that was able to hand UCLA a loss last season when both teams met at Fetzer Field in North Carolina.
"Everyone's going to be watching that matchup," Cromwell said. "There's going to be some excellent soccer, It's going to be a high intensity, fast-paced game. Glad to be getting them at home this time."
The top-five face off will be one where the Bruins' improved ability to convert on set pieces will truly be put to the test, as scoring opportunities are expected to be much scarcer against the most storied college women's soccer program in history.