Former student counselor Lovell Sevilla dies from leukemia at 48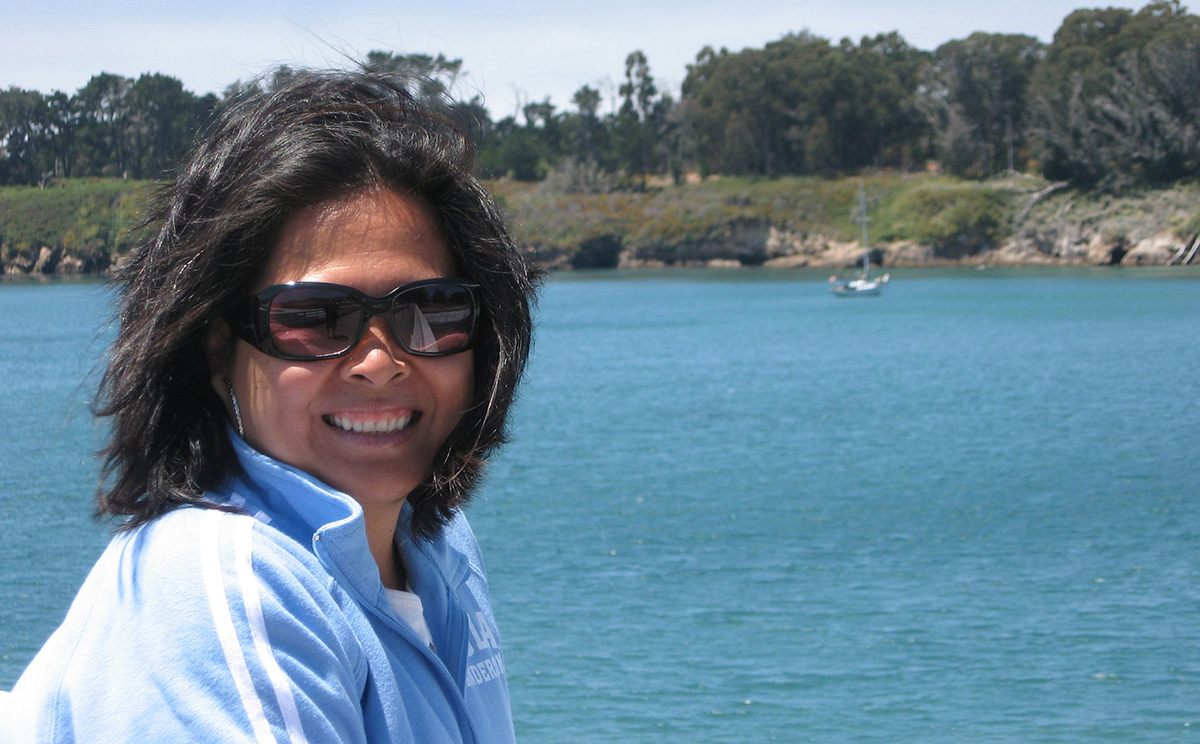 (Courtesy of Derek Mateo)
Lovell Sevilla, who served as a UCLA student counselor for more than two decades, died on Aug. 10 at the Ronald Reagan UCLA Medical Center after battling acute myeloid leukemia for nine months. She was 48.
Sevilla's family and friends said they will remember her for her fierce "warrior" spirit and sincere interest in bettering other peoples' lives.
"(Sevilla) knew what to say to empower people to overcome their difficulties," said Hooman Rahimizadeh, Sevilla's husband. "She brought a calmness to my life."
Because of her father's career as an army officer, Sevilla traveled around the world when she was young and went to high school at an army base in Japan. Her interactions with many different kinds of people at a young age made her intuitive and sensitive to other peoples' needs, Rahimizadeh said.
After years of traveling, Sevilla went to UCLA and earned a bachelor's degree in history, then a master's degree in counseling from Loyola Marymount University.
From there, she began working as an assistant and then as a counselor at UCLA Honors Programs. In 2010, she was awarded the Chancellor's Excellence in Service Award for expanding diversity in the Honors Programs and became the director of counseling in 2011.
Derek Mateo, a UCLA alumnus and former mentee of Sevilla's who knew her for more than 30 years, said Sevilla showed a strong commitment to helping her students.
"I was one of those students that needed to be (academically) challenged, and Lovell knew that so she never gave up on me," Mateo said.
Barbara Van Nostrand, student adviser for the UCLA Department of Musicology and Sevilla's colleague, said Sevilla had already garnered a reputation as a dedicated counselor when Van Nostrand met her in 2009.
Sevilla's nature was such that she inspired people to achieve more than they thought possible, Van Nostrand said. Her fitness craze and healthy lifestyle rubbed off on Van Nostrand when they began working out on the track together a few days a week after work, she said.
"She became one of my best friends, my go-to person," Van Nostrand said.
Year after year, Sevilla would do little things to surprise her friends and family, like mailing them handmade holiday and birthday cards, said Aimee Contreras-Camua, a UCLA alumna, former mentee of Sevilla's and her friend of more than 20 years.
"She was the kind of person that enjoyed bringing people together," Camua said. "(Sevilla) figured out how to help you in any way she could."
In December, Sevilla was diagnosed with acute myeloid leukemia, a form of blood and bone cancer. She struggled to find a bone marrow donor because there are few donors for underrepresented racial and ethnic groups, so her former students created a website and Facebook page titled "Help Lovell" to widen her search, Mateo said. Sevilla uploaded a video to YouTube of her talking about the need for more people to register as bone marrow donors.
About 25 percent of the time, a marrow donor can be found among family members, but Sevilla could not find a match from her relatives, said Madhuri Mistry, community relations manager at Asians for Miracle Marrow Matches, an organization that seeks to increase the diversity of bone marrow donors.
Despite the social media campaign and a bone marrow drive held by Sevilla's students in February, Sevilla was not able to find a bone marrow donor in time.
Mateo said Sevilla tasked him with creating a documentary about her struggle with finding a Filipino donor and the lack of donor matches for underrepresented groups. He said he is still in the process of compiling the video.
"Out and out, Lovell was a giver. Even in her sickness she wanted to help educate the community about the need for increasing the donor pool," Mistry said.
Sevilla is survived by her two younger brothers, Richard and Darryll Sevilla, and her mother, Velma Sevilla. Her funeral will take place on Friday in Las Vegas, where she will be buried next to her father, Mateo said. There will be a tentative public memorial at the St. Paul the Apostle Church in the Westside on Sept. 20.