Former executive vice chancellor Andrea Rich known as dynamic leader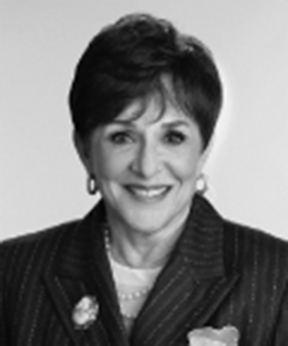 Andrea L. Rich, UCLA's first female executive vice chancellor, was remembered as a dynamic thinker, avid traveler and poetry writer. She died from acute myeloid leukemia on July 28. (Courtesy of Anthony Rich)
Andrea L. Rich, UCLA's first female executive vice chancellor known for being a charismatic leader, died from acute myeloid leukemia at the Ronald Reagan UCLA Medical Center on July 28. She was 71.
Many of her closest family and friends said they remember Rich as a dynamic thinker, avid traveler and poetry writer.
"My mother was the Pied Piper of the family," said Anthony Rich, her eldest son. "Her attitude was like, 'Come on, people. Let me show you the world.'"
Rich's involvement in the UCLA community spanned 34 years, beginning when she left her home in San Diego to study at UCLA in the early 1960s. There, she earned her bachelor's, master of arts and doctorate degrees from UCLA and continued her work at the school as an assistant professor of communication studies. In 1991, she was appointed executive vice chancellor and chief operating officer of UCLA.
Carole Goldberg, Rich's colleague and the UCLA vice chancellor of academic personnel, said Rich dedicated her work at UCLA to supporting undergraduate education and was a role model for women in leadership positions.
In light of state budget cuts to the University of California in the early 1990s, Rich helped develop UCLA's Professional Schools Restructuring Initiative, which collapsed several departments into one school to cut costs, Goldberg said. This program eventually led to the establishment of the Luskin School of Public Affairs, she said.
David Rodes, a professor emeritus of English, said his friendship with Rich extends back to 1968, when they worked together on academic policy in the UCLA Office of Instructional Development, which Rich established.
"She was never short of ideas," Rodes said. "She had the kind of intelligence and wittiness that made it fun to keep up with her, not that I could."
Rich also established the Night to Honor Teaching, an annual ceremony that recognizes UCLA faculty members and that was later named after her, Goldberg said.
UCLA honored Rich with a distinguished teaching award in 1974 and the UCLA Medal – the university's highest honor – in 2001 for her work in the UCLA College of Letters and Science, said Judith Smith, dean and vice provost emeritus for undergraduate education at UCLA and Rich's friend.
After decades of service, Rich left the university in 1995 to become president and chief executive officer of the Los Angeles County Museum of Art, where she worked for 10 years.
"I remember her debating leaving UCLA, but she was always up for new challenges," Smith said.
Smith said she thought Rich's academic arts background helped her transform the museum into a more vibrant and community-oriented institution. Under her tenure there, Rich broadened the range of the museum's art collection when she brought in the Bernard and Edith Lewin collection of Latin American art and the Madina collection of Islamic art.
After she retired from her duties at the museum at age 62, Rich suffered from multiple health problems, including being diagnosed with breast cancer. Still, she did not let her health condition and routine hospital checkups affect her charity work, which she had been involved in for more than a decade, Anthony Rich said.
She sat on the board of Save the Children, a nonprofit organization that focuses on ensuring children's rights in developing countries, as well as other nonprofits, Anthony Rich said.
When her time being an academic innovator at UCLA came to an end, Rich dove into exploring her other passions, Smith said. She developed her skills as an artist and shared the poetry she wrote in her spare time, she said.
"I knew her in all different kinds of capacities," Smith said. "She was a really dynamic, caring human being."
As one of her last charitable actions, Rich used money from her estate to establish a nonprofit fund for different organizations that work to provide medical supplies and sustenance for children in need around the world. To donate, individuals can go through the California Community Foundation for the Andrea Rich Fund, and all donations are divided into grants among the public charities in her name, Anthony Rich said.
Rich is survived by her two sons, Anthony and Robert Rich, her granddaughter Alexandra and her brother Robert Beck. Her immediate family held a private memorial on Aug. 3 and are discussing holding a public memorial service in late September at the UCLA Hammer Museum, Anthony Rich said.