UCLA women's soccer invited to play for LA Blues; wins championship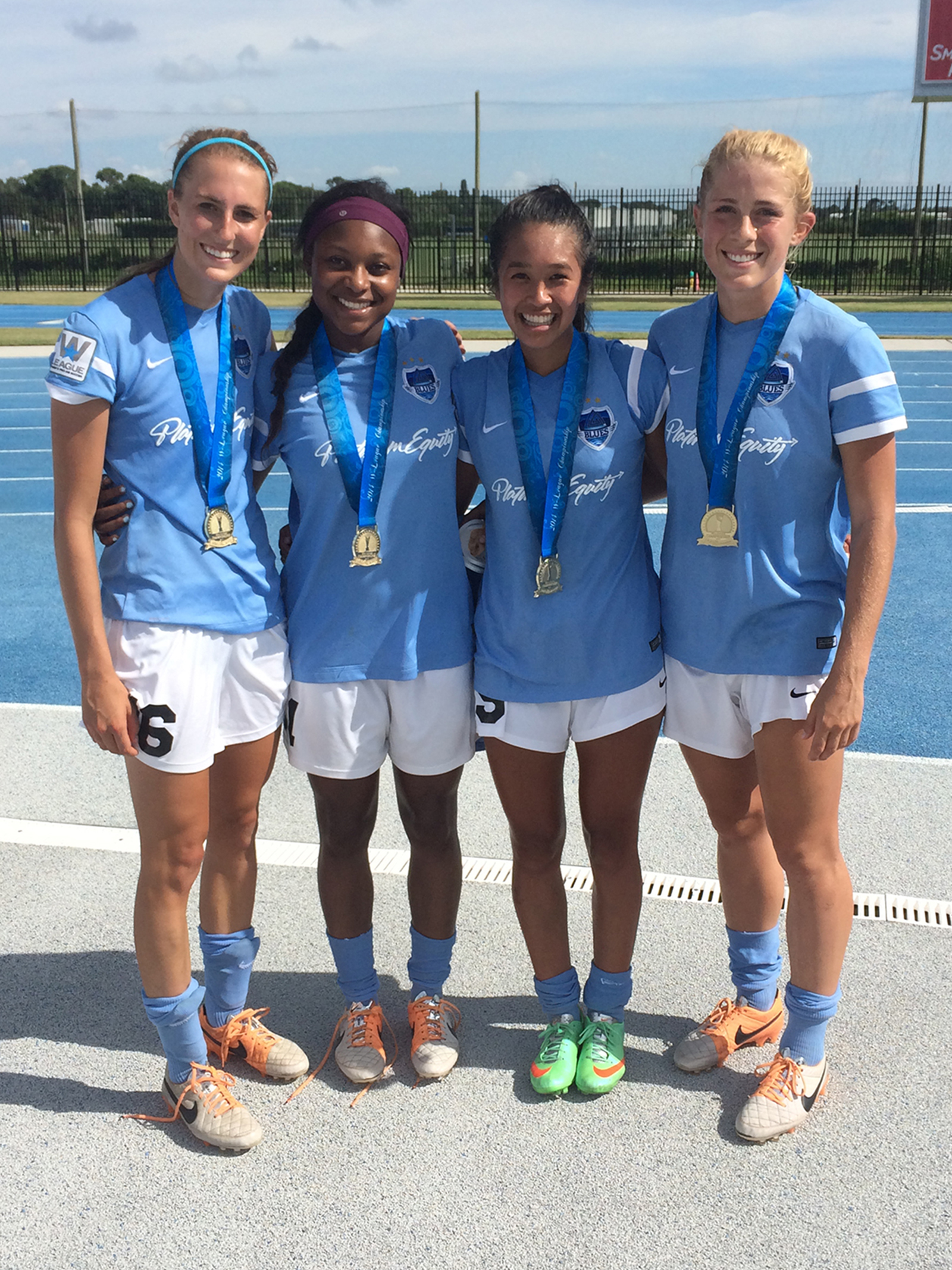 (From left to right) Senior midfielder Sarah Killion, junior forward Taylor Smith and senior defenders Caprice Dydasco and Abby Dahlkemper each won a W-League championship on July 27 while playing with the LA Blues. For the three seniors, it was the second straight year in which they helped lead the Blues to the W-League title.
(Courtesy of Abby Dahlkemper)
The women's soccer team still has three weeks before they begin the defense of their NCAA championship, but three players say they already know what it takes to win back to back a title.
For the second year in a row, senior defenders Abby Dahlkemper and Caprice Dydasco, and senior midfielder Sarah Killion, made the trip to IMG Arena in Bradenton, Florida with the LA Blues for the W-League championship game. Just like last summer, they finished in the W-League as champions – this time beating their opponents, the Washington Spirit Reverses, 6-1 on July 27.
The W-League features a unique situation as far as soccer leagues go; it's a league that many professional women's soccer players call home, but it also leaves its doors open to college players looking for some competition during their offseason.
A college player can enter the W-League by one of several ways. Some request to join a W-League team close to home while others pick one near their college. For the UCLA seniors, their invitation to join the LA Blues was more of a fortuitous event, as LA Blues coach Charlie Naimo reached out to them about joining the team.
With NCAA restrictions limiting the number of university-sanctioned practices during the offseason, playing in the W-League also presents an option for college players to keep in touch with with the game of soccer.
"It's a great opportunity to play against good opponents every day during practices and get touches on the ball … which will benefit us during the season," Dydasco said.
Though the three returning UCLA players are familiar faces to fans of the Blues, the roster changes around them have made this year's squad feel like "a completely different team," according to Killion. One of those new faces was fellow Bruin junior forward Taylor Smith, whose eight goals and 10 assists for the Bruins last season earned her an invitation to the Blues.
In the LA Blues' convincing 6-1 championship win last week, Killion, whose play throughout the season won her the team MVP award, proved that she had the necessary skills to compete against both professionals and college players. With a goal and two assists in the title game, the midfield general claimed the championship game MVP, all on her 22nd birthday.
"I'd say it was a cool birthday present, but just the 6-1 win in itself was a little better," Killion said. "When your whole team is standing up on a podium together it's a lot better than just you."
A successful title defense in the W-League might seem like the perfect way for these UCLA players to start their NCAA championship defense in 2014. But the three Bruins do not let themselves look beyond what lies ahead; there's still a ways to navigate before the College Cup in December, which will coincidentally be held in Florida as well.
"There's no doubt that was a nice little warm up to what we hopefully will experience this December, but right now we're more focused on one game at a time," Killion said. "We know it's a long ways and it's a going to be a hard road, but we're ready."