Campbell Hall renovations to be completed in spring 2015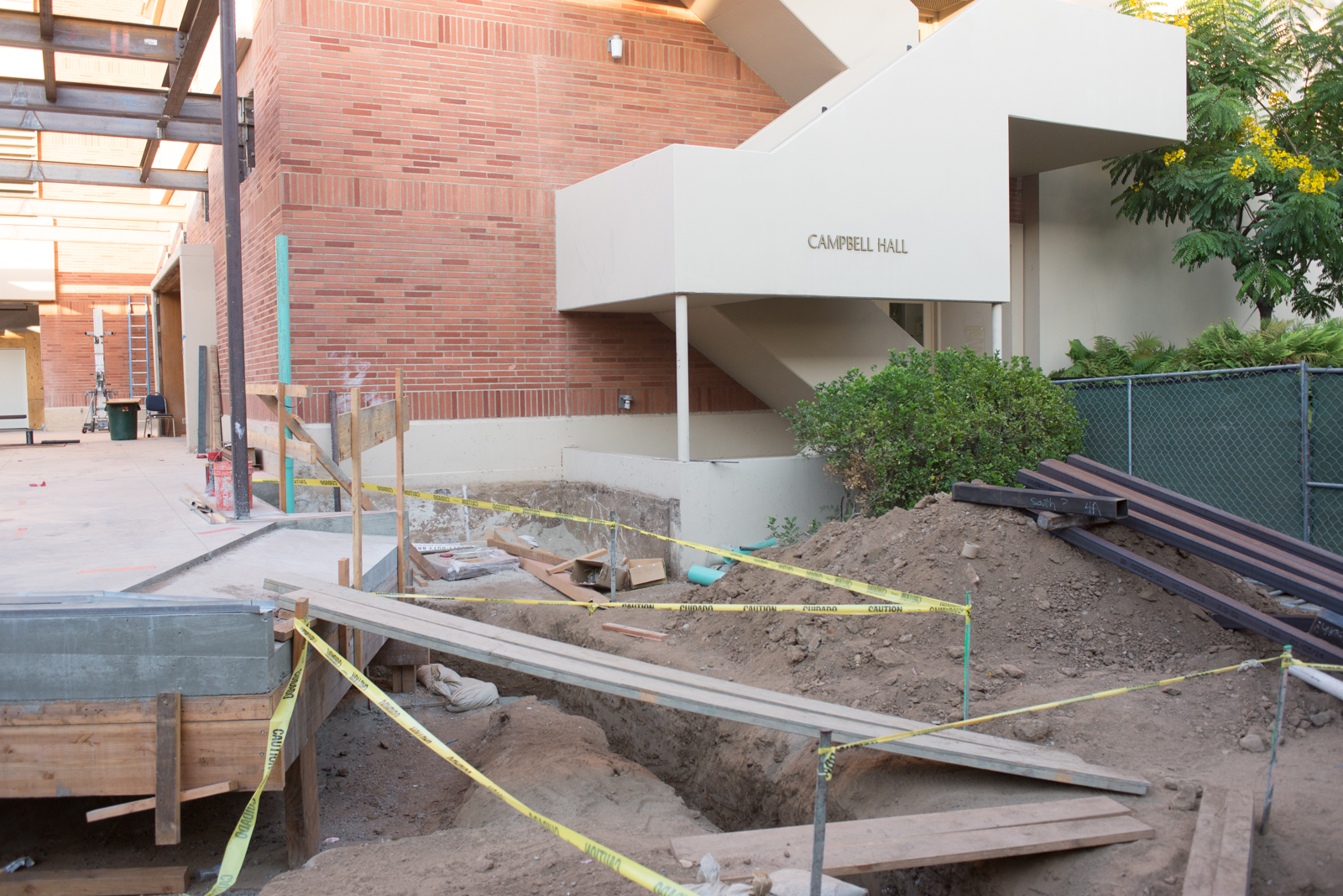 UCLA officials began renovating Campbell Hall in January to expand facilities for the Academic Advancement Program.
(Brandon Choe/Daily Bruin senior staff)
The original version of this article contained an error and has been changed. See the bottom of the article for more information.
Juan Llano said he remembers peer tutoring sessions in Campbell Hall where, amid the loud noise and cramped atmosphere, concentrating was sometimes exhausting.
Llano, who graduated from UCLA this spring, spent his first year at UCLA taking tutoring sessions for his Spanish major in the Academic Advancement Program before becoming a peer counselor there. He said sometimes the rooms were so crowded he rubbed shoulders with students in different study groups.
"It was hard to stay fully focused on the peer learner for your subject because you could hear the other tutors talking about completely different things," Llano said.
In January, UCLA began a $5 million renovation of Campbell Hall to expand facilities for the Academic Advancement Program, which helps assist historically underrepresented students in their academic careers at UCLA, said Dr. Charles Alexander, director of the program. All undergraduate students have access to the program's counseling section but have to be members to attend tutoring sessions because of their popularity, he added.
Outside donations, a loan from the College of Letters and Science and a grant from the Ahmanson Foundation make up about $3 million of the total funds raised so far for the project, Alexander said.
The project will allow more space for the approximately 5,500 students enrolled in the program, Alexander said.
Currently, members of the Academic Advancement Program still need to raise $2 million in funding to renovate the interior portion of Campbell Hall with new furniture and appliances, Alexander said. He said he's been working on this project for the past five years and he put aside $100,000 of the program's discretionary budget as a contingency plan if enough funds cannot be raised.
The revamped building is set to open in spring 2015, Alexander said. While the construction is taking place, peer learning sessions have been dispersed in different buildings on campus.
Since the program's inception in 1971, its focus has expanded from outreach to having a larger emphasis on helping students transition to life after school, Alexander said.
"This has been in the making for a while," Alexander said. "The (program) has outgrown its location in Campbell Hall, and since space is limited on campus, the current facilities needed to be renovated."
He said he wants the interior to have state of the art technology and furnishings because it's a newly renovated building.
An additional room constructed on the north side patio of Campbell Hall will be dedicated to new peer-facilitated learning labs and tables with video monitors for easy student access, said Eric Heggen, senior project manager at UCLA Capital Programs.
Also, two new rooms for peer learning sessions will open adjacent to a fully renovated outdoor patio space, Heggen said.
"A project like this is a small addition that could have a big impact on the lives of UCLA students," Heggen said. "I appreciate the fact that I get to do this type of work."
The project has been in the works for years because finding funding for the renovation and getting each step approved took longer than expected, Heggen said.
"There wasn't (administrative) resistance, but finding funding for a large-scale construction project like this is more difficult because it needs to be put on someone's radar as a priority," Alexander said.
The project has both a development team tasked with finding the proper funding and a student advisory committee, which helps inform the UCLA community and eligible students about the program, he added.
Bea Richman, director of development in the UCLA College of Letters and Science, said the development team will ask UCLA administrators and outside organizations for more loans or grants so the renovated building doesn't have to keep its old furniture.
Hayarpi Nersisyan, a UCLA political science graduate and member of the student advisory committee, said the group comes up with ideas about how to put a face to the program for eligible students and the UCLA community.
She said she joined the program after transferring to UCLA because it helped her navigate the school and introduced her to graduate research opportunities.
"(The Academic Advancement Program) was like my home the past three years," Nersisyan said. "I really want to see (the program) expand so students will have more room to have more meaningful discussions and (fewer) noise distractions."
There will be a formal blue ribbon cutting ceremony to commemorate the completion of the project next year, Alexander said.
Correction: Nersisyan's name was misspelled.