USAC councilmember's tweet on airport profiling prompts backlash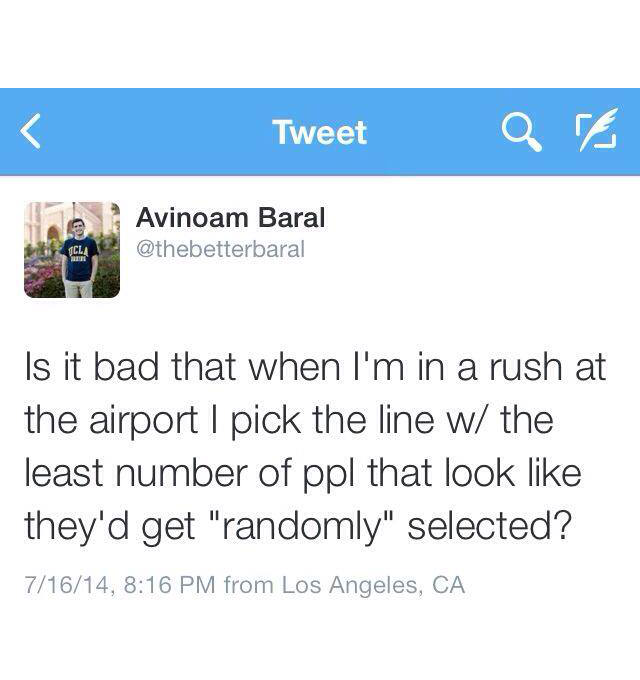 This post was updated on July 18 at 11:29 a.m.
A controversial tweet posted by undergraduate student government councilmember Avinoam Baral on Wednesday night has sparked some backlash on social media from dozens of UCLA students, including student government officials.
Baral, the Undergraduate Students Association Council internal vice president, posted a tweet about racial profiling in airport security lines at around 8 p.m. on Wednesday. He said he deleted the tweet about a minute after publishing it because he realized it "could be misinterpreted."
While the tweet was still up, Ayesha Khan, project director of the Incarcerated Youth Tutorial Project and a member of the Muslim Students Association, took a screenshot of it. The fourth-year microbiology, immunology and molecular genetics student said she then posted it to Facebook along with an article she wrote in Al-Talib Newsmagazine in 2013 about being racially profiled by airport security.
Khan said she thought the tweet was offensive to communities that are racially profiled.
"For people like me this is a reality on the ground," she said. "As someone who is racially profiled or 'randomly selected' consistently … I did take it very personally. The first thing I felt when I read that tweet was that it was very triggering, that someone can mock or make comedic value out of a significant problem within my community."
Khan said she thinks that Islamophobia is a problem at UCLA, and she felt that she should bring up the tweet to highlight problems with campus climate at the university.
Baral has apologized on both Twitter and Facebook for the tweet, saying that he did not mean to make people feel uncomfortable.
"My point was to poke fun at (airport security) for racial profiling, and it wasn't my intention to belittle or offend those who have to deal with any harassment from airport security," Baral said.
Some student government officials are among the students who have publicly criticized Baral and his tweet.
USAC External Vice President Conrad Contreras, who posted a Facebook status about the tweet, said he does not condone Baral's tweet and considers his actions problematic because of his position on USAC.
Contreras said he has reached out to student groups affected by Baral's tweet and plans to discuss at the next USAC meeting on Tuesday how councilmembers can be more sensitive and understanding.
"It's important that each (councilmember) understands the diversity of the campus and how microaggressions affect not only students, but people all over the world," Contreras said.
USAC will meet on Tuesday at 8 p.m. in Kerckhoff 417.
Compiled by Amanda Schallert and Samantha Tomilowitz, Bruin senior staff.