UCLA women's basketball releases difficult nonconference schedule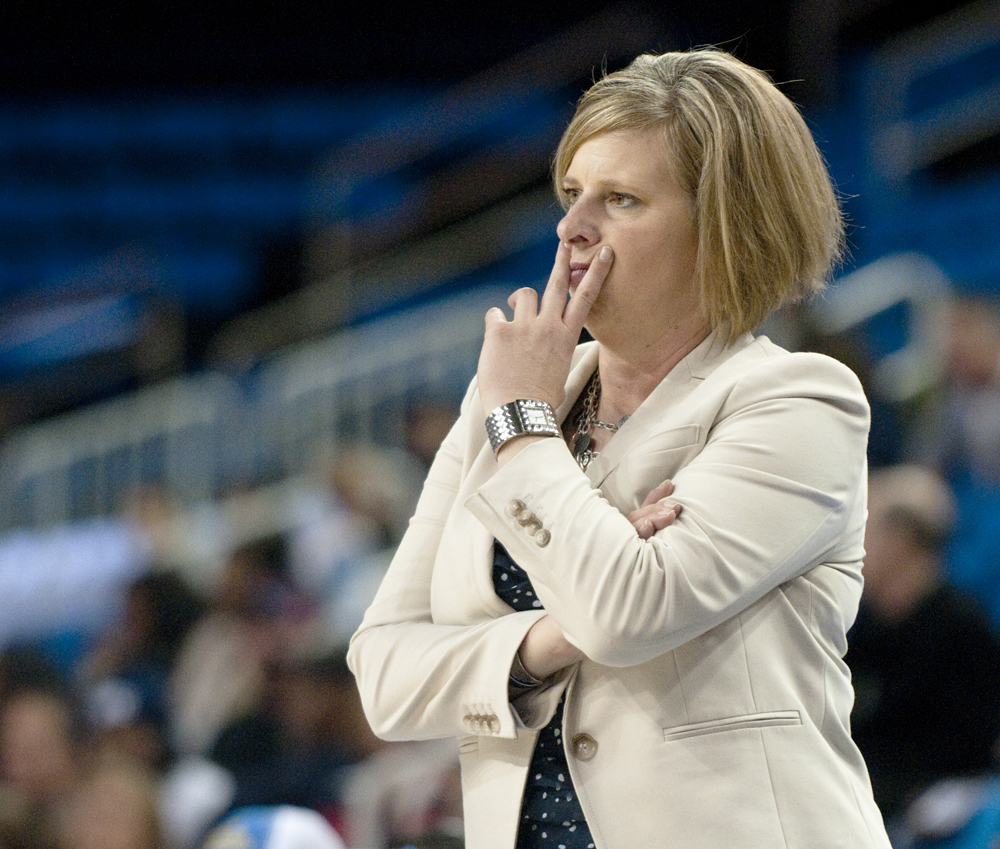 UCLA women's basketball coach Cori Close said it was "not a unilateral decision" to face a non-conference schedule with a high degree of difficulty, and she only went ahead with the decision after consulting the rest of her team. (Daily Bruin file photo)
After taking on a non-conference schedule last year that was ranked third most difficult in the nation, UCLA women's basketball announced Thursday that the team will once again be battling a tough schedule ahead of conference play for the upcoming season.
This year, the challenge comes in the form of six NCAA tournament-caliber opponents in an 11-game schedule, upping the ante by concluding with a back-to-back matchup against NCAA champions UConn and runners-up Notre Dame on Dec. 21 and 28 respectively.
Although no official number has been placed on the schedule's degree of difficulty, coach Cori Close has already opened speculation and stated that what her team has to face might be something unlike any other schedule in the nation.
"When you take on a schedule of this magnitude, you need to have a complete buy-in from your team," Close said in a statement released by UCLA Athletics. "I think it will be the No. 1 schedule in the country so we will need No. 1 preparation and togetherness to match."
Last year, the Bruins faced an additional layer of adversity when several of the team's players were ruled out of the season before the opener because of injury, leaving them with just six players in the rotation.
The Bruin's fortunes this year seem to have landed on the different side of the coin for now, as redshirt sophomore guard Kari Korver, redshirt junior forward Kacy Swain, redshirt freshman forward Paulina Hersler and redshirt freshman center Savanna Trapp are all projected to be available for the team's first game on Nov. 2 – an exhibition matchup against Westmont.
With the return of those four players, it's unlikely that UCLA will have to face a situation similar to last year of overextending starters due to a lack of options.
"I'm excited to play all of the tough teams that are on our schedule this year," said senior forward/center Corinne Costa in a statement released by UCLA Athletics. "With all of the new players we have, and the fact that we have a full roster, I'm excited to find out what we can accomplish."
The Bruins will, however, have to deal with the loss of two key starters from last year, graduated senior forward Atonye Nyingifa and senior guard Thea Lemberger. In addition to losing Nyingifa and Lemberger, UCLA will also be without rotation players forward Rhema Gardner and guard Lauren Holiday, both of whom medically retired from the sport after the end of the season.
A talented pool of incoming freshmen to choose from will help the team plug those gaps. The five new Bruins – guards Jordin Canada and Recee' Caldwell and forwards Kelli Hayes, Lajahna Drummer and Monique Billings – are among the top 30 recruits in the country and collectively form the No. 1 recruiting class in the country. Even though the freshmen have only officially been part of the team for four weeks, they're just as eager as the team's veterans for the challenge that lies ahead of them next season.
"I believe you should play the best competition if you want to get better," Caldwell said. "This schedule will provide a great growing and learning experience. We just need to prepare, every day, to be the best that we can be. If we do that, we'll be just fine."
2014-2015 UCLA Women's Basketball Non-Conference Schedule
Nov. 2– Westmont (Exhibition)
Nov. 14– at James Madison
Nov. 16– at North Carolina
Nov. 23– Texas
Nov. 28– Nebraska
Dec. 2– Cincinnati
Dec. 10– UC Riverside
Dec. 12– Sacramento State
Dec. 18-19– v. TBD (at Tulane DoubleTree Classic, New Orleans)
Dec. 21– v. Connecticut (at Basketball Hall of Fame Women's Holiday Showcase, Uncasville, Conn.)
Dec. 28– Notre Dame