On-boarding event helps veterans find resources at UCLA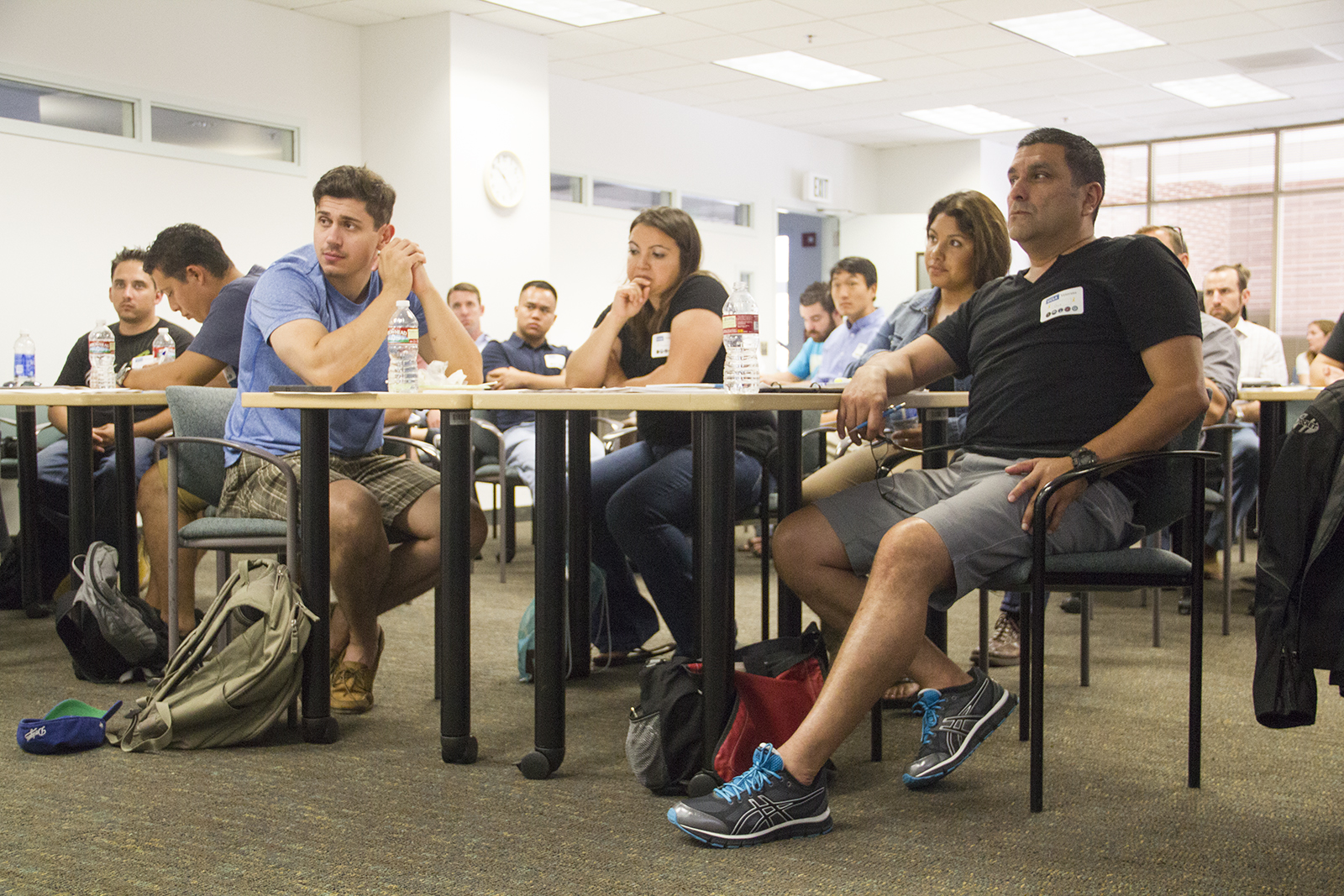 About 50 veterans attended the orientation event for veterans on Wednesday. The orientation was the first orientation held specifically for veterans. (Jessica Zhou/Daily Bruin)
A United States Marine Corps veteran attended an event designed for incoming veteran students Wednesday because he was worried that he would be one of the few incoming soldiers in fall.
"I wanted to actually see the veteran community on campus before coming here because my community college had a lot of veterans," said Spincer "Spin" Versele, an incoming veteran transfer student. "It's reassuring to know that people here are working to improve our accessibility to each other and UCLA's resources."
On Wednesday, about 50 veterans arrived at UCLA in the early morning for Veterans On-boarding.
The event, held for the first time in the summer for incoming veteran students was designed to help students become familiar with campus resources, classmates and medical and financial benefits veterans can receive before they register for classes, said Emily Ives, UCLA Veterans Resource Office coordinator. The first on-boarding event took place in September.
UCLA plans to hold a Veterans On-boarding event each year as part of the university's Veterans Initiative, launched in April 2013, to connect incoming veteran students with the appropriate campus departments to help them transition to civilian life, said Elizabeth Boatright-Simon, a UCLA spokeswoman.
Military benefits for honorably or generally discharged veterans include federally funded health and pension opportunities. Students have to apply through the Department of Veterans Affairs to receive educational benefits and financial aid at UCLA.
The event informed incoming veteran students about summer application deadlines for fall enrollment, since students have previously reported to the Veterans Resource Office that some of their benefits weren't activated and they did not receive priority when selecting courses, Boatright-Simon said.
The Veterans Resource Office and UCLA Counseling and Psychological Services supplied the funds to hold the event in the Career Center, Ives said. The cost was less than $1,000.
Ives said UCLA recognizes that veterans have specialized skills and training that the university should foster.
"Veterans bring leadership skills no other student really has," Ives said. "They have different needs because their education is linked to benefits."
About half the event was dedicated to a guided walking tour of the various campus offices that service veterans.
Representatives from departments that provide financial aid and medical benefits spoke to the group of students about types of benefits the Veterans Affairs hospital offers and ways to navigate through the UCLA Career Center.
Over the years, UCLA has increased the number of programs and facilities on campus dedicated to assisting veterans. In 2009, the university created the Boots to Bruins Fiat Lux seminar, which helps soldiers connect through sharing their experiences on the transition to student life. In 2008, UCLA formed a Veterans Resource Team comprised of specially-trained administrators from various veteran offices that are readily available to assist students with their needs, Boatright-Simon said.
After a lunch break, the veterans gathered around a panel of five UCLA veteran alumni and current student veterans. Students asked the panelists about their transitions back home and what they wished they had known when they first entered the university.
Ramon Contreras, a UCLA graduate and United States Marine Corps veteran panelist, said he initially had trouble finding the Veterans Resource Center on campus and could only locate the ROTC office. At the time, he commuted from the San Fernando Valley and had family responsibilities that kept him from exploring campus after his classes.
Sharing his experiences and teaching the incoming veterans how to take advantage of the benefits and resources available to them stems from Contreras's motto, "Vets helping Vets."
"It's hard for (veterans) to communicate with civilians like they can talk with other servicemen," Contreras said. "I didn't want those veterans (at UCLA) to feel like they (wouldn't) be able to handle the workload."
After the panel, some students walked to Wolfgang Puck in Ackerman Union for a social hour.
Sal "Lolo" Lopez, a United States Marine Corps veteran and incoming first-year student, said overall he was glad he went to the event because he was able to connect more with the students attending than he did at Bruin Day.
Lopez, 24, said he had more meaningful interactions with the other veterans, and it helped that the event included a tour of veteran resource offices.
At UCLA, Versele hopes to get started on his goal of pursuing a doctorate in anthropology, so he can eventually teach a course on modern military culture.
He said he thinks his personal experiences would help him teach others about the differences between life in the military and life as a civilian.
"A lot of civilians have this hero worship for military people, but they don't really know what we do," Versele said. "Since I've been in both cultures, I feel like I can identify differences that others can't."
When the social hour ended, Versele and others handed out their contact information and encouraged one another to keep in touch if they needed someone to talk or vent with about student life.
Correction: The first on-boarding event was held in September. Students apply through the Department of Veterans Affairs for federal benefits. Ives said UCLA recognizes that veterans have specialized skills and training it should foster. The panel had five UCLA alumni and current student veterans.