NCAA men's singles champion Marcos Giron to go pro, forgo senior year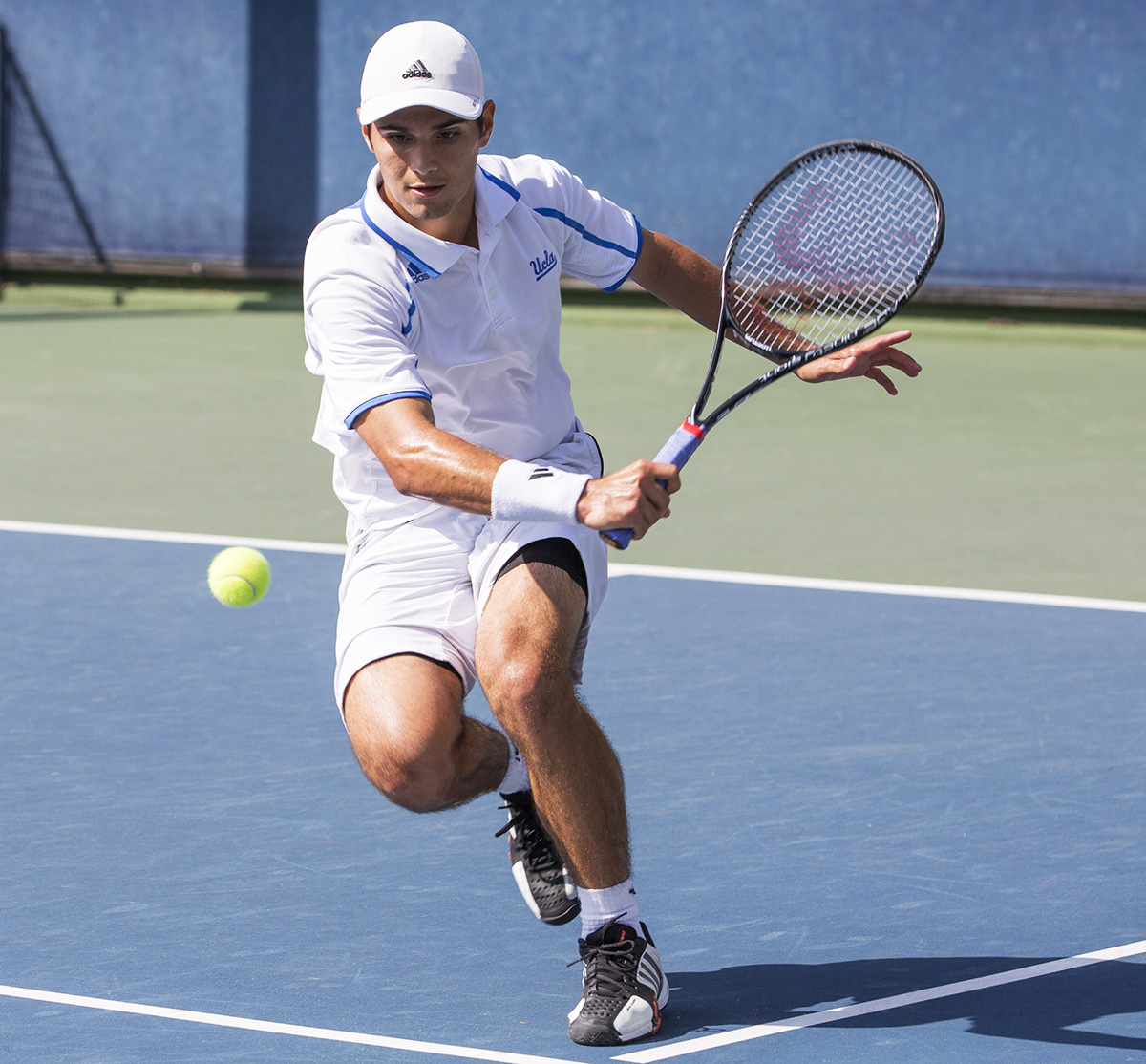 Marcos Giron announced that he will not be returning to the UCLA men's tennis team for his senior year next season. Giron finished his junior year as a Bruin with a NCAA singles title win. (Jose Ubeda/Daily Bruin)
The reigning NCAA men's singles champion, Marcos Giron, announced Wednesday that he will not be spending a fourth year with the UCLA men's tennis team and will instead be entering the ATP circuit.
In his junior year at UCLA, Giron helped win the Pac-12 team title in Ojai with an upset victory over then-No. 1 USC, but that would be the extent of his success at the team level of competition as the Bruins were knocked out of the NCAA tournament in the semifinals stage 4-2 by Oklahoma.
Giron, however, would find redemption by capping off what would be his final year at UCLA with a win in the NCAA singles championship.
In fact, according to Giron, it was winning that title in Athens, Ga., on May 26 that became the catalyst for making the decision to go pro.
"This was a very tough decision because UCLA is now home to me," said Giron in a press release by UCLA Athletics. "But I think that after winning NCAAs that this is the right time. I have an opportunity that is just too good to turn down. Playing professional tennis has always been a big dream of mine."
Giron's decision to go pro after winning the singles title mirrors that of former UCLA tennis player and current UCLA men's tennis coach, Billy Martin.
Martin won the NCAA singles title in 1975 during his freshman year at UCLA and – like Giron – subsequently made the decision to forgo the rest of his NCAA eligibility. Martin was able to achieve an ATP career-high rank of No. 32.
"We wish Marcos all the best as he embarks on this new phase of his career," said Martin in the press release. "It's an exciting time for him and we look forward to following his progress on the pro tour and supporting him from Westwood. I believe that Marcos has all the tools necessary to have success as a professional tennis player."
The departure of Giron, who was the No. 2-ranked player at the end of the season, will be a huge blow to the Bruins, considering the other players on the team who bade farewell to Westwood at the conclusion of last season.
In addition to Giron, UCLA will have to deal with the absence of graduated seniors Adrian Puget and Clay Thompson, who was the No. 1-ranked player at the end of the season; the three players made up half of the team that competed in UCLA's final game of the NCAA tournament against Oklahoma.
Compiled by Aubrey Yeo, Daily Bruin senior staff.