Money Talks: UCLA pays thousands of dollars in fees for notable speakers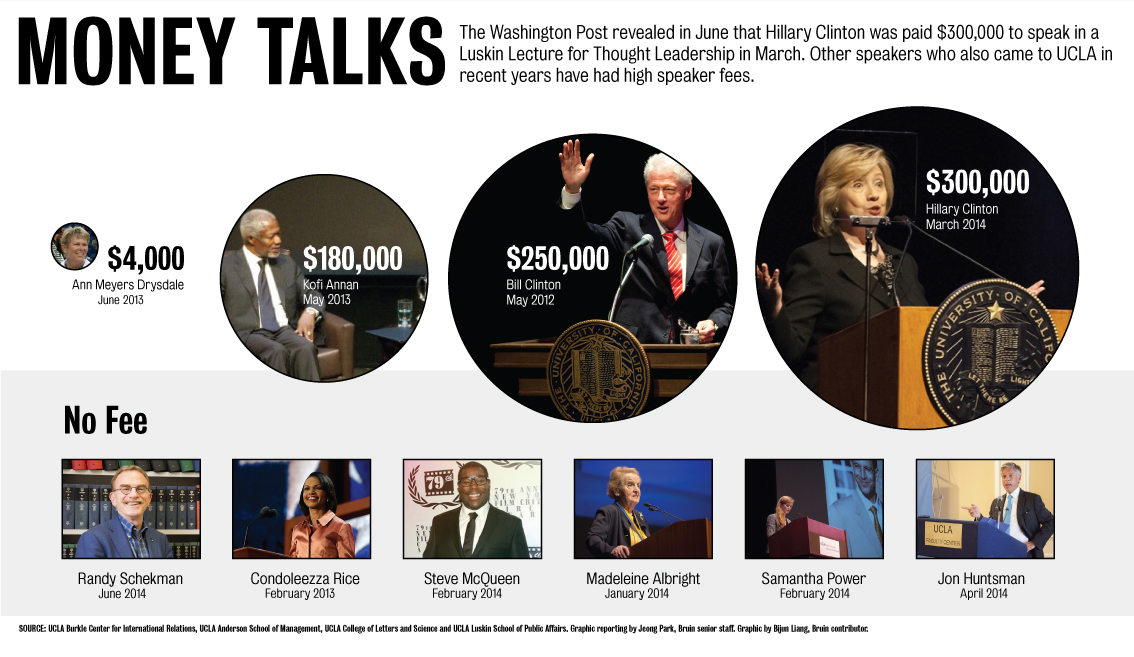 Hillary Clinton was paid $300,000 to speak in a Luskin Lecture for Thought Leadership in March. Other prominent speakers have come to UCLA in recent years, charging a wide range of fees.
Hillary Clinton's $300,000 UCLA paycheck for a speech in March has caught the attention of news outlets and students across the nation in the past week, prompting the Daily Bruin to take a closer look at the fees for UCLA lectures by other notable individuals in recent years.
The costs of the Luskin Lecture for Thought Leadership, which organized Clinton's speech, are covered by donations from Meyer Luskin, an entrepreneur and a major donor to UCLA, said Jean-Paul Renaud, a spokesman for the College of Letters and Sciences, in an email on Tuesday.
The lecture series, which was established in 2011, has invited other prominent speakers to UCLA, such as former President Bill Clinton and former United Nations Secretary-General Kofi Annan.
Both Bill and Hillary Clinton donated all their speaking fees to the Bill, Hillary and Chelsea Clinton Foundation, Renaud said.
When the former secretary of state talked at a Luskin Lecture for Thought Leadership at Royce Hall, hundreds of students began camping out on campus as early as 2 a.m. to get tickets, rushing the Central Ticket Office when it opened later that morning. About 400 students were able to attend the lecture for free through a lottery and about 1,200 students who did not receive a ticket were able to watch the live stream.
Faculty and staff were able to buy tickets for the lecture, which cost up to $500 each for the public. Because the event was meant to raise funds for the College's Greatest Needs program, which funds scholarships and research in the College, UCLA aimed to raise between $25,000 and $50,000 from the lecture.
Despite the popularity of the lecture, some people have argued that certain speakers come at too high a cost.
"Hillary Clinton has inspired a lot of students, but when you talk about funding, $300,000 could have gone somewhere else to create concrete changes," said Conrad Contreras, the Undergraduate Students Association Council external vice president. "It's difficult to see that UCLA is paying hundreds of thousands of dollars to someone who is already wealthy when I have friends and families working countless hours to stay in higher education."
In other cases, prominent speakers such as former Secretary of State Condoleezza Rice and Samantha Power, the U.S. permanent representative to the United Nations, were not paid a fee when they came to speak at UCLA through the UCLA Burkle Center for International Relations, said Peggy McInerny, a spokeswoman for the UCLA International Institute, in an email.
The Burkle Center organizes the annual Daniel Pearl Memorial Lecture at UCLA, which has hosted prominent speakers like David Remnick, editor of The New Yorker. In the email, McInerny said Rice and Power responded to personal appeals to speak in memory of Daniel Pearl.
Compiled by Jeong Park, Bruin senior staff.