Bruins receive All-American honors at track and field NCAAs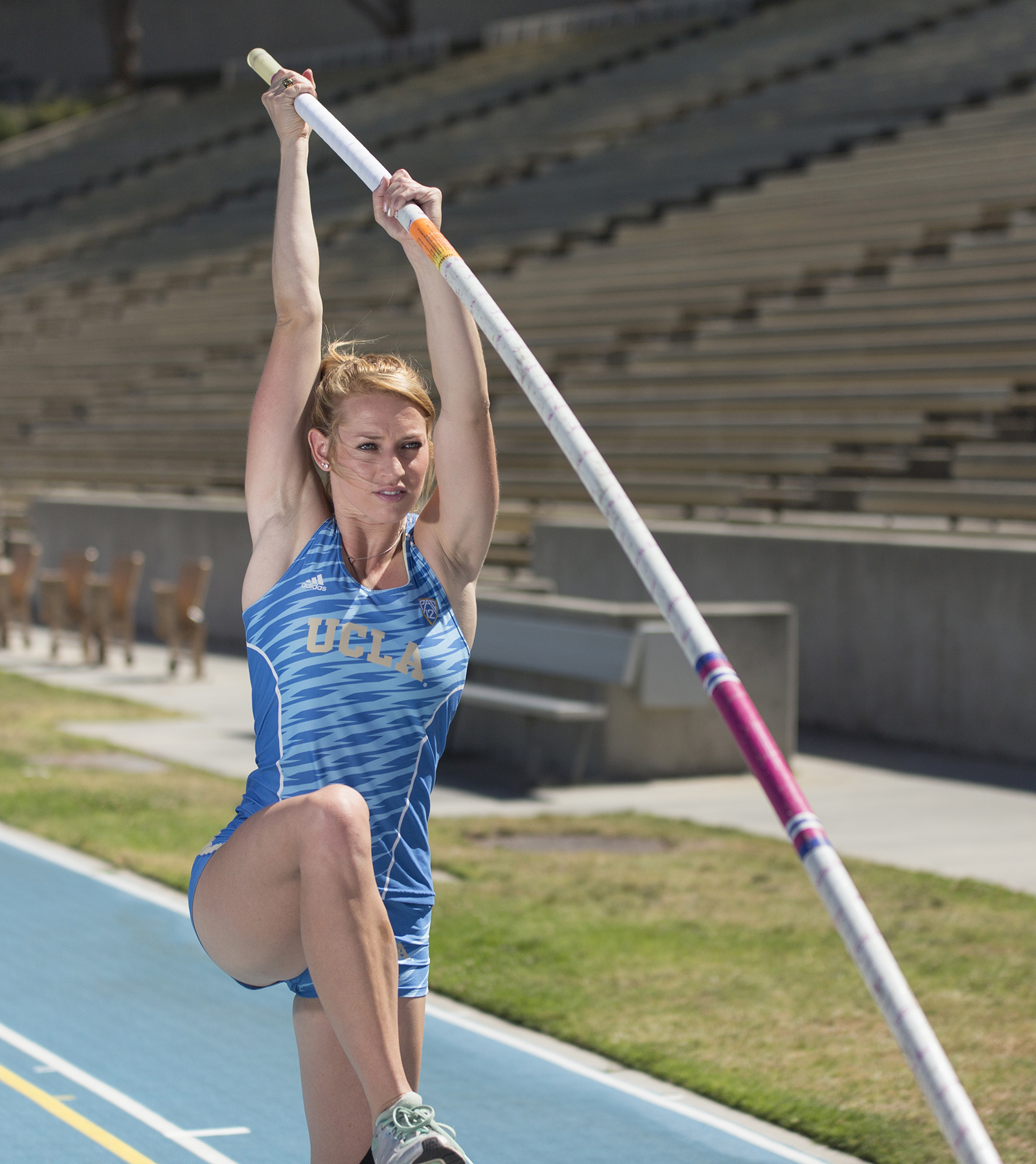 Senior Natasha Kolbo said that even though she didn't perform her best at the NCAAs, she's still happy with what she's accomplished in her four years competing as a Bruin.
(Aubrey Yeo/Daily Bruin senior staff)
What Natasha Kolbo came face to face with in her first trip to the NCAA outdoor track and field championships wasn't just competition from 23 of the nation's top pole vaulters. She had to battle a 24th factor: the elements.
"During nationals (there) was a really, really strong headwind, and then it'd switch to a really strong crosswind," Kolbo said. "It made it difficult to figure out what poles I needed to be on at what time because the wind kept changing."
The unpredictable, turbulent winds in Eugene, Ore., became a constant problem for the senior pole vaulter. In addition to picking the right poles to use, Kolbo also had to make frequent adjustments not only to her standards – how far away the bar is from the vault box – but also to how she made her approaching run.
Kolbo didn't perform at her best, her top jump clearing 13 feet, 3 1/2 inches – seven inches below her personal best – in the last meet she competed in as a Bruin.
"It is a little bittersweet, because I know I have the potential to be an All-American and be in the top eight," Kolbo said. "At the same time, if I look back at my whole entire career here – and especially this year – I've come a long way, so I'm really happy."
Kolbo's mark was enough to earn her second-team All-American honors, but it wasn't enough to add any points to the six-point tally that the UCLA women's team accumulated at the end of the four-day affair, which placed the Bruins 40th among the 66 teams represented at the meet.
Those six points came from junior sprinter and long jumper Kylie Price, a veteran competing in her third NCAA outdoor track and field championship. Price jumped her best at 21-1 1/4, improving on last year's performance of 20-11 3/4 and equaling what she posted in her freshman year at the same event.
"It was kind of nerve-wracking because she was the last person to make it to the final with her first mark," Kolbo said. "But she ended up holding it together until the very end. She came out and jumped really well after that, and she got third, so I'm super proud of her for that."
On the other side, the UCLA men's team finished in 33rd place out of a field of 77, with redshirt senior discus thrower Julian Wruck as the team's sole score contributor, adding eight points to the board for the Bruins.
Wruck, who was competing in his fourth and final NCAA championship, also went into the competition as a two-time discus champion after winning in the event last year and in 2011.
The thrower was not able to finish his collegiate career with a third NCAA individual title, however. His best throw of 62.56 meters came 0.18m short of the winner, Hayden Reed of Alabama, and was only enough for a second-place finish.
"I know he's not super thrilled on it, but still to be second in the nation is absolutely amazing," Kolbo said. "I'm proud of my team in general for how they performed. It wasn't great conditions overall, but everyone held their head up high and did well considering we all had to kind of fight for it."
All four of the other Bruins from the men's team who qualified for the NCAA championships were awarded second-team All-American honors for their finishes in the meet by placing between the ninth and 16th spots in their respective events.
Redshirt freshman javelin thrower Cody Danielson finished 14th, sophomore shot putter Nicholas Scarvelis placed 10th, sophomore middle distance runner Nick Hartle finished 16th and redshirt senior discus thrower Matthew Kosecki placed 12th in their respective events.
Compiled by Aubrey Yeo, Bruin Sports senior staff.