Robert Steinberg, mathematician who inspired many, passes away at 92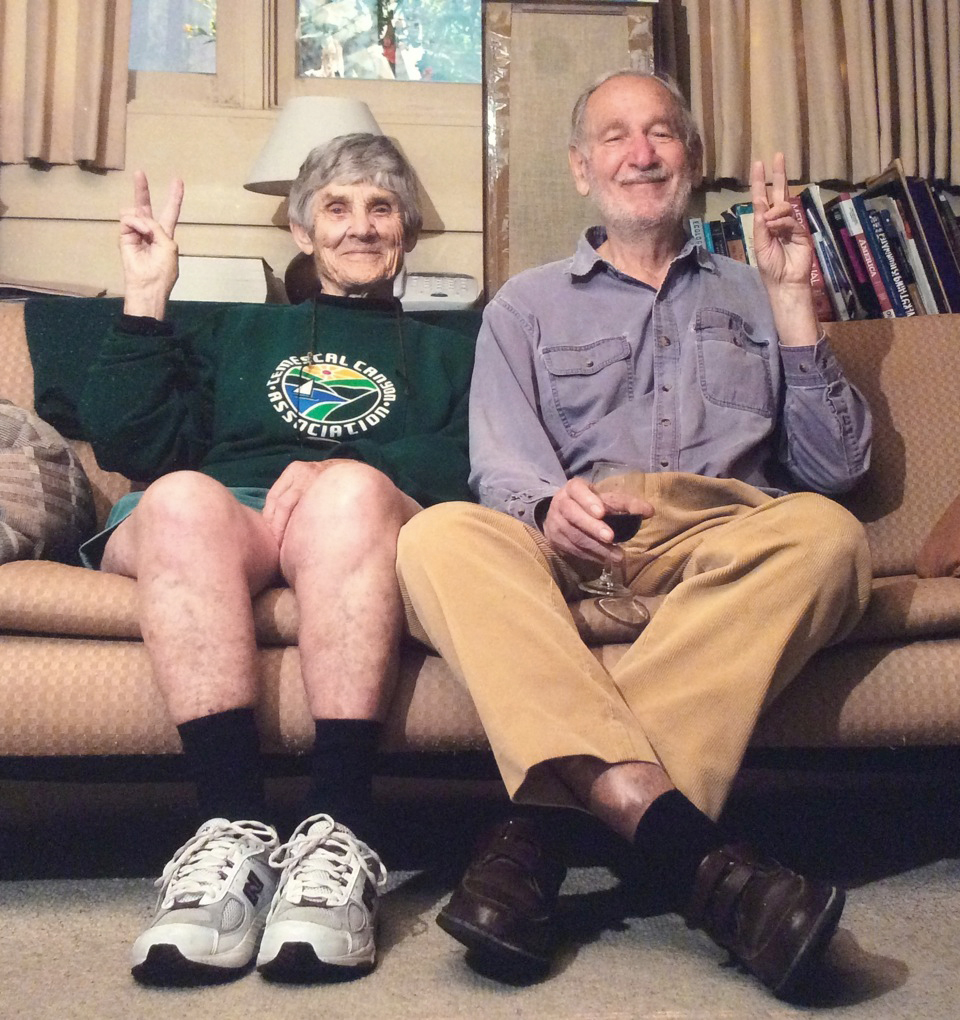 Robert Steinberg poses with his wife, Maria. Steinberg's family and friends remember him as a humble and loving man and a brilliant mathematician. (Courtesy of Cherie Steinberg)
The original version of this article contained an error and has been changed. See the bottom of the article for more information.
Robert Steinberg, an award-winning mathematician and professor emeritus at UCLA, died May 25 of natural causes. He was 92.
Steinberg's family and close friends knew him as a modest and loving man who had a passion for mathematics.
"He would never talk about himself but he would always ask about you," said Richard Elman, a mathematics professor and the administrative vice chair of the Department of Mathematics at UCLA, who knew Steinberg for more than 40 years.
Veeravalli Varadarajan, a professor of mathematics at UCLA and a friend of Steinberg's for the last 50 years, said he thinks Steinberg's work in group theory made UCLA's mathematics department widely recognized across the world.
Group Theory studies the symmetries of physical and mathematical systems and is central to mathematics and mathematical physics, Varadarajan said.
"He was a truly great mathematician," Varadarajan said. "He was a very creative artist in mathematics and his loss is a very big one for the UCLA community."
Elman said he first met Steinberg in 1972 when he applied to be a professor in the mathematics department. Steinberg was one of the reason's Elman was hired, he added.
Steinberg was humble in all of his interactions and deeply cared about his wife of 61 years, Maria Alice née Steinberg who died last year, Elman said.
Elman said he once had a friend visiting who had read some of Steinberg's published work that was translated to Russian. Steinberg was pleased that Elman's friend had read his work, but he was disappointed that the Russian translation did not include a dedication to his wife.
"It was an amazing relationship. They were both mathematicians and loved puzzles. … They loved traveling the world. He was very happy with his life," said Robert Snapp, Steinberg's nephew and an associate professor of computer science at the University of Vermont.
Steinberg and his wife would spend time together just enjoying the outdoors, Snapp said.
The couple would complete various hikes in different locations, such as the Rocky Mountains and the Swiss Alps, Snapp said.
To show their enthusiasm for conservation, Steinberg and his wife regularly donated to the Sierra Club, an organization that aims to protect the wilderness by passing environmental policies.
In addition to hiking, Steinberg also enjoyed completing puzzles. He would tackle Rubik's Cubes, and mechanical and crossword puzzles in his free time, Snapp said.
Steinberg's love for puzzles inspired Snapp to explore the field of mathematics, Snapp added.
Every day, Steinberg and his wife would complete the New York Times crossword together, Snapp said.
Steinberg's passion for puzzles spanned beyond the newspaper and into the classroom.
"He took very difficult ideas and concepts and he made them look easy," said Robert Guralnick, a former UCLA graduate student and a professor of mathematics at University of Southern California.
Guralnick said Steinberg was his mentor and inspiration in the field of mathematics.
"He was a real treasure for UCLA," Guralnick said. "He was one of my heroes and many peoples' heroes in mathematics."
Though Steinberg would not always show his feelings about certain topics, Elman said he would visibly express his excitement for math whenever he talked about the subject.
"He was introverted, and he would become alive talking about mathematics," Elman said.
About 50 of Steinberg's papers in mathematics are published by the American Mathematical Society, an association that aims to promote mathematical research and education, Snapp said. In 1967, Steinberg also lectured at Yale about Chevalley groups, a linear algebraic group. His lecture notes became well-known, Elman said.
Steinberg is survived by his brother Morris Steinberg, nine nephews and nieces and many grandnephews and nieces.
Correction: Steinberg is survived by nine nephews and nieces.