Elegant Mind club builds practical research experience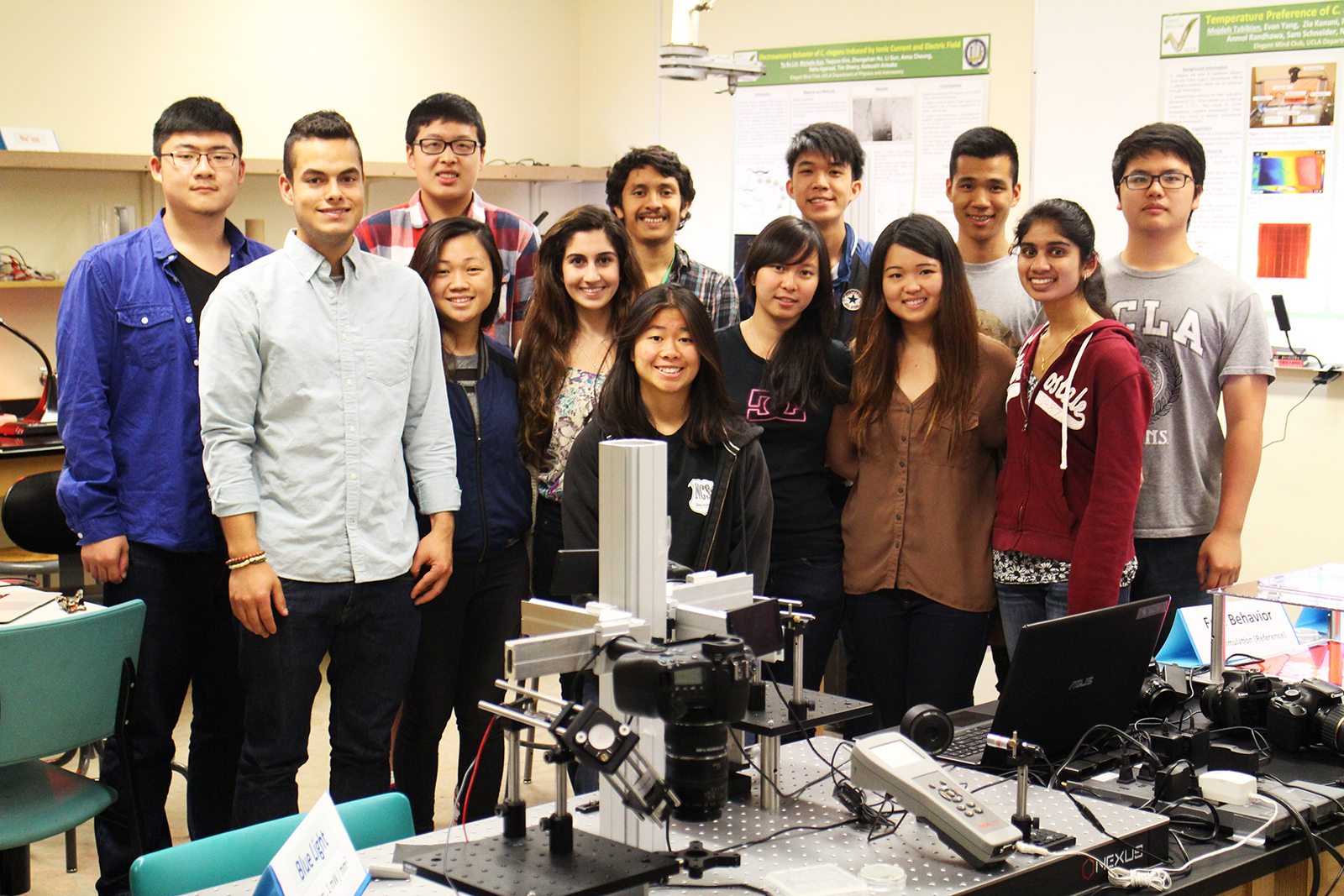 Elegant Mind club is currently studying C. elegans, a microscopic worm. through microscopes members built for the club. (Courtesy of Katsushi Arisaka)
The original version of this article contained multiple errors and has been changed. See the bottom of the article for more information.
Tim Sherry's childhood love for building Lego sets never faded. Instead, it evolved into a passion for building high-powered microscopes in his work at UCLA's student-run Elegant Mind club.
"I really liked playing with Legos, and microscopes are basically the same thing – putting stuff together," said Sherry, a third-year political science student and the president of the club.
Working on tables cluttered with equipment, members of the Elegant Mind club build microscopes and study the behavior of C. elegans, a type of transparent and microscopic worm.

The students are especially interested in C. elegans because it only has 302 neurons, which are found in the same place in each worm, making them easy to compare. Because the students know the placement of each C. elegans neuron, they can pinpoint certain behaviors to specific neurons or subsets of neurons.

The group formed last summer and will open its Knudsen Hall facility for tours Friday to explain its projects to the public.
After 25 years of teaching, UCLA physics and astronomy professor Katsushi Arisaka founded the club along with Peter Pellionisz, now a fourth-year molecular, cell and developmental biology student. Arisaka said he wanted to offer students a way to learn independently outside of a traditional lecture hall.

"I realized that the conventional lecture isn't working anymore," Arisaka said. "A year ago, I decided to set up a different type of educational system, one that revolves around a lab space."
The idea for a club in which students can create projects on their own came from Arisaka's own similar experiences.
"When I was young, my professor gave me an (independent) project, but he didn't tell me how to do it, so I learned everything step by step," he said.
One of the club's goals is giving students an opportunity to pursue topics they are interested in, so they can get an experience different from that of a typical college lab course, Pellionisz said.

"The club promotes leadership because students cannot just rely on a professor to lead them," Pellionisz said. "And it promotes initiative because they pick something they are really interested in and study that system."
The students in the club create independent projects and work in small groups so they can share information they uncover with each other. In only one year, they were able to build functional microscopes, Arisaka said.
By building their own equipment, club members can save money and learn new techniques, Sherry said.
To expand the club's budget, members searched for research grants starting in the summer and were awarded $642,000 in February by the National Science Foundation, which was used to purchase microscope materials, Pellionisz said.
In the club's facility, Sherry built an epifluorescence microscope, which can see active neurons in the brain with the use of dyes.
On the market, similar microscopes can vary in cost from $2,000 to $20,000. When he built one himself, Sherry spent about $2,500, he said.
For some students, building microscopes goes beyond creating new devices to use in the lab.
Blake Madruga, a fourth-year biology student, said he is building a microscope to examine brain tissue without slicing the brain.

"Basically, whole brains can be scanned without any physical slicing," he said. "We are working with new advancements in technology. It's all high-speed and high-clarity."
Other students in the club study the behavioral components of C. elegans to understand the mechanisms of learning and memory formation.
C. elegans can only clearly be seen through a microscope. Because much of the club's equipment is made by its members, it is important for the students to be able to conceive and construct their ideas in material ways to test out experiments, Sherry said.
By studying behavioral changes in C. elegans under different conditions, club members can also understand some human character traits, Arisaka said.
One of these experiments examines how temperature impacts memory, said Neha Agarwal, a third-year neuroscience student.
That experiment analyzes how worms remember the temperatures they are raised or cultured in and how that affects their behavior. The worms are cultured at a certain temperature, then placed in unfamiliar temperatures to see if they will gravitate toward the temperature they were raised in, Agarwal said.

Madruga said students in the club find a lot of their research ideas by reading recently posted articles and listening to speeches by other researchers.
Some independent behavioral lab projects the students are working on include using a blue laser to stimulate the worms, testing their sensitivity to magnets and disproving a previous claim that worms are responsive to electric fields rather than sodium ions.
Some animals are responsive to magnetic fields, but others, like humans, are not. This means it is important to correctly identify what causes reactions in C. elegans, Madruga said.
"It's really hard to prove someone wrong," Madruga said. "So a lot of our research is still a work in progress."
Sherry said he hopes the club members will eventually publish their findings.
"We learn the whole research process. We write our own grants and have full control of the budget," Sherry said. "But the real meaning behind the club is being able to take your own research and ideas that you come up with from start to finish."
Correction: Madruga is building a telescope to examine brain tissue without slicing the brain. Some animals are responsive to magnetic fields.